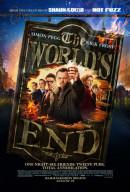 Five friends lead by Gary King attempted an epic pub crawl when they left school, not quite managing to pull it off. Twenty years later Gary cannot let it go and manages to get the other four back with him in an attempt to complete the quest, but something isn't quite right with the town . . .
I remember missing this one when it was released at the cinema, but when I was watching it I felt I had seen it before. So I am actually unsure if I have watched it and then didn't actually review it. Anyway that doesn't really matter as I do find this film rather enjoyable and amusing from start to finish. Pub crawls are something that people in the UK attempt mainly on Bank Holiday weekends now, although some probably do it every weekend. The goal is to make it to a certain time or a certain place, I think that is why this film just works as you have either attempted something like this before or you know people who have!
Gary King is still pretty much the same person he was at school and when he left school, with many problems with drink and drugs but still very immature and being a lad. The other four of his friends Andy, Steven, Peter and Oliver all grew up have proper jobs and families. That really does make for some interesting moments, but they all cannot say no to Gary even 20 years later and having not seen him for many years in between that. It does seem to be a more male thing that you can then slip back into a friendship after many years absent.
This pub crawl though wasn't going to be as simple and easy as they expected it to be, when they didn't complete it all those years before something strange happened that night and the town was well invaded by an alien force. Just wait for the moment you get to hear Bill Nighy's voice! I certainly loved that part as well, but the strange alien form of blue blood or paint that came out of them made for some great moments when they were calmly trying to decide what to call them after a rather crazy moment.
I thought it dared to be different and it worked very well, I personally think it is the best of the Pegg and Frost films as I just think it works so well as appearing normal and then throwing in the Sci-Fi crazy aspect and the possible end of the world.
Performance wise I thought the cast clicked and worked very well together. Rosamund Pike adding the female factor as Sam who was Oliver's sister. I really did love Eddie Marsan in this one and thought he added some brilliant comedic moments by his expressions alone, you cannot help but like his character of Peter. Simon Pegg and Nick Frost, we know what we are going to get with them together a good comedy match that really is impressive. Martin Freeman adding the more straight serious part, again something he is very good at. Rounding up the five was Paddy Considine who fits in very well as Steven who has always been in love with Sam!
Overall, I really did enjoy this one and would certainly find myself choosing to watch it again in the future. That has to be the best way to compliment a film I think!