As a travel blogger and avid traveler I've stayed in a lot of hotels…. most are nice, but not particularly memorable. But every once in a while, I stay in a hotel with major WOW factor.  It could be the decor, the surroundings, the friendly staff or the overall atmosphere.  Sometimes it's that je ne sais quoi, to borrow from the French.
Just in time for Valentine's Day here are my pick of the world's most romantic hotels:
In no particular order:
1) Colosseum Imperali, Rome, Italy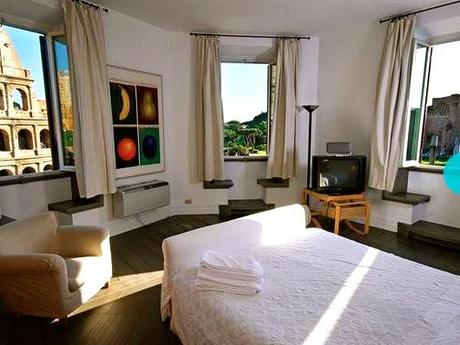 Master bedroom with a view of the Colosseum. Photo courtesy of HouseTrip.
While not a hotel it is a holiday rental available through HouseTrip, a revolutionary holiday booking site.  The apartment is a huge 220sqm with four bedrooms, making it a great getaway when traveling with other couples, friends or family.  The living area is spacious and decorated with tasteful artwork throughout. The highlight though is the incredible views of the Rome Coliseum – simply amazing!  Definite WOW factor and very romantic at night! Book directly through HouseTrip.
2) Umlilo Lodge, St. Lucia, South Africa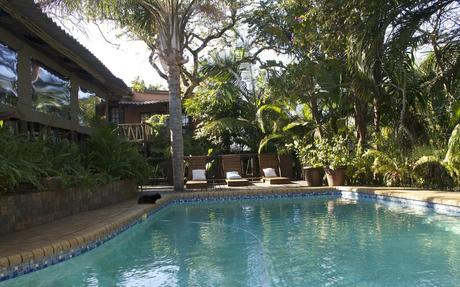 I walked into Umlilo Lodge and felt like I was walking into a jungle.  It's the most serene and peaceful guest house that I've ever stayed in.  
I fell asleep to the sounds of the waterfall right outside my window – soothing and romantic
.  I woke up to the friendly owners serving up a great breakfast.  St. Lucia is a small village, but it's home to some wild residents – hippos are known to hang out across the street from the Umlilo Lodge.  Perhaps looking for a way in?  Read my full review of
Umlilo Lodge
or book directly through Umlilo Lodge.
3) Sa Vista, Cadaqués, Catalonia, Spain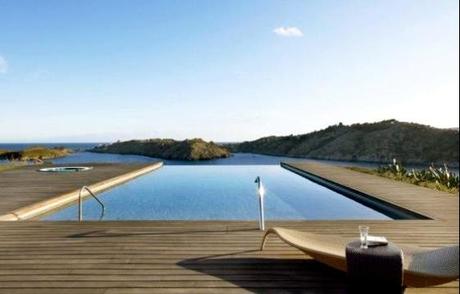 Infinity pool and view of the bay from Sa Vista in Cadaques, Catalonia, Spain. Photo courtesy of Charming Villas.
Sa Vista is without a doubt the most luxurious place I have ever stayed!  Much more exclusive than a hotel, it is a private holiday rental available through Charming Villas.  If you've ever wanted to feel like a celebrity, this is the place to stay!   SaVista offers incredible views over a bay, infinity pool, huge terrace, is located close to a natural park, and surrounded by olive trees. Inside, you will find sleek contemporary designer furnishings, natural slate stone,  a chef's dream kitchen, and a whopping eight bedrooms. Sa Vista would be a great place to go with other couple friends and there's lots to do in the area, including visiting the Salvador Dali House Museum – only a 5 minute walk from Sa Vista.  It's the ultimate luxurious romantic getaway! Sa Vista can be booked directly through Charming Villas.
4) Quai des Pontis, Cognac, France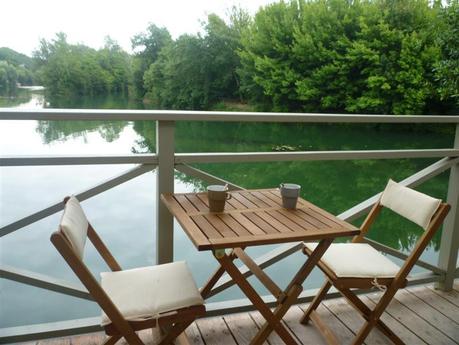 Lake front cabin accommodation. Photo courtesy of Quai des Pontis.
I loved my stay at Quai des Pontis.  The vastly different choice in accommodation really appealed to me.  Guests choose from the more rustic lodge, over the top decorated caravans or a lake-front cabin, which I stayed in.  I felt like I was staying in my very own cabin in the middle of nowhere, not on hotel grounds conveniently located near the heart of Cognac.  Choose your own accommodation style when you stay at Quai des Pontis.  I highly recommend the lake-front cabin if you're looking for romance.
5) Sibane Hotel, Sibane, Swaziland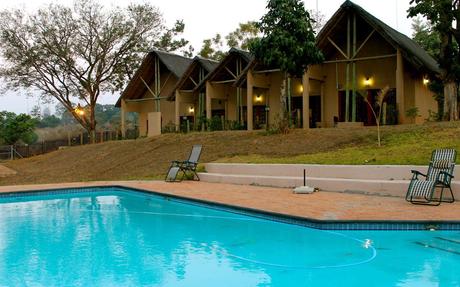 It's not very often that you walk into a hotel room and say WOW, but that's exactly what I did when I first walked into my room at Sibane Hotel.  Each of the 30 chalets, is decorated in a unique, moody, style that sets the mood for romance. There's also a terrace off the bar area which is the perfect place to relax with a glass of wine and enjoy the sunset.  I felt miles away from everything, even though Sibane Hotel is conveniently located near the Mantegna Cultural Village which is not to be missed.  Read more of my review of Sibane Hotel or book directly through Sibane Hotel's website.
6) Falkensteiner Hotel and Spa Carinzia, Austria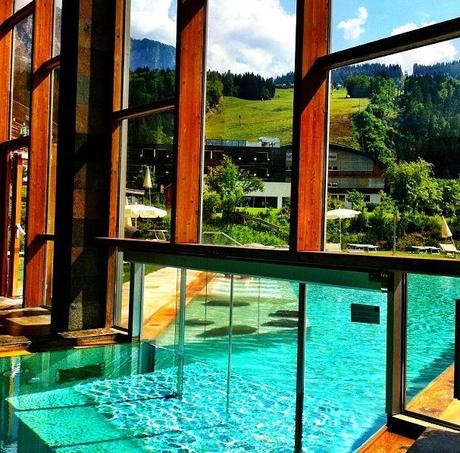 This is the place you want to come when you want to 1)either get away from it all and relax in the wellness area or 2) play hard on the ski hill during the winter, or take a ride on the summer rodelbahn, or test your balance in the climbing forest and then relax.  Whatever you choose you will want to check out the indoor/outdoor pool and
enjoy the incredible mountain views with your sweetie
.  This was the highlight of my stay! Also keep your eye out for Flo:  a seven year hotel guest who as never paid .  Book your stay directly through
Falkensteiner Hotel and Spa Carinzia
.
7) Hotel Arts, Calgary, Canada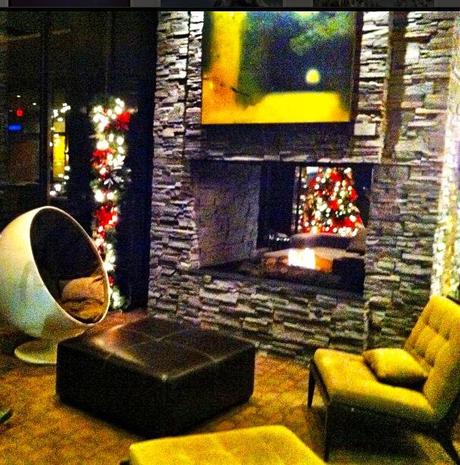 Named as one of the
Top 25 Trendiest Hotels in Canada
by TripAdvisor.ca, Hotels Arts is a boutique hotel located in downtown Calgary.  Its contemporary, unexpected design and chic luxury interior transports you into another world
(a romantic one)
the minute you step into the lobby.  I didn't want to leave!  You can book your stay directly through
Hotel Arts
.
8) Romantik Parkhotel Wasserburg, Anholt, Isselburg, Germany