June 12, the long anticipated world cup began.  For a month, most of the world is on the same time zone, same schedule, and same hope that their home country will showcase their style of football. For a month, there will be loads of undone homework, postponed work projects, countless unexpected sickness leading to missed days a work, and definitely a month's worth of anguish, heartbreak and magic.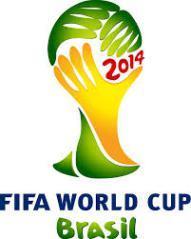 The first round so far has delivered with 84 goals which stifles that of the 2010 world cup with only 45 goals and some of the gargantuan beat downs have been to the world heavy weights. Spain dealt a heavy blow in their first 2 games with scores of 5-1 and 2-0 respectively. England has been eliminated prematurely in part due to their grade school like performances.
With their bow outs come the Cinderella stories that capture our hearts. Costa Rica and Colombia have rising to the top of their groups, display their cavalier attitudes to the game, their formula; push the play with pace, utilizing their acclimation to the humidity and heat of Brazil and giving wave after wave of lung bursting counter attacks that their opponents were not prepared for. The may not make it to the final or win it all, but their have won our hearts.
Finally the African teams, Algeria, Ivory Coast, Cameroon, Ghana and Nigeria. What will they bring to the table? Previously the world has seen two types of African teams, the one in complete turmoil and its antagonist the team that play with a pace not even the costa Rica's of the world can cope with. The question lies will they play with the freedom they can play with or will they inevitably break our hearts once again. The story continues and we await the next plot twist.
Filed under: Africa, Family, Future, Girl, God, Hope, Life, Love, Nigeria, Preseverance, School, Smart Tagged: Africans, Asians, Brazil, Europeans, Exercise, Fifa, Footballers, God, Health, Hope, Life, North Americans, People, Soccer, South Americans, Sports, Tomorrow, World Cup Cup, World Watching