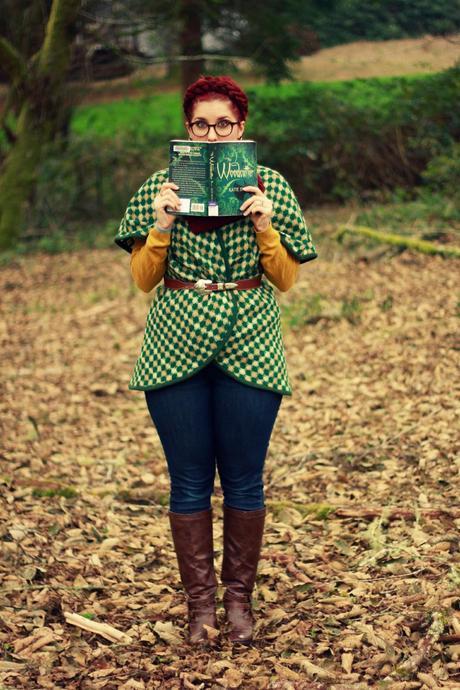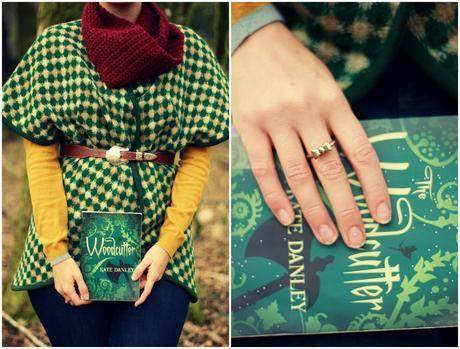 Today's outfit was NOT inspired by this book. But as I was walking out the door, I spotted the book and thought "Oh hey, we match!" so we'll pretend it was intentional.
Really, I just wanted to wear this fantastic cape thing from my darling friend Sarah's late grandma — she's the same person who gave me this vest thing. I was actually wearing a different outfit this morning, trying to make a spring skirt work for fall, but there was just something really off about it. You know, when you have elements of an outfit that should work, but it doesn't? Yeah. That was this morning.
Thankfully, I remembered that I had this cape unworn in my closet, and here we are!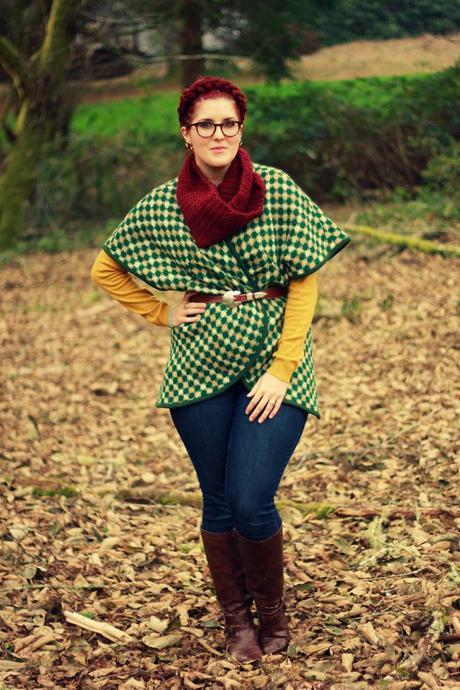 This is one of those outfits that I loved in the mirror, hated in my viewfinder, and then loved once I saw bigger pictures.
Does anyone else ever do that? Like, you get dressed and think you love your outfit, but then you take outfit pictures and check them on the camera and think "oh, maybe I don't love this as much as I thought I did" but once you've loaded them onto your computer, you're back to love? It's happened to me a few times.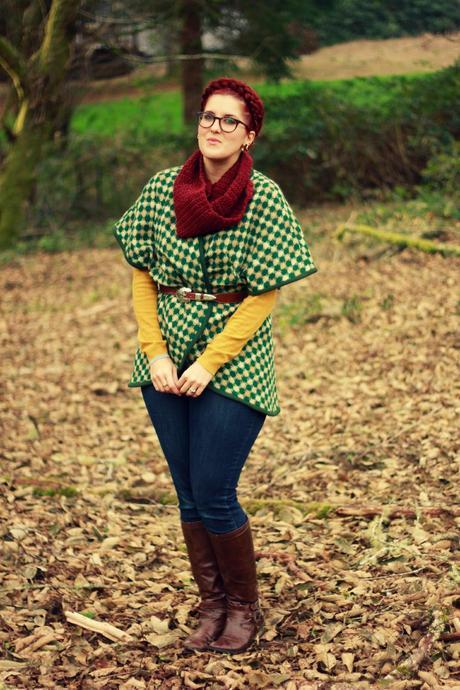 The Woodcutter
is a book I'm currently reading; I had a few others on my side table that I just wasn't interested in after a few chapters (
Mansfield Park and Mummies, Behind the Shattered Glass
), so I returned them to the library in favor of finding a book that I didn't have to force myself to read. As I was browsing, the title and cover caught my eye.
What can I say? I am a fan of fairytales.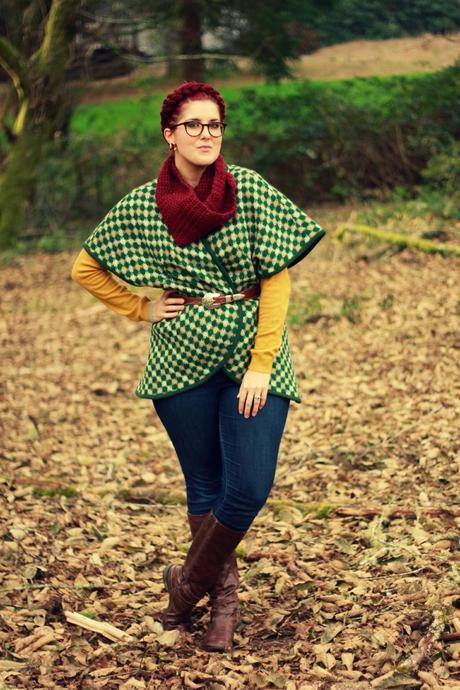 So far, it's… well, I think it's too early to say, really. It's interesting, but I'm only a few chapters in and the chapter lengths thus far are two page chapters, which makes it feel a bit choppy. I think they start getting longer later on, though.
And at this point, I know pretty much nothing at all, so I can't even tell you whether I like the premise.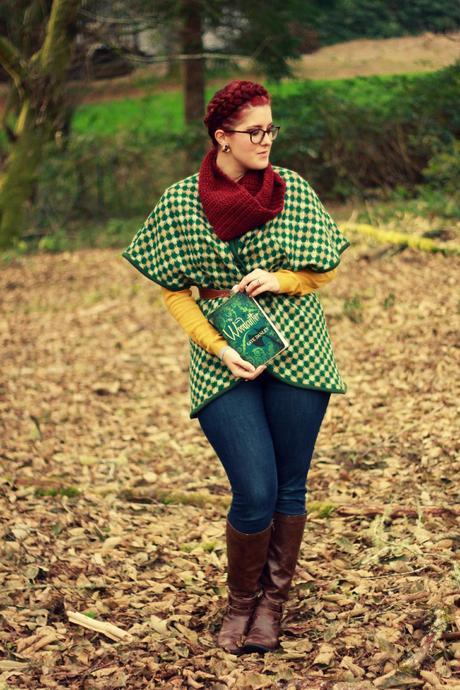 But I love the cover. So that's… something?
Ha! I have a few books on hold that I'm waiting for — The Evolution of Calpurnia Tate, and Hollow City. I should probably also review The Fault In Our Stars now that I've read it, but I haven't been in the mood. Plus, I don't have the book with me any more, and I honestly was only moved by maybe one chapter. It was definitely a little too YA Fiction for my tastes — I don't mind most YA Fiction, but it had a quality of immaturity about it that didn't appeal to me. Which pains me to say, because I really wanted to like it, as I'm a big fan of Paper Towns.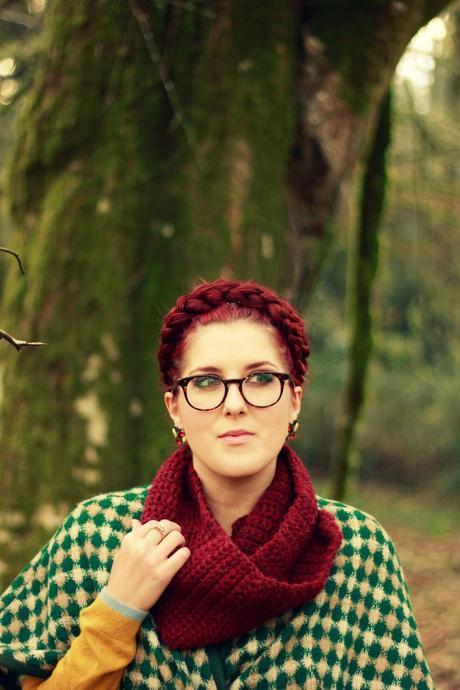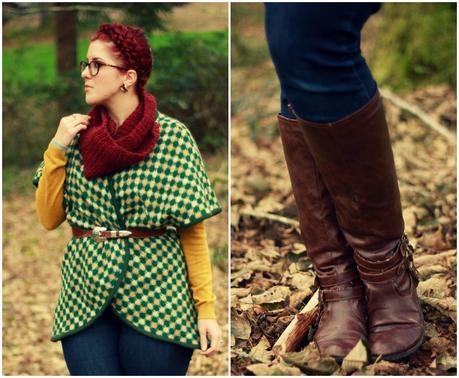 I am starting to gear up for
Dressember
this year; I've been avoiding wearing any more dresses, since I don't have a ton with me and I want to save what I have for next month.
For those of you who have never heard of Dressember, it is a fashion challenge for charity: women (and men, I suppose) wear a dress every day of the month in December to raise money towards freeing enslaved and abused women all over the world. I stumbled across the cause last year via one of my old sponsors, and it really resonated with me. Not because I have ever been enslaved or abused, but because I've always wanted to use this blog for good, and this is a cause that I truly believe in, that I can stand up and shine a light for women everywhere, and that combines my love of fashion with a greater good.
I did quite a bit of research last year before joining just to be sure it was a legit cause, and the entire time I kept thinking of Proverbs 31:8 and Psalm 82:3  which say respectively "Speak up for those who cannot speak for themselves; ensure justice for those being crushed." and "Stand up for those who are weak and for those whose fathers have died. See to it that those who are poor and those who are beaten down are treated fairly. "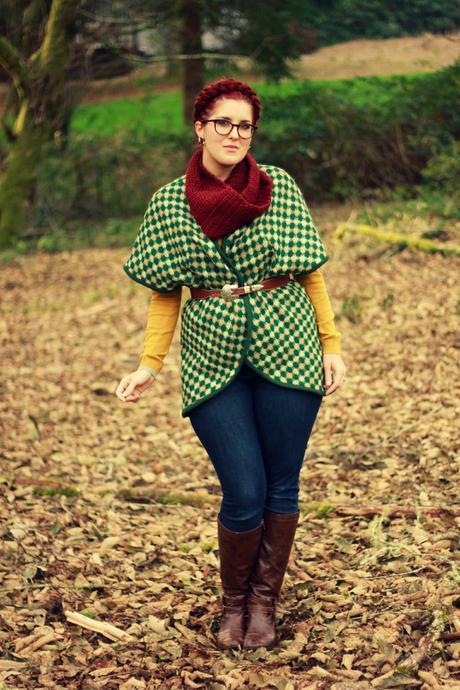 Vintage gifted cape | Motherhood maternity jeans (I know, I know. I should get real jeans for not being pregnant) | thrifted belt | husband-made scarf | Joules (c/o) sweater | JC Penney boots | Oasap (c/o) earrings | Firmoo (c/o) glasses
I know that wearing a dress every day for a month probably doesn't seem like a huge deal, but I feel strongly called to participate for as long as they do Dressember. It's a little thing, but it's what I can do with what I have.
This year, I am offering a medium size ad space in my sidebar to anyone who donates $10 or more. Bloggers, shop owners, photographers; whatever your website (barring the inappropriate), if you want to participate but don't want to commit to a month of wearing a dress, and you want a month of ad space, all you have to do is donate here, and then let me know you've done so. 100% of the donated funds go directly to the International Justice Mission, an organization that helps abolish slavery, sexual exploitation, and other forms of oppression.
Anyway! I am looking forward to participating again, and I hope you think about it as well! If you are going to do Dressember, let me know because I would love to share weekly roundups of all of you in your dresses!
Have a beautiful Wednesday!

Bloglovin|Chictopia|Facebook|Twitter|Pinterest|Instagram|Fiction Press