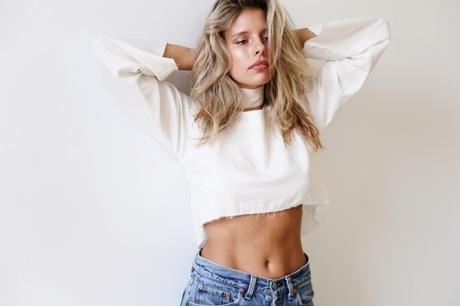 Photo source: Natasha Oakley Blog
As a self employed freelance writer and blogger, I'm always looking for relevant networking opportunities and reading blogs run by inspirational females. So, when JPR Media Group got in touch to tell me about their Woman's Crush Wednesday Club I couldn't resist sharing the concept with you. I'm regularly asked for advice on taking the leap into the freelance community and how I have managed to carve my own career path since leaving the company I worked for two years ago and so it's only natural that there will be a few freelance related posts popping up now and again on my blog. So let's get to it. I couldn't write this post without giving a little thought to the women who inspire me on a business level. Natasha Oakley may be renowned for her flawless curves and her ability to rock a bikini but while her body confidence is without a doubt inspiring it is her business acumen that I find so empowering. Her bikini line Monday Swimwear is all about positive body image and recognising the beauty in your body regardless of your shape and size.
We've all heard the phrase Woman Crush Wednesday and it usually relates to successful women who are inspiring others through their lifestyles and achievements but it does tend to focus on aesthetics and you've probably seen the phrase hashtaged over and over again on Instagram under a photo of a half naked lady. JPR Media Group have taken this phrase and used it to create a concept that focusses on women in business who have made their way to the top through sheer endurance and incredible work ethic. To celebrate these empowering females, JPR Media Group teamed with with other guest hosts and created a number of lavish dinner clubs to reshape the notion of Woman Crush Wednesday and arm it with more positive connotations. Each week, the JPR Media team will take over a sought-after venue in London where a flock of bloggers, PR professionals and industry influencers will gather for a networking dinner to discuss one empowering woman. Oprah Winfrey, Tory Birch, Amal Clooney and Anna Wintour are just a few of the women who have been praised for their business success. Sounds fabulous right?
Each dinner celebrates a different inspirational woman and celebrity invitees are all part and parcel of the event. Vanessa White from the Saturdays, Rizzle Kicks, Roxie Nafousi, Rosie Fortescue and Nina Nesbitt are just a few of the famous names that have come together to celebrate inspirational women. Tash Oakley herself also attended a recent Woman Crush Wednesday club hosted by JPR Media Group at the Dot Project in Chelsea. Other venues have included The World's End Market, LIBRARY members club and new restaurant West36 Rififi Club. Guest hosts have included Ralph Lauren Fendi, Coach, Stella McCartney, Jimmy Choo, Felder Felder, Roland Mouret, Tod's, Boodles Jewellery, Belstaff, Linda Farrow, Grazia and The Handbook.
I honestly wish there were more of these types of networking events up North as while sitting down for dinner with a bunch of people you have never met can be nerve-racking, you will almost certainly leave feeling inspired and motivated to smash your own business goals with a few more contacts under your belt. If you are based in London and would like to find out more about the upcoming Woman Crush Wednesday club, you can see their calendar of events here.
Who is your ultimate woman crush and who would make up your dream dinner table? For further information contact luxury PR agency in London JPR Media Group.
This post was written in collaboration with JPR Media Group but as always the opinions stated are 100% my own.