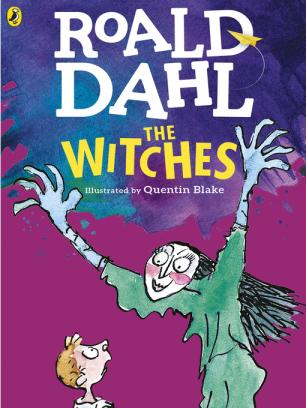 TITLE & AUTHOR: The Witches by Roald DahlWHAT'S IT'S ABOUT
BEWARE.
PUBLISHER: PuffinEDITION: KoboOPENING
PUBLISHED: 6 September 207 (first published in 1983)WHAT I THOUGHT

PAGES: 224 pagesSource: Digital Library Book
Real witches dress in ordinary clothes and look like ordinary women. But they are not ordinary. They are always plotting and scheming with murderous, bloodthirsty thoughts - and they hate children.
The Grand High Witch hates children most of all and plans to make every single one of YOU disappear.
Only one boy and his grandmother can stop her, but if their plan fails the Grand High Witch will frizzle them like fritters, and then what . . . ?
Now you can listen to THE WITCHES and other Roald Dahl audiobooks read by some very famous voices, including Kate Winslet, David Walliams and Steven Fry - plus there are added squelchy sound effects from Pinewood Studios!
And look out for new Roald Dahl apps in the App store and Google Play- including the disgusting TWIT OR MISS! and HOUSE OF TWITS inspired by the revolting Twits.
In fairy-tales witch always wear silly black hats and black cloaks, and they ride on broomsticks.
When I was a kid Roald Dahl was one of my favourite writers. A battered hardback of The BFG was one of the first books I read. When I saw that my digital library had a few titles I had to read them again. I loved The Witches. It was one of my favourite books as a child and it still weaved the same spell on me as an adult. The book is quite scary at times especially for children's fiction with witches killing children or plotting to kill them and children being turned into mice and disappearing only to reappear as part of a painting. I don't remember thinking the book was scary when I first read The Witches as a child. I just thought it was awesome. Isn't it funny how you pick things up differently when you're an adult? I also love the movie with Angelica Houston as the Grand High Witch. I loved The Witches and its perfect combination of magic and menace. I loved it when Luke, despite being a mouse and his Grandma get their revenge. Hats off to them. The Witches is something that can be enjoyed by anyone.