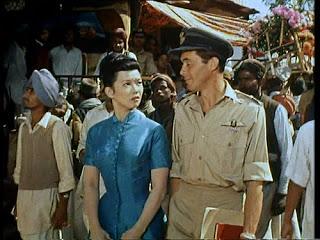 The Wind Cannot Read (1958) offers a serviceable wartime romance. Nice locations and appealing stars make a familiar storyline work.
During WWII, RAF Flight Lieutenant Michael Quinn (Dirk Bogarde) learns Japanese at a military school in India. He falls for instructor Sabbi Suzuki (Yoko Tani), maintaining a romance despite disapproval of superiors and classmates. Quinn's captured by Japanese soldiers in the lead-in to an offensive, while Sabbi becomes ill in his absence.
The Wind Cannot Read started as a David Lean project and retains a suitably epic scope. Director Ralph Thomas shoots on location of India, with lavish color photography courtesy of Ernest Steward. Thomas uses the locations (elaborate Indian temples, bustling marketplaces) as backdrop to a cross-cultural romance, rendering Quinn and Sabbi equally misplaced in South Asia. Cultural assimilation isn't an option for either: Sabbi's a refugee from an oppressive government, Michael exiled in the Empire.
The disparate setting adds intriguing frisson to a relatively pat romance. Richard Mason's novel has a metaphorical resonance that Thomas's movie simplifies: the Brits ridicule Sabbi with condescending questions and racist jokes, Michael shows them a stiff upper lip. Wind descends into rank melodrama in the final act, with Quinn battling Japanese captors as Sabbi develops Glamorous Movie Disease. This leads to a finale that's mopey without seeming tragic.
Dirk Bogarde plays to his strengths, showing Michael's war-weariness and resolution in the face of prejudice. Yoko Tani is an appealing find; with her halting English and sweet charm, she's a fine match for Bogarde. The supporting cast is unmemorable, with workmanlike actors offering workmanlike performances. A young Donald Pleasance can be spotted as Sabbi's doctor.
The Wind Cannot Read has few surprises, but is pleasant enough viewing for undemanding romantics.