I received this book for free from NetGalley in exchange for an honest review. This does not affect my opinion of the book or the content of my review.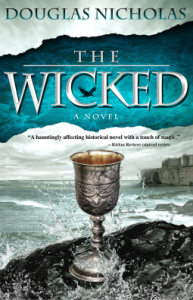 Buy the Book •
The Wicked
by Douglas Nicholas
Published by
Atria/Emily Bestler Books on 2014-03-25
Genres:
Fantasy, Fiction, General, Historical, Paranormal
Pages:
368
Format:
eBook
Source:
NetGalley
Goodreads

The mesmerizing and highly anticipated sequel to Something Red transports readers to the harsh and enchanting world of thirteenth-century England, where a group of unlikely heroes battles an ancient evil.In the critically acclaimed historical fantasy Something Red, the young warrior Hob, his mentor Jack, the mystical Irish queen Molly, and her powerful granddaughter Nemain travelled far and wide, battling shapeshifters, sorceresses, warrior monks, and otherworldly knights. Now, a new type of evil has come to reside in a castle by the chilly waters of the North Sea. Men disappear and are found as horribly wizened corpses. Warriors ride out and return under a terrible spell. Only Molly, with her healing powers, can save the people from a malevolent nobleman and his beautiful, wicked wife. As all are drawn into battle, the young Hob and his adopted family must vanquish the dark powers before they themselves are defeated. An unforgettable blend of fantasy, mythology, and horror, The Wicked is just as chilling, beautifully written, and historically rich as Something Red, drawing readers into a world both magical and haunting—where nothing is ever as it seems.
The Wicked was an interesting read. I found that the main characters were very likable and it was interesting seeing them interact with one another. I really enjoyed the character of Hob and seeing him gain some more maturity in this story was great. The 13th century really did seem to come alive in this book, and with the mix of historical information and the magic was a wonderful mix. Now I did not read the first book Something Red, but I had no trouble getting into this story and look forward to now reading that book too.
If you like stories with a historical background I think that you will enjoy this story as much as I did.
Comments
comments