Enjoy stunning riverside views at The Wharf Teddington
The Wharf Teddington is situated on the riverside in Teddington, overlooking  Teddington lock – famous for Monty Pythons Fish Slap Scene!  The Wharf Restaurant and Bar is unique in that it is the only dedicated restaurant in Teddington that takes advantage of the River Thames. Nearly all other restaurants in this area are on the nearby  Teddington High street.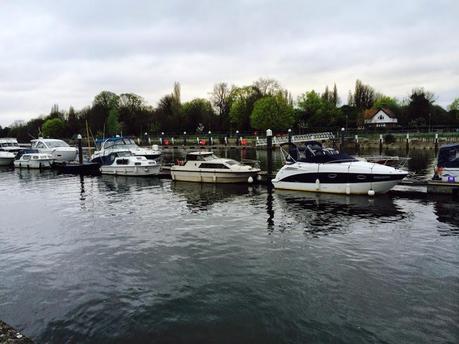 Riverside Views at The Wharf Teddington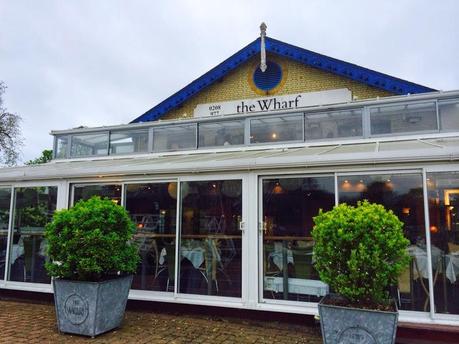 Tables overlooking The River Thames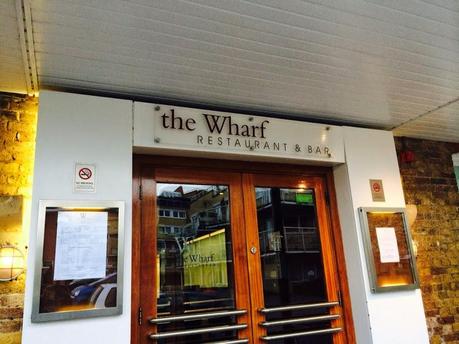 The Entrance toThe Wharf Restaurant and Bar in Teddington
The Chef Proprietor, Ray Neve acquired the the Wharf in 2002. Ray has worked at many top establishments such as The Dorchester Hotel and was executive chef at both The Bankers Club in Kuala Lumper and The Conrad Hotel on Chelsea Harbour.
Our party of three chose from the A La Carte menu which has an eclectic mix of modern European cuisine with some vibrant Asian influences. The menu has a large range of choices and prices to suit everyone.
For the  starter course we chose scallops and minestrone soup. This was after we had all dipped a selection of high quality fresh bread in oil and balsamic vinegar. One of The Wharf's speciality is Chilli Aioli which  was also served with the bread. This was something I had never had before and provided a nicely spiced mayonnaise which was unusual and perfect . The scallops were cooked to perfection – not over done which is often the case.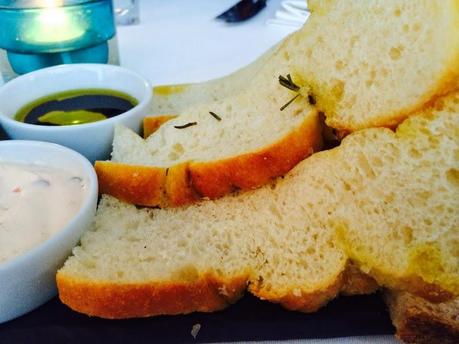 Selection of English Artisan Breads, Olives, Chilli Aioli, Olive Oil & Balsamic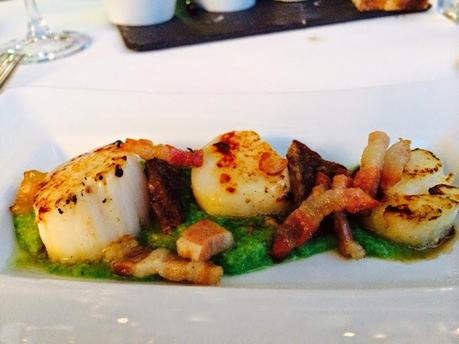 Seared Atlantic Sea Scallops, pea purée, pancetta, Clonakility white pudding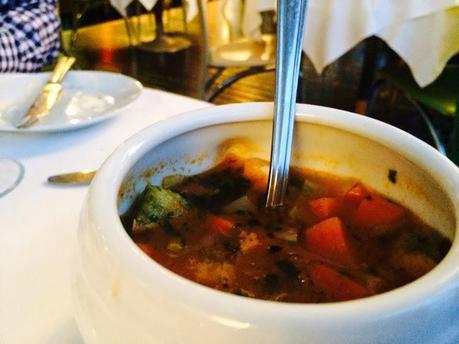 Minestrone Primevera salsa verde, croutons
For main course we chose Sea Bream (huge), the Grssingham Duck and London Pride Cod (also huge). We also selected some carrots, green beans and cauliflower cheese as side dishes. The carrots were delicious and honey roasted.  The very tasty cauliflower cheese  was one of the many highlights of the meal at The Wharf.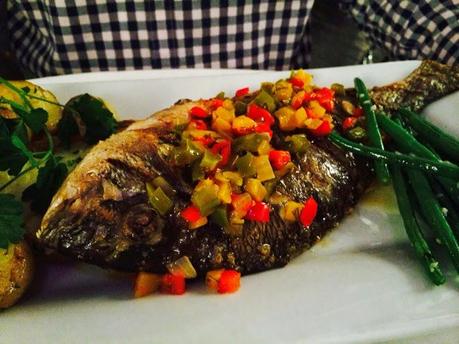 Fresh from Billingsgate, market fish (Sea Bream), new potatoes and house salad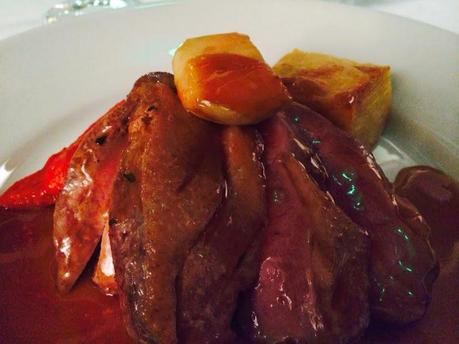 Peppered & Honey Glazed Breast of Gressingham Duck, gratin potatoes, caramelized apples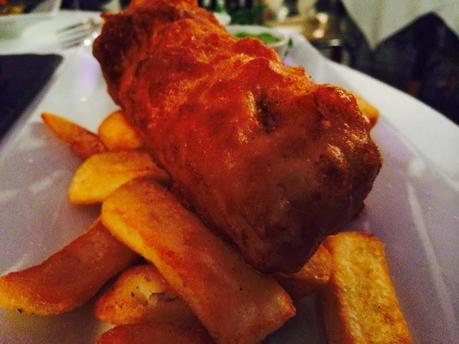 London Pride Battered Cod, chips, minted mushy peas, lemon, tartare sauce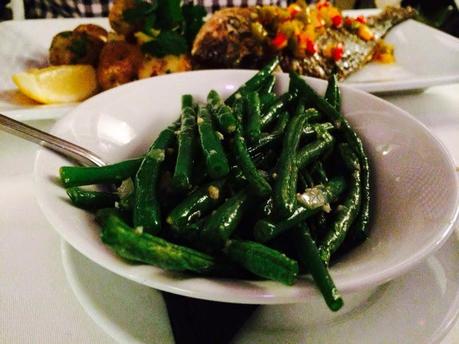 Green Beans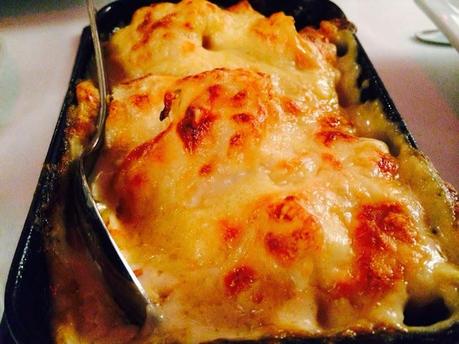 Cauliflower Cheese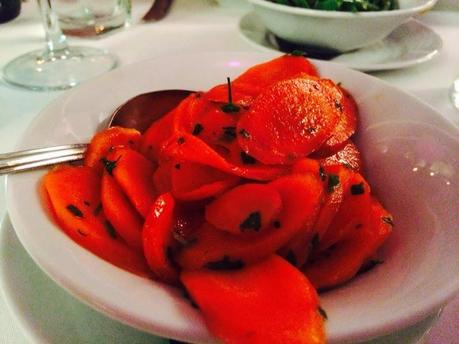 Honey Roasted Carrots
For dessert we chose the sticky toffee pudding, a selection of cheeses and the Cambridge burnt cream and shortbread pot.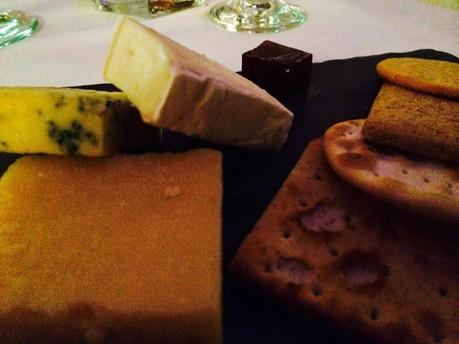 Cheese Plate, Tunworth Soft, Driftwood Goat, Colston Bassett Blue, quince jelly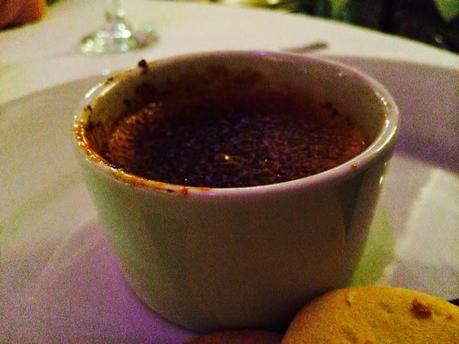 Cambridge Burnt Cream, Short Bread
The Wharf Teddington is a multi purpose venue containing bar area, restaurant and upstairs function room. There was an engagement party making full use of the function room when we dined at The Wharf. I did not venture up however I imagine it shares stunning views of the river just as the downstairs does.
The staff at The Wharf were very friendly and attentive and we were all well looked after including advice on pudding wines with our dessert.
If you are want to have a special meal in a beautiful riverside location then I would recommend booking The Wharf Restaurant and Bar in Teddington. It will take you approximately half and hour from London' Waterloo and The Wharf is approximately fifteen minutes walk from the railway station.
Hope that you enjoy your meal.
Contact Details 
The Wharf Restaurant
Manor Road
Teddington
Middlesex
TW11 8BG
Tel: 020 8977 6333
Fax: 020 8977 9444
Twitter: @wharfteddington
If you would like to feature your restaurant on www.5thingstodotoday.com then please e-mail David using the address [email protected]
Thank you for reading.
David Ridings