Okay, so McDonald's, stock ticker MCD, and YUM! Brands, stock ticker YUM) are the clear winners when it comes to the fast food joint industry. YUM! Brands is the place to go for chicken (KFC), especially in China, and Taco Bell for all that is burrito and tacos. Although MCD and YUM are best of breed stocks, I am a believer in Wendy's, stock ticker WEN. They have a better chance to double in share price and increase their quarterly dividend over the long-term horizon.
DSIFTCM's Fast Food Dividend Yield Comparison:
Yum! Brands 28 cent dividend = 1.72% dividend yield as of 6/24/12
McDonald's 70 cent dividend = 3.17% dividend yield as of 6/24/12
Wendy's 2 cent dividend = 1.76% dividend yield as of 6/24/12
In short, Wendy's is a quick service hamburger company. WEN has more than 6,500 franchise and company restaurants in the United States and 27 other countries and the United States territories worldwide. As of 6/1/12, the Wendy's restaurant system consisted of 6,594 restaurants, of which 1,417 were owned and operated by the company.
Notable Statistics:
During the fiscal year ended January 1, 2012 (fiscal 2011), Wendy's opened 20 company-owned restaurants and closed 15 under performing company-owned restaurants. 

Wendy's purchased 18 restaurants from its franchisees. 

During fiscal 2011, Wendy's franchisees opened 69 restaurants and closed 56 under performing restaurants. 

On July 4, 2011, The Wendy's Company completed the sale of Arby's Restaurant Group, Inc. (Arby's), its wholly owned subsidiary, to ARG IH Corporation, a wholly owned subsidiary of ARG Holding Corporation. During fiscal 2011, the Company sold five company-owned Wendy's restaurants to franchisee

52 week share price range $

4.29 - $5.62

Vol / Avg.

2.40M/2.95M

Market Cap. $

1.77B

P/E

59.78

Dividend/Dividend Yield 

$

0.02/1.76%

EPS

0.08

Shares

390.30M

Beta

0.96

Inst. own

71%
Dave Thomas opened the first Wendy's restaurant in 1969 in Columbus, Ohio. He opened the door to a new gold standard in quality food. 
When other restaurants were using frozen beef and mass-producing food, Dave developed an innovative method to prepare fresh, made-to-order hamburgers. 
Every day, Wendy's honor his legacy and continue to live through his values by using select, premium ingredients and serving food that's made fresh with every order. If my taste buds serve me correctly, Wendy's cheeseburgers (especially their Baconator) are tastier than McDonald's cheeseburgers. Wendy's does not put all of those small bits of onions on their cheeseburgers. Wendy's cheeseburgers do not taste like artificial meat either. I'm not bashing McDonald's, there is just a clear difference between the two. 
Let's say you have $1,000 to invest into Wendy's (WEN). That will buy you around 
220 shares of WEN. That will get you $
4.40 per quarter in dividends. Reinvest those dividends and you are basically getting a whole share of WEN. If the stock goes up a dollar, that's $220.00 in gains. 
McDonald's market cap is currently $89.79 billion compared to Wendy's $1.77 billion. If I just lost your enthusiasm for WEN then I completely understand, however just ponder these questions below.
What if Wendy's can cut into McDonald's market cap? 

Do you believe Wendy's will ever go bankrupt? 

Shouldn't there always be an alternative to McDonald's in the fast food industry? 

Why should there be a fast food monopoly? 

Doesn't society always like variety? 
I'm not trying to pump WEN to be something that it is not. I believe their dividend yield is safe and may reward investors long term. You just gotta believe in that redheaded pig-tailed icon, Wendy. I am not the only one who believes in WEN. 
Nelson Peltz has invested a large stake in Wendy's. Who is Nelson Peltz? (click here). Recently, WEN c
ompleted a new credit facility which could save them $25 million in interest costs on a yearly basis. 
If you are a smart investor, then you should not invest in companies that you do not like. That is not a golden rule, but it's better to be confident in a companies success versus investing in a company that you do not like. I like Wendy's menu. You simply cannot beat their value menu's price to quality. For less than five bucks you can get a drink, 2 sandwiches (chicken or meat) and some spicy wings and walk out feeling content and full. 
It may take longer to get served than at McDonald's, but the reason is that they making your order from the start, unlike getting already made sandwiches sitting under heat lamps (i.e. MCD).
Click here to view Wendy's 1st Quarter 2012 earnings webcast presentation. 
Notable items while reviewing their presentation include: 
Fourth consecutive quarter of positive SSS

Q1 2012 system SSS of 0.8% lower than expected

Lost momentum from strong +5.1% SSS in 4Q 2011

Margin negatively impacted by product mix and commodities

Revising Adjusted EBITDA from continuing operations outlook to $320 to $335 million

Investing in business to drive future growth
In closing, 
Wendy's is due for a turn around. While they have often been criticized for their menu, that gives them more flexibility than their competitors. WEN recently passed Burger King as the number TWO burger chain, which is a solid move. WEN currently has $1.22 of cash per share in their bank account. WEN may have taken a hit, however they are trying to improve. I strongly believe that there could be surprising returns for such a visible company.
Wendy's is providing shareholders with tasty burgers, salads, chicken sandwiches and a 1.76% dividend yield. Yes, there are other companies with higher dividend yields and larger market cap, however if you want to invest in a consistent performer who will be around during your working and retirement years then look no further than Wendy's. When you drive by a Wendy's and see it packed you can say to yourself, "I own a piece of that!" Just wait until Wendy's revamps their restaurants to look like this one below, everyone and their co-workers will be stopping by for a trendy place to hang out with some seriously delicious food.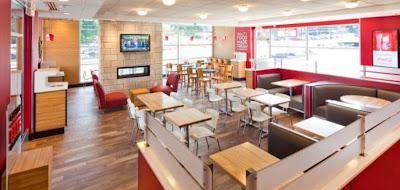 Feel free to watch the hand picked Wendy's related YouTube videos below and visit Wendy's websites too.
Wendy's: Our Company
Wendy's Responsibility Wendy's Investor Relations
Wendy's News
P.S... This past Father's day, 
Wendy's rolled out their plan to help children in foster care to find permanent, loving, adoptive homes. Father's Day Frosty Weekend tradition has been going on for six years now. Wendy's goal was to raise $1.6 million. You could b
uy any Frosty product and Wendy's donated 50-cents to support Wendy's Wonderful Kids, a program that is dedicated to finding permanent adoptive families for children in foster care. All Frosty products were included, even parfaits, shakes and floats. What a great way to give back!