It's a Short Way to the Top
The devoted among you might remember an article on this very website, many moons ago, heralding the arrival of the Western Sydney Wanderers as the newest team in the A-League. At that point, they only had three players and with only a month or so to go until the start of the season, were heavy favourites to finish with the wooden spoon.
23 rounds later, Tony Popovic's boys stand on top of the table with just four games to go in the regular season. Their latest success was a 1-0 win against previous leaders Central Coast, at their own stadium no less. It was in truth a fortunate win, with the Mariners having the best chances, not to mention a missed penalty from their 'keeper (their fourth miss in a row), but a late Labinot Haliti winner was enough to seal the three points.
Haliti encapsulates what the Wanderers are all about. Discarded by virtually every other A-League club over the years and widely seen as a joke figure, he's scored three times in just five appearances this season, most of which have been as a second half substitute. Most of the squad is made up of similar misfits, who, when pooled together, have bonded to go on a record winning streak and suddenly propel WSW into the favourites position for the league.
 This is THE sports story of the Australian year, with mentions on the front pages of newspapers, as well as some overseas coverage. Even the Prime Minister paid a visit to training the other day.
You know you're big time when you're used as a tool to gain votes in an election year.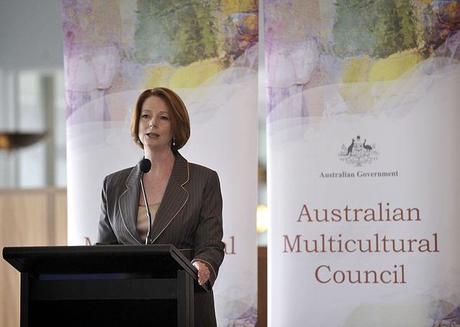 Julia Gillard is probably chasing votes here too. Courtesy of Kate Lundy
Oh Yes
The good news continued with Shinji Ono signing a contract extension, meaning he'll be around next year as well. With Sydney FC also confirming Alessandro Del Piero's renewal, it just leaves Emile Heskey as the marquee player not to commit to another season. But with Newcastle's owner facing fraud charges and financial ruin, he might not be so quick to sign.
We Hardly Knew You
What was that we were saying about Lucas Neill being fickle? Having only joined Sydney as good as yesterday, the Socceroos captain is already talking about a move to Europe, saying that he'd be off as soon as a decent offer came in from those shores.
While his viewpoint is somewhat understandable given the proximity of the World Cup, he could have timed his announcement better, with Sydney in a desperate race to clinch a finals spot in the last weeks of the season.
Seeing Red
As previously discussed, fuses are short at Sydney. Fabio Alves' red card in their 2-1 loss at Perth was their fifth in their last four away games, and coach Frank Farina has had enough. The Sky Blues are just one point off a finals place, but their next three games see them playing the top three teams, culminating in a derby game against WSW at Parramatta Stadium, which, let's be honest, they will be humiliated in.
The powers that be would like nothing more than a Sydney derby for the grand final, but it's hard to see the blue half of Sydney even getting into the knockout rounds.
Coahing Casualty
The latest manager to bite the dust in the A-League was Ricki Herbert, who resigned as Wellington coach, citing a desire to concentrate on his job as the New Zealand national team coach. It was an odd time to resign however, with the Phoenix involved in a tight battle for the last finals places, and many believe he jumped before he was pushed, so to speak.
His replacement is Chris Greenacre, who got his tenure off to a good start with a vital win over Melbourne Heart, simultaneously ruining this correspondent's accumulator.
So fuck him.