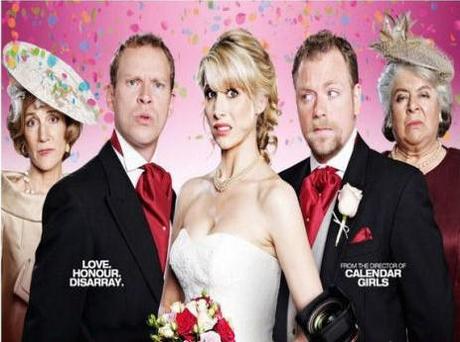 The Wedding Video is amusing
The background
The Wedding Video, directed by Nigel Cole, stars Robert Webb as Tim, a hapless chap who's marrying posh Saksia (Lucy Punch). The screenwriter, Tim Firth, also wrote Calendar Girls, which Cole directed. Saskia has a past, with the groom's brother (Rufus Hound); her posh mother is played by Harriet Walker. Critics are, on the whole, lightly amused.
Unpretentious and likeable
There are some "decent laughs," said Peter Bradshaw in The Guardian, "in this very wacky, unpretentious and likable [sic] British wedding romcom." The clever conceit – that it's all an amateur wedding video – allows for lots of gags, including som "massive 'getting progressively drunk' montages.'"
Bags of goodwill
It "gets by more on goodwill than inspiration," said Tim Robey on The Telegraph, but "it's lightly amusing and well played." Its attempts at satire are "facile," but Harriet Walker "kicks the whole thing up."
Well observed
"Dearly beloved," said Anthony Quinn in The Independent, "we are gathered here today to witness the joining of two genres in one, the middlebrow wedding comedy and the DIY vérité flick. Too bad for anyone who knows of lawful impediment." It's "sometimes well observed," and Hound's "puppyish presence keeps the whole show lolloping along."
Should be funnier
It should be funnier, said Derek Malcolm in The Evening Standard. But there's "a good idea at its center." You can't believe in Hound's character, though, and one ends up yearning for Four Weddings and a Funeral.
Has lots of funny moments
Lisa Giles-Keddie on Superstar was more impressed: "It may not have a unique freshness to it, and loses the balance of blossoming romance through trying to be off-the-wall crazy all the time or too contemplative at others, but The Wedding Video still has lots of very funny moments and a realistic interpretation of the lengths some people go to when confronted by a camera lens and under increasing (often self-inflicted) pressure to perform."
So, @rufushound's The Wedding Video is out today. If you aren't going to see it, you fail at life. I bet you chew with your mouth open too.

— Kendal Love (@kezzumz) August 17, 2012