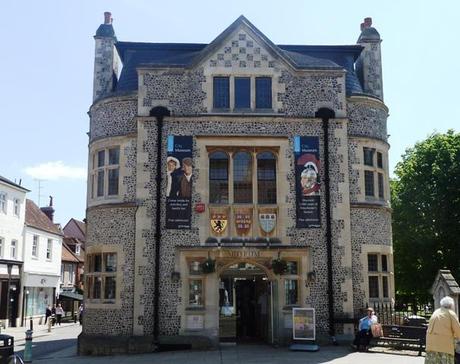 We were also greeted by a very friendly volunteer at the City Museum in Winchester, entrance to the museum is also free.
First impressions really do count and a couple of weeks ago I received the warmest welcome I've ever received anywhere.  We were in Winchester, England and were met by Chris, a Winchester Greeter at the train station.  Chris is a local volunteer in the newly launched Winchester Greeter program, a program that greets visitors to Winchester and get this – it's free!
From the train station he walked us to the tourist office, stopping every so often,  pointing out interesting sights while giving us some of the local history.  He showed us where our hotel was, gave us suggestions of which hills offered the best views of Winchester, pointed out monuments and statues and explained their significance all while answering our questions.  We were with him for about 45 minutes and upon departing he told us to call him on his mobile if we had any additional questions or wanted any restaurant recommendations.  Not only did we not got lost, as we had a local to orient us, but we had the inside scoop of where to go and what to see in Winchester.  I was in disbelief, and the best part was that he was a volunteer.  He wasn't saying nice things about Winchester because he was being paid to.  He was doing it because he genuinely enjoyed living in Winchester and wanted to share a piece of it with visitors and was willing to take time out of his day to do so.
The Winchester Greeter program is available to all visitors, but the Winchester Tourist Information Centre does require 10 working days notice in advance so that they can arrange for a volunteer, so plan in advance.  I can not say enough good things about the Winchester Greeter program or our greeter, Chris, who was warm, friendly and incredibly knowledgeable, despite the fact that as he pointed out he wasn't really a local as he had "only" lived in Winchester for ten years.
The welcome I received in Winchester was by far the warmest welcome I've ever received anywhere and it left me with such a good first impression of Winchester which fortunately remained with me during my two day stay in Winchester.
What's the warmest welcome you've ever had?
Planning a trip to Winchester?  Book a Greeter for Your Visit to Winchester.
This trip was made possible by Visit Winchester, Mercure Winchester Wessex Hotel, and Old Vine but all opinions expressed are my own.  You may also be interested in following King Alf on Twitter for all the latest on what's happening in Winchester.
You may also be interested in:
Things to Do in Winchester
Soapy Sam – A Legend in Winchester Cathedral