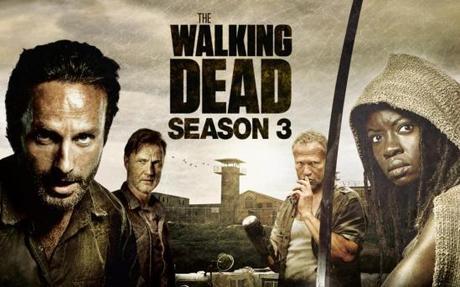 Image from http://nerdbastards.com
The new season premiers in less than two weeks.
With the release of a new trailer, fans of the zombie apocalypse drama are on the edge of their seats.
"We gotta push just a little bit more," says Rick Grimes, a lead character on the show, in the thirty-second teaser.
Images of the soon-to-be discovered prison, a rouge helicopter, and the omnipresent human on zombie violence appear on-screen. Supported by a haunting folk song, viewers hear Lori declare that the survivors must do whatever they can to stay safe and Andrea demand to be released by her captors.
So what does all of this mean for season 3?
Thanks to an interview with executive producer Robert Kirkman, here's what we know so far.
On Season 3:
"Now that we're moving into Season 3, we've seen Michonne," said Robert Kirkman in an interview with TV Line. "We've seen the prison."
"The fans really have a clear indication of what kind of things to expect in the third season and where we're going."
On Michonne:
"The original plan was to hold her for Season 3 and introduce her then," Kirkman said. "And as far as her relationship with Andrea goes, she cut the head off of a zombie. She could easily stab Andrea next in the first minutes of Season 3, so who knows what that relationship will be like?"
"The fans have expectations for Michonne, and I can say with full knowledge that their expectations are going to be met. They need not worry."
On Andrea:
"She is for all intents and purposes in the most danger out of anyone in the group by the end of [season 2]," Kirkman said. "We're going to be exploring that a little bit more in the third season."
"Putting her in the pressure-cooker situation, seeing how she fares, how she's going to do and how she's going to survive is going to be an interesting thing to follow."
On Lori:
"I think she feels partially responsible for sending these two men on a path," Kirkman said. "Not only did she find out that Shane was dead, but her husband totally killed the guy!"
"It was a really emotional moment that is going to drive her a little batty. Having to handle those emotions and looking at the guy that kind of caused the situation, she's not going to be considering, 'Oh, yeah. I did this. I should calm down.'"
On Rick:
"He's forced into this leadership role [at the end of season 2] and we see that he is taking this on and it is affecting him," Kirkman said. "He's growing darker and harsher in this world."
"The series is always going to be about whether or not he can retain his humanity, or whether or not he is going to become some kind of hardened monster that really exists only to provide survival for him and his family."
Check out the trailer below and let us know what you think in the comments! The Walking Dead will return to cable and satellite subscribers on October 14th at 9 pm CST.