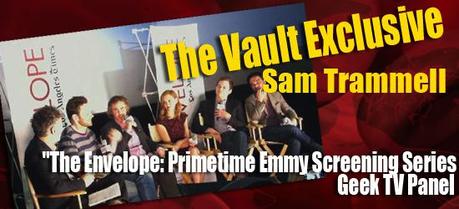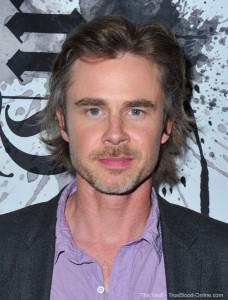 True Blood's Sam Trammell participated in a panel discussion for The Los Angeles Times' 3rd Annual "The Envelope: Primetime Emmy Screening Series" on June 8, 2011 in Los Angeles. I attended the event.
This was the last panel in the series and was called, The Geek TV panel. It was moderated by Times television critic Robert Lloyd and included in the panel was Joel McHale ("Community"), Sam Trammell ("True Blood"), Jayma Mays ("Glee"), Michael C. Hall ("Dexter") and Johnny Galecki ("The Big Bang Theory").
This was my second panel. I had seen Denis O'Hare the night before in the Alternative Family Panel and again the audience consisted of mostly Screen Actors Guild members (they were given preference), and I was a "stand by" audience member.
This particular panel was crowded, probably from the fact that most of the shows included are extremely popular and included leads, such as Sam and Michael C. Hall.  But, again I got in easily and found a great seat in the third row. The actors came out individually after being introduced by the commentator Robert Lloyd.
The video below is from the Q&A panel and shows the parts that highlight Sam. You will see him answer lots of "dog/shapeshifting questions" and, as you'd expect Michael C. Hall and Sam seemed to have the most in common on the panel.  It was interesting to recall that Sam played in an episode (eps. 2) of Dexter and was a Dexter victim.
One of the funniest parts of the night was when the actors talked about the fans. Michael C. Hall said that some fans have asked him to strangle them. Sam talked about True Blood fans, saying that they aren't as weird as you'd think. He then went on to talk about the fact that a lot of security people at airports are big fans, however that fact doesn't do him any good because they don't let him go through the "check in" process any faster.
Thanks to Shadaliza for the video editing.