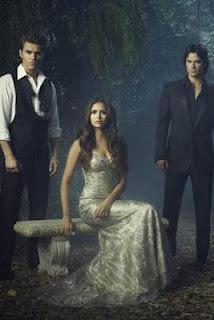 Watch The Vampire Diaries Season 4 Online - To all Vampire Diaries fans, today we have to celebrate because another spoiler for this incoming season has been released. Yes, you heard it right another spoiler for the incoming season fourth season of The Vampire Diaries.
Below is a promotional photo for the incoming season that is set to premiere this coming October 11, 2012. Well, featuring in this photo is none other than vampire diaries casts starting up Stefan (Paul Wesley), Elena (Nina Dobrev) and Damon (Ian Somerhalder) posing together and they look all stunning whatever position or angle it maybe. Well, talking about the place where they are? This one looks like it is a graveyard, am I right? Angel statue is facing on Damon while Elena is firmly setting on a stone bench and she looks absolutely gorgeous in a various setting while Stefan is standing at her back.
This shot looks very uncanny and eerie but this one looks perfect and suited for their vampire themed. I know that you are all pretty much excited about this fourth season and this photo makes you nerves racking and I truly understand that for I know that you are just pretty well excited to view this brand new season which will about to premiere about one month from now.
By the way just enjoy watching the photo below and before you leave don't fail to leave your precious comments below describing this photo!
Are you now excited to watch The Vampire Diaries Season 4 Season Premiere?