I was reminded of a colleague's very thought-provoking piece on obsolete objects when wandering round the Rijksmuseum on a recent trip to the Netherlands.
We happened to start our visit to the museum in the section containing 'things' as oppose to pictures – ie when we were still very 'fresh' and attentive – with the result that I spent hours marvelling at the endless array of objects, many of which would be regarded by all of us today as obsolete.
Let me start with one of my favourites. It's a detector lock with key. While I have to acknowledge that we still use locks and keys, there is increasing momentum around digitally-based security, especially as it is in the digital sphere there is much to protect, together with greater reliance on biometrics. What I liked about the below lock was the ingenuity involved – the keyhole is concealed behind the man's left leg; with two complete turns of the key, the dial at which the man's stick is pointing rotates; this records how often the lock has been opened; the doorknob is released when the man's hat is pushed aside. I'm not sure how to describe it, but it seems to be very human, with humorous practicality blended with a sense of the aesthetic.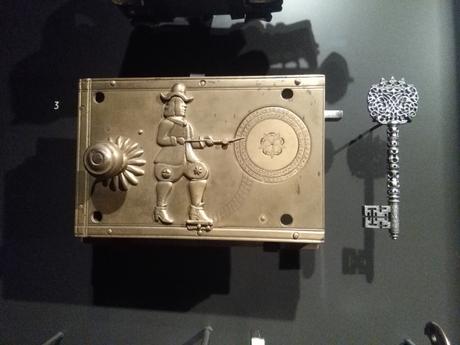 The idea that beauty and purpose come together in these 'redundant' objects is one that struck me multiple times during my visit. Just look at my next item 'on display': it's a personal accessory which would have been literally 'pointless' even when just made but still be highly valued. Now, it would just seem really out of place. It's a gorget (discovering these objects also meant encountering new words – a sconce, anyone?) Gorgets are essentially pieces of neck armor and ranked among the most prominent ceremonial silver of civic guard companies. They were worn by the annually appointed head or 'king' of the militia company – but really only to show off, not for when in battle of course. Later generations, to commemorate their term in office, added pendants of birds and shields bearing family arms and names. Perhaps gorgets could get a modern lease of life through some updating by Gaultier?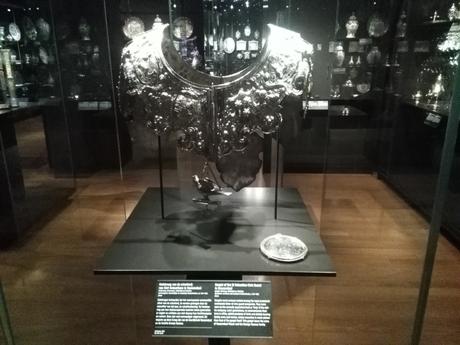 I would also like to posit a need to re-engage with materialism – we should value the objects we have beyond their functional purpose. It is a boring cliché to say that we are in a 'throw away culture', but it is worth highlighting the implications of this. We don't really care about things as long as they work, and if not, we don't want them. How about having things that we treasure whilst we use them? Look at the ridiculously over the top timepiece and the exquisite etched glass below. Compare the latter to the ubiquitous soda glasses we all have in our homes.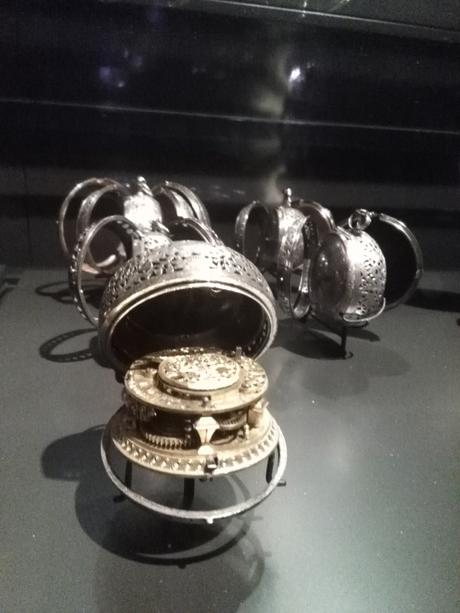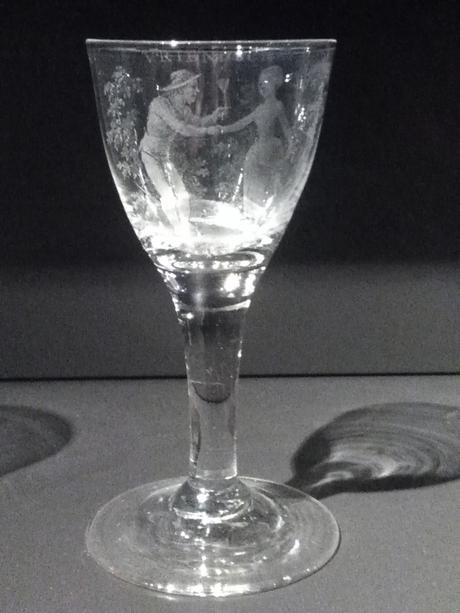 My final exhibit is on a twist on the all above themes. It's a swan-necked bottle, originally from Iran but popular with Western travellers. According to romantic tradition, the distinctive spouts were used to catch the tears of women whose husbands were fighting at the front. Were these bottles ever used for what they were designed – who knows and who cares? Something can become even more precious when it is in more than one sense obsolete.