There is this great story going around explaining how Israel became the first country to get so much of the Pfizer COVID-19 vaccine, ahead of so many other countries. Or maybe I should say, how PM Netanyahu was able to convince the CEO of Pfizer to sell to Israel so much so soon, ahead of many others.
The story goes (I do not know the original source for this, though I have seen it posted in several places and have received by both email and whatsapp several times):
Amazing story about why Israel is getting the Covid vaccine before most other countries....
Sixty thousand Jews were in Thessaloniki, Greece on the eve of the outbreak of World War II. A living and vibrant Jewish community. Most of the porters in the port of Thessaloniki were Jews. The port of Thessaloniki was even closed on Saturday. Great rabbis lived there too
It was on this glorious community that the Nazi terror brutally rose.
Hitler took Greece by storm to secure his southern wing before launching Operation Barbarossa and the offensive against Russia.
Out of 60,000 Thessaloniki Jews, about 50,000were exterminated in Birkenau in a very short time.
Few survived.
Among the survivors were the Bourla family. After the war in 1961 a son was born to the Burla family. And they named him Israel - Abraham. (Albert).
Albert grew up and studied veterinary medicine. He received his doctorate in reproductive biotechnology from the Aristotle University of Salonika Veterinary School.
At the age of 34 he moved to the United States. He married a Jewish woman named Miriam and had two children.
In the United States, Bourla was integrated into the medical industry. He progressed very quickly and joined the Pfizer company where he became 'Head of Global Vaccines'.
From there, the road is short for his appointment as CEO of Pfizer in 2019.
Throughout the year, Bourla led the company's efforts to find a vaccine for corona in super efforts.
The vaccine that will save the lives of millions of people around the world was led and pushed by a Jew. Son of Holocaust survivors. From Thessaloniki.
His vaccine will also reach Germany, where 1000s have died from Covid - the vaccine will also save lives there.
And this is why Israel is becoming the first country to receive the vaccine....in memory of Albert's grandparents.
That leads me to a meme going around now about the Pfizer vaccine. I like a good meme as much as the next guy, but this one just bothers me, and I hate that it makes me defend people I don't like. 
Here is the new meme going around: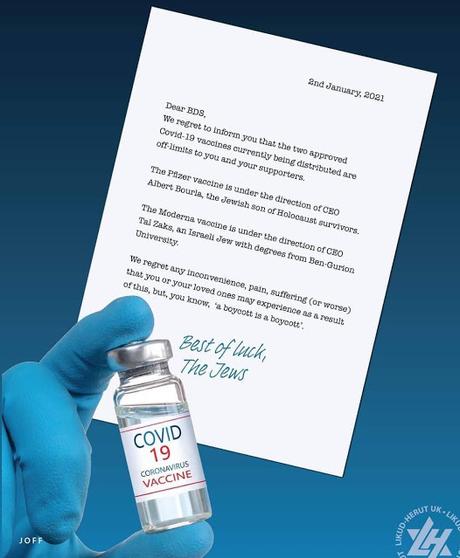 As much as many BDS supporters are anti-semites, they only boycott Israeli made products. Products made in the country called Israel. They do not, generally (maybe there are some individuals who do, but not as a movement), boycott products made by, and services offered by, Jews in general outside of the country Israel. This meme is fake news, as BDSers have no reason to boycott Pfizer as the CEO is not Israeli. Moderna is also not an Israeli company even though the CEO himself is Israeli, but at least with Pfizer the CEO is Jewish and a Holocaust survivor but not an Israeli.
The meme is both fake news and not cute or funny. The one thing going for it is that if it proves true and somehow does get boycotted (I can see anti-semitic anti-vaxxers taking up this cause), there will be more vaccines for the rest of us.
------------------------------------------------------
Reach thousands of readers with your ad by advertising on Life in Israel
------------------------------------------------------