July 2, 2014
Before I get started I just want to say that I wish this team had played with the intensity it played with for the last 15 minutes of the game for the entire 120.  For maybe one half of one second I thought they had a chance to come all the way back and it would have been glorious.  Also, Tim Howard is amazing and we've been blessed as American soccer fans to have been able to watch this man put in work for a long, long time.  He'll be missed on the international stage.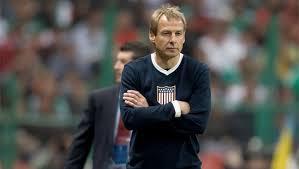 Did Klinsmann do that good of a coaching job?
This should have been the best United States Soccer team of all time.  This should have been the most exciting USMNT ever put together.  Solid offensive options, a midfield you could rely on and a defense that had bodies to blow.  Instead this turned into a depressing reminder that we are miles behind the rest of the world in soccer.
The problem is that the US media and fair weather fans bought into the idea that Jurgen Klinsmann was here (and still is here) to save America soccer.  The former German national coach signed on after US Soccer tired of Bob Bradley to take this team to a level they had never reached.  To bring them to the promise land and prove to Americans that soccer, er futbol, is a real sport.
Klinsmann may have convinced the US media and people around the country that US Soccer is for real but I'm not buying.  Not after the stinker the US just threw down in Brazil.  Mind you, I care a ton about this stuff.  I've followed this team relatively closely over the past 20 years.  And not just every four years.  I've watched friendlies, qualifiers, Gold Cups, Confederation Cups and games that didn't even matter.  I went to bars so I could watch a friendly being played on channels so obscure that the bars had to charge an entry fee to watch.  I wanted to make sure I knew what I was getting myself into when the World Cup arrived every four years.  My favorite team is 2002, but that's for another time.  The real issue, in my opinion, is the team that Klinsmann brought to Brazil and how he managed them (and NO, this will not be an ode to Landon Donvan no matter how much better they would have been with him in the starting lineup/ as a sub/ rubbing players down on this team.)
This team just wasn't that good.  They were a solid bunch of guys who were thrust together to become Jurgen Klinsmann's "team."  A bunch of guys he "believed" could compete in the World Cup even if he himself didn't believe they could compete.  It was an old roster with young guys promised spots by a coach more worried about the next time than this time.  He sacrificed real talent (Donovan, Eddie Johnson, Clarence Goodson) for guys he felt were "better" for the team (too many to name, but Brad Davis comes to mind.)  He said it was about the best 23 but I think anyone who has followed this team knows it was about Klinsmann flexing his muscles.  Once he was guaranteed the 2018 World Cup he made it a point to do what he wanted even if it wasn't best for the 2014 team.  He even talked about building for 2018 like we care about four years from now.  People respected his willingness to leave veterans off the team (see names above) less we forget that more than 33% of this team was over 31 years old.  He passed up guys who had proved themselves on the national stage (see names above) in leiu of guys who had next to zero national team exposure.  Never mind guys feeling comfortable playing with each other, he was building "his team."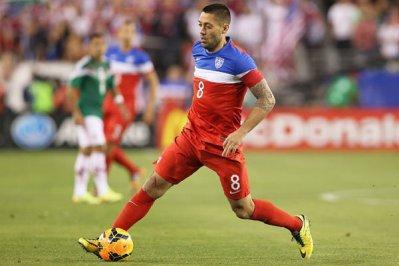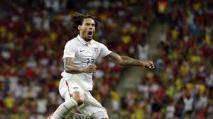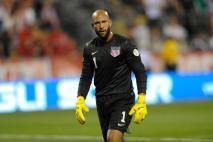 Nothing but love for these guys who have played their last World Cup for the US Men's National Team.
And finally, and maybe most importantly, he couldn't keep a consistent lineup.  Sure Jozy Altidore's injury threw a wrench into the starting 11 but Klinsmann couldn't keep any type of consistency on the field and that should set off some alarms.  I haven't looked at this yet, but how many different lineups did some of these other World Cup teams trot out?  I'm not talking about subbing a guy because of yellow card accumulation, I'm talking about straight up changes from game to game.  That's not supposed to happen at the World Cup.  Do you think Brazil, the Netherlands, or Germany tinker with the lineup every game during the World Cup?  Of course not, those kinks are worked out in qualifiers and friendlies leading up to the World Cup.  You typically don't make multiple changes every game of the World Cup because you'd identified the top 11 guys you are going to war with.  Klinsmann didn't have that.  He didn't have a set roster.  He didn't have a clue.
Well, now that it's over, I'd like to thank most of the guys on this team for coming out and wish them the best because they've probably played their last World Cup match for US Soccer.  Klinsmann has talked glowingly about building for the future yet I can't see many of these guys being around in 2018.  Furthermore, who knows if these youngsters he's invested in, (Julian Green, Aaron Johannson, DeAndre Yedlin) will even pan out.  Though I believe they will, there is no such thing as a sure thing when talking about World Cup rosters.  Just ask Samir Nasir, a 27 year old stud who was left off of France's roster because he's basically a clown, or Giuseppe Rossi, the New Jersey born soccer stud who will NEVER play a World Cup match for Italy even though he left the US hanging when he decided to play internationally for Italy.  It's not about the next one, it's about the one RIGHT NOW.
Don't get me wrong, I loved watching this team. I thought they played well but were just over matched for most of the time they were on the pitch.  And who can blame them when most of them had only played with each other on the practice pitch leading up to Brazil.  Their two best players (who can't use their hands, Tim Howard) played out of position the entire world cup, (Bradley, Dempsey.)  Their X-factor, Jozy Altidore, was injured early on and unable to complete (which totally sucks by the way but that's a whole other post,) and the rest of the roster was a bunch of cast-offs and youngsters who had play with each other as much as I've played with the US Men's National Team.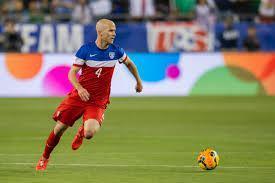 Bradley seemed lost at times in his new role.
So what now?  Most of this team will not be back.  I assume Klinsmann will immediately start bringing in more and more youngsters to play in friendlies in hopes that he can put together a team he can feel confident about.  But there are serious questions we should be asking our German head coach.  Who's playing defense?  Besler, Gonzalez and Cameron can all play defense but not at a world class level and teams knew we couldn't defend 1v1 and made it a point to attack constantly.  Jermaine Jones, arguably the USMNT's best player this time around, again without using his hands, is most likely done, Dempsey is done, Howard (our rock and MVP) is all done as well as many of the role players on this team.  There's not a whole lot to get excited about for 2018, which is what we need to look forward to now that 2014 has come to an end..
Most (casual) fans and media will see this tournament as a success.  A second straight trip to the knockout stage will certainly earn high fives among those who tune in every four years and catch the fever.  But I'm left feeling like we could have done more, we could have done better and should have been more of a threat.  There are players who were left off the roster that would have made this team better, no question about it.  We wouldn't have had to spend 45 minutes trying to figure out who was playing left mid versus Germany or why the forward brought on to "poach goals" missed a golden opportunity to poach us into the final eight even though he had no business being on an international soccer pitch in the first place.  This was a classic "what could have been" moment for the USMNT.
And yet I feel some way writing this post.  I've lived and died by guys like Howard and Dempsey and Bradley for the past 4-6 years.  I've watched them become elite even when the talent around them was average.  They kept grinding, kept caring and kept the hope alive for US Soccer.  Now, in the blink of an eye, they're done and I'm wondering if we could have done better.
PS, I know this is going to come off as a hater blog but it's more passion than anything else.  These guys should have been something special this summer.
PPS, We'll never know how far they could have gone with a healthy Jozy and some smarter roster decisions.
Post navigation
← Yoenis Cespedes Uncorked an absolute Laser to get Howie Kendrick out at home. Big Papi Walks To First Before Ball Four Is Thrown →