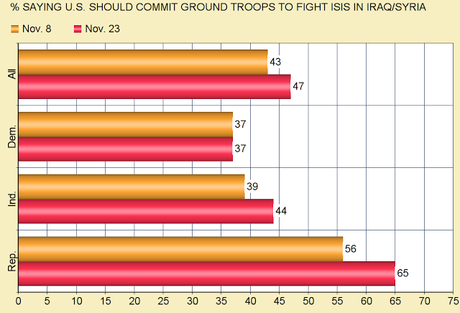 This chart is from the Gallup Poll. The latest poll was done on November 22nd and 23rd of a random national sample of 1,017 adults, and has a margin of error of 4 points.
The chart shows a troubling trend. This nation is moving toward another full-out ground war in the Middle East. I'm sure the Paris tragedy (and the Republican claims that terrorism can only be prevented by another ground war). Currently, nearly half (47%) of the public is ready to accept that new ground war.
They are mistaken if they really think defeating ISIS in Iraq and Syria will prevent terrorism. It won't. Terrorists have never needed to control a country to commit terroristic acts, and they won't in the future. If anything, defeating ISIS in the Middle East will only increase their desire to commit terrorist acts.
Republicans, and too many Democrats, like to pose the conflict in Iraq and Syria as a fight against terrorism. It is not. It is really a religious war -- fought by different sects of islam. It is a battle to see which religious beliefs are going to be dominant in that area -- and that is a battle the United States (or Russia and the Western nations) should not be engaged in. This is a war that shouldn't be fought at all -- and if it must be fought, should be fought by the islamic nations of that area.
Americans have a basic misunderstanding. They view this as a fight against terrorism and for freedom. They seem to think we are there to protect the liberty of Middle East nations. But there is very little liberty or freedom to protect there. And most muslims in that area see our involvement very differently. Many, if not most, of them see this as another christian invasion of the muslim world -- a modern version of the crusades.
We have no business fighting this war -- and neither does Russia, or the Western European nations. We do need to fight terrorism, but you can't do that will military troops. That can most effectively be done through good intelligence gathering, law enforcement action, and a cooperative diplomatic effort.