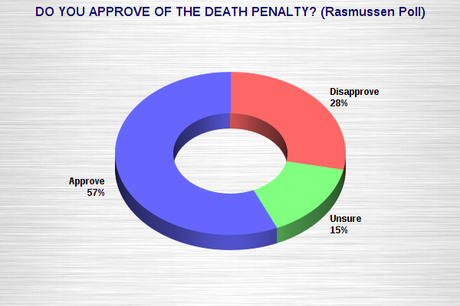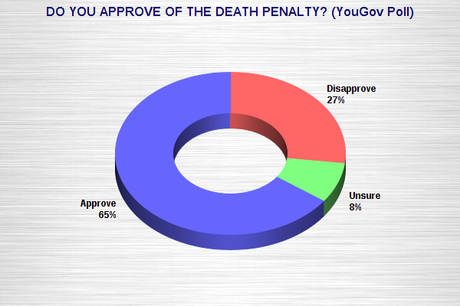 A recent Gallup Poll showed that support for the death penalty has declined recently, but is sit supported by a majority of Americans. Now two new polls show the same thing. According to the Rasmussen Poll, about 57% of Americans support the death penalty -- and a new YouGov Poll had the approval even higher, at about 65%.
This support remains high even though most of the civilized world no longer puts people to death, and it puts us in the company of such countries as Iran, China, Iraq, Sudan, and Saudi Arabia (company I'm not at all comfortable with being compared to). And the fact that dozens of people on death row have been found to have been innocent (and innocent people have undoubtably been executed) seems to have had no effect on support for the death penalty in this country.
Frankly, that sounds like a pretty blood-thirsty country to me. And if you don't agree, just look at the chart below -- when people were asked if they would still support the death penalty if the person being executed gasped for breath for 20 minutes and was in severe pain before finally succumbing to death (as has happened a couple of times recently). Amazingly, about half of Americans would still support the death penalty (49%).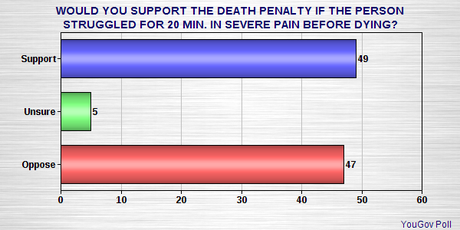 And if that's not blood-thirsty enough for you, the You Gov Poll also asked about water boarding -- and even though 66% of Americans said they thought water boarding was torture, more than one out of four Americans (27%) said they would be willing to personally water board someone suspected of being a terrorist. Note that says suspected terrorist, and not someone proven to have committed a terrorist act.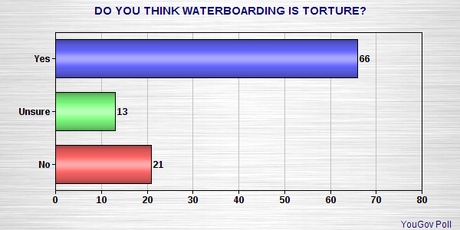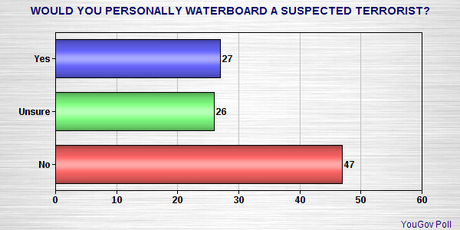 Is it any wonder that most of the rest of the world is afraid of this country?