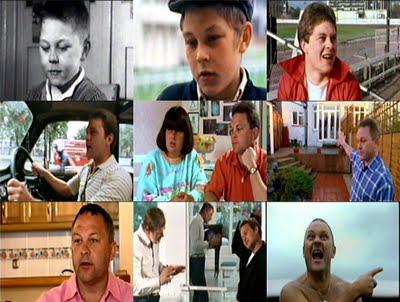 Tony, a participant in "The Up Series", at various stages of his life
In 1964, a British documentary crew interviewed a group of seven year olds from various economic backgrounds and asked them about their hopes, fears, and lives in general. Every seven years since then, Michael Apted, a member of the original crew, has revisited each of these participants to catch up with them and discuss their lives. "The Up Series", as these programs have come to be collectively known, are an endlessly fascinating form of time lapse filmmaking, as we see each of the film's subjects age before our eyes, as Apted interweaves prior footage into each new film. Keeping things simple, each film is simply a sit down with each person and a catch up on their lives, as they discuss with candid honesty the turns their lives have taken. Apted resists the urge to jazz things up and is straightforward presentation only adds, rather then detracts, to overall impact of these powerful films. The stories that I enjoyed the most include Tony, a young boy who dreams of being a jockey and grows up to be a cab driver, still full of zeal; Suzy, an unhappy young woman who finds solace and happiness with her husband and children; Bruce, a boy with missionary aspiration who winds up teaching in the inner city; John, a boorish snob who remains a boorish snob but becomes involves in relief work in Eastern Europe; and then their is Neil, discontented young man who drops out of school and becomes a vagrant who well, I don't want to spoil that one. "The Up Series" is about as real and engaging a film can get and I eagerly await the next installment, due out soon, as these subjects approach the twilight of their lives.
Here is a very brief description of each installment:
Seven Up! (1964)
A collection of British seven year olds, both female and male, from different socioeconomic backgrounds are introduced and interviewed as they talk about subjects such as school, money, race, and their futures. After meeting them all individually, the children all attend a party and we see how they interact.
7 Plus Seven (1970)
We revisit the subjects at age 14, midway between childhood and adulthood.
21 (1977)
Now 21 years old, the group of people we met at 7 and 14 now have clearer ideas on life and what they want their lives to be.
28 Up (1985)
Maybe its because I am now of the same age as the subjects here, but it is this installment that the series begins to take on resonance, as its subjects have largely settled down with family and careers.
35 Up (1991)
As the subjects move closer towards middle age most are firmly rooted in their lives with a few exceptions as they begin to deal with divorce and death of their parents, and other issues while the most fascinating member of the group continues to fascinate us.
42 Up (1998)
As the subjects have now reached the midpoint of their lives, most are firmly rooted with the exception of a few extraordinary examples, one involving an incredible intersection of two of the subject's lives.
49 Up (2005)
As the hairs have grayed, the hairlines receded, and the waistlines expanded, the subjects approach 50 mostly with contentment as they embrace grandchildren, their partners, careers, and life turns.