Today I would like to welcome author W.H. Buxton to Library Girl Reads & Reviews to tell us how Puggles relate to his book CyberLife...
A short while ago, I was working on the first of a three book series, CyberLife , (The next two being CyberSapien in 2012 and CyberSavior in 2013) which fictionally describe one man's attempt to live in a globally integrated communication-driven world supported by his holographic best-buddy; when, without prior warning, my wife came home from one of her daily credit stretching shopping sprees with a new family member: a small, fuzzy brown female puppy she called "Boo-Boo." Unable to recognize the breed of dog, I asked her what kind of Dog it was, and her response was "Why, a Puggle, of course!"
OK…So what's a Puggle? My first thought (hope, really) was that it was a Virtual Pet, like a few of the characters in the CyberLife world. Not so…

A Puggle is a Hybrid Dog; an $800, hyperactive 50-50 mix of a registered Pug and Beagle. As such, it combines the apatite, personalities and physical characteristic of both dogs into one small, clumsy, vocal, digestively-efficient, always hungry and otnay-oota-itebray package of shoe-chewing fun.
As I looked at the Puggle, I saw a 15 year commitment and all the costs and expenses associated with raising another child. My wife saw a cute little puppy with big, brown eyes, a playful personality, and a total joy.
Which leads me to the question of unintentional parallelism. One Dog, Two Perceptions, and both are required to coexist and create the singular world me and this perpetual mouth are going to spend our lives life in. Which is also the problem plaguing the principle character of CyberLife. As with me and the Puggle, Jim Murphy tries his best to live in two worlds: one Physical and the other Virtual. Two different points of view, but at the end of the day, we're both is still the same dogs living in the same world.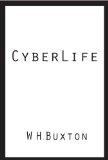 CyberLife describes the world of the full-time integrated communication and our daily lives within it, all told through the eyes, ears and mind of Jim Murphy, a 39 year old mediocre Knowledge Systems Architect. In his world, we "Physicals" no longer need to use laptops or smartphones to access the Internet. Most people use implanted Comderms and Vertals (Holographic projections), to access and manage all the information in the Cybersphere: a massive socially oriented network that connects everyone to everything. It's like the Internet, but on steroids, and you can't unplug from it…
Although not described directly, two of the CyberLife's key concepts involve Unintentional Parallelism and implications of Sociological-Transformative approaches in ascertaining Comparative Advantage, which, coincidently, also directly apply to acquiring and training a Puggle Puppy; mastering Puggle Dynamics through an interactive knowledge system designed to enable continuous learning of the "hidden curriculum" of Puggle-Integrated adult life. Although the context of this learning mechanism described in both of us (meaning: the Puggle and me) are somewhat unique, both of ours will have to develop concurrently around the same sociological perspectives of the continuous education of the individual as we adjust to a new and ever-changing environment. For the Puggle, it is the potential increase of mastering her Canine Capital of economic advantage through repetitive occupational learning of Puggle training. This means lots and lots of snacks and treats.
For me, it is the description of intellectual capital accumulation newly stockpiled in order to help me cope with the consequence of living with a Puggle. This means hiding my shoes on a shelf at least four feet high and correctly living within the Three Laws of Puggle:
1. All food is good;
2. More food is better;
3. Your food is the best.
And for both of us, it is the continuous process of learning to understand and nurture Puggle-Human cohabitation and the coping skills my wife must learn as she strives to survive our respective educations.
So why is this of any importance? Perhaps the hidden forcing function of working to identify the elements of continuous learning in both myself and the Puggle, and for Jim and his Vertal "Jasper" in the Cybersphere stems not solely from abstract social transformational theory, but from the humanist characteristic of acquiring Competitive Advantage. I can already see that some situations resolving shared structural understanding (and food sources) where the supplying resources will be limited and any final arbitration will be deterministically derived from a decision-making third party, meaning my wife. And it will be that decision makers understanding of the desires behind individual and organizational learning incentives, which creates more social capital which leads to greater knowledge sharing and greater competitive advantage in a competing marketplace. In other words, the better I learn, the more I know, the better I can compete and cope, the more influence I have with my environment, and hence, my incentive to learn. This is important, since after observing my wife's own interactions with this new Puggle puppy, I know that if it comes down to me or the dog, I'm going to need a massively huge stockpile of competitive advantage stashed somewhere.
Which brings me back to the Puggle. Despite the two different perspectives my wife and I have on the puppy, it is still the same dog. It's going to require all three of us to continuously learn about each other, and it's that interaction which will lead to developing our own unique "competitive advantages" as we learn the influences we have on each others environment. Knowing where these advantages lie will lead to better enjoyment of our interactions all the way around, and will, hopefully, result in not having to split my lunch with the dog and the saving of the rest of my shoes from a trip through Boo-Boos Alimentary Canal.
Note: All opinions provided on this blog are my own. If a product was given to me for review, the source of that product is noted in the post. Bookstore links are generally affiliate links and I do earn a small amount for each purchase. Other affiliate links will be noted in the post.