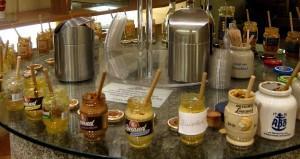 Mustard Tasting
Germany
Berlin
Dresden
Dusseldorf
Arts and Culture
Dusseldorf is rich with significant museums and galleries.  The foundation was laid many centuries ago, when Anna Maria Luisa de 'Medici married into the local royal family and made enriching the arts a top priority. The highly regarded Academy of Art (Kunstakademie) anchors today's scene, acting as a magnet for innovative talent of tomorrow.  Many respected international artists either taught or were taught here.
No art appreciator should miss visiting the K20 Grabbeplatz and K21 Ständehaus.  These tandem museums house an illustrious collection of important masterpieces of Classic Modernism, including works by Picasso, Matisse and Kandinsky.  The collection of works by Paul Klee, who taught at the Academy of Art, is superb.  It maintains an exceptional position on the forefront of nourishing avant-garde artists with its strong commitment to displaying cutting-edge, experimental art installations.  A free shuttle will whisk you between the two locations.
Dusseldorf's dozens of gallery owners provide a supportive environment where artists flourish.  The hefty wallets of local patrons keeps the machine properly oiled.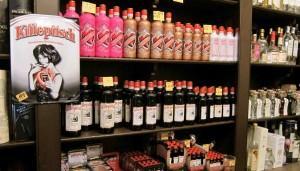 Killepitsch
Tonhalle
Ballett am Rhein
Dusseldorf's opera company
Culinary Dusseldorf
Beer
This city is loaded with gastronomic choices, particularly of the liquid variety.  Dusseldorf is famous for its Altbier, a top-fermented beer.  The Old Town is dotted with numerous traditional breweries that serve this hometown favorite, called alt by the locals.  Alt is dark in color, with a mellow flavor that is fairly heavy on the hops.  The Altstadt or Old Town district has been given the moniker " the longest bar in the world", so in the name of epicurean research, a pub-crawl is highly recommended.
Killepitsch
Killepitsch is a Dusseldorf-made liquor.  For many years, it was sold only here, but it now enjoys a cult-like international fan base.  This 42% alcohol by volume liqueur is made from a secret recipe of 98 herbs, fruits, spices and botanicals.  It is ruby red in color and somewhat sweet in taste.  It may be sipped at room temperature or chilled, neat or on the rocks.  It presents some of the qualities of Jägermeister, the better-known German export, but I found it to be more layered, with less of an anise overtone.  It is frequently enjoyed as a digestif, with a medicinal effect that is just right after a hearty German feast of pork knuckle and sausage.  If you are a lover of potent spirits, no trip to Dusseldorf is complete without a visit to the shop and tasting room, located in the heart of town at Flingerstrasse # 1.
A Museum of Mustard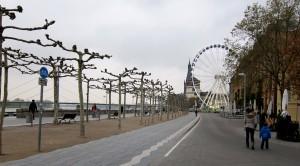 Rhine River Promenade
Altstadt
Löwensenf
A Sugary Spell is Cast
I am not shy to admit that German pastries and breads cast a spell over me.  While I can resist a tiramisu in Italy or a Sachertorte in Vienna, a German apple strudel is my downfall. Dusseldorf is chock-a-block with fine bakeries, but Hinkel is special.  It was started by the Hinkel family in 1891 and is currently owned and operated by the fourth generation.  Joseph Hinkel is the ever-present owner. Lean and lanky, he scoots around town on his bicycle, greeting his loyal customers and always taking the time to chat.  It's location, in the heart of the Old Town, combined with its toothsome baked goods, means this place is packed with customers.  Everything I sampled was delectable, but I wouldn't skip the rye breads, buttery cakes brimming with fresh fruits and crunchy biscuits.
Stroll the Rhine and Shop Till You Drop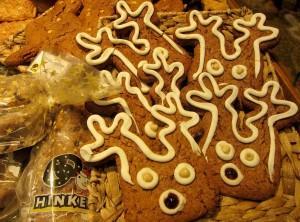 Hinkel Bakery Sweets
See and be seen as you parade down the Königsallee, one of Europe's grandest boulevards.  The swanky shops and elegant department stores make it a beloved destination for trend-setting fashionistas with deep pockets.
Where to Stay
I stayed at the InterCity Hotel, right near the train station and close to the Old Town.  It is sparkling clean and quiet, a winning combination.  The breakfast buffet features a copious selection of hot and cold dishes and excellent coffee.  They provide International newspapers with your fresh-squeezed orange juice.
How to Get Here
Air Berlin flies to Dusseldorf non-stop from several U.S. gateway cities, including New York, Miami and Fort Myers.  Business Class features individual pod-style seating for extra privacy and comfort. Fares are very competitive in comfortable coach class. They are a member of oneworld, so you will be getting those coveted frequent flyer miles.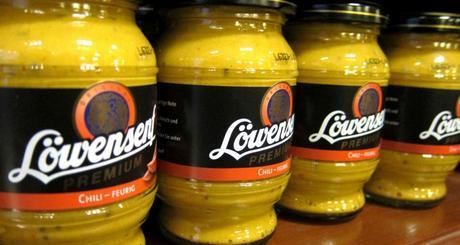 Lowensenf Mustard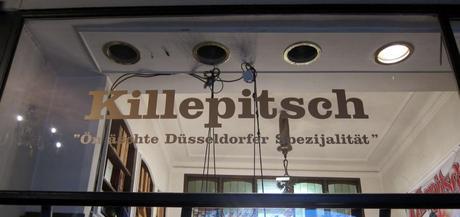 Killepitsch