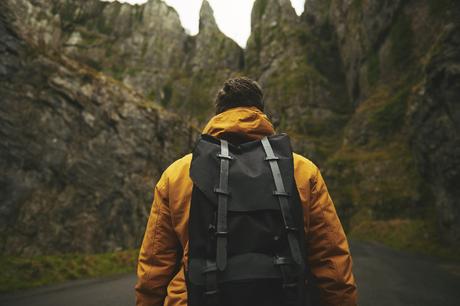 We live in a beautiful but dangerous world. If you find yourself in a difficult situation whilst away from civilization you'll need to rely on your own skills, knowledge and equipment. It's difficult to know what to take with you when heading outdoors - too much gear can weigh you down, but too little can leave you under-prepared. That's why the survival experts at survival-mastery.com have put together this list of 20 essentials that should come with you whenever you venture into the wilderness (click the image to view the full-size version).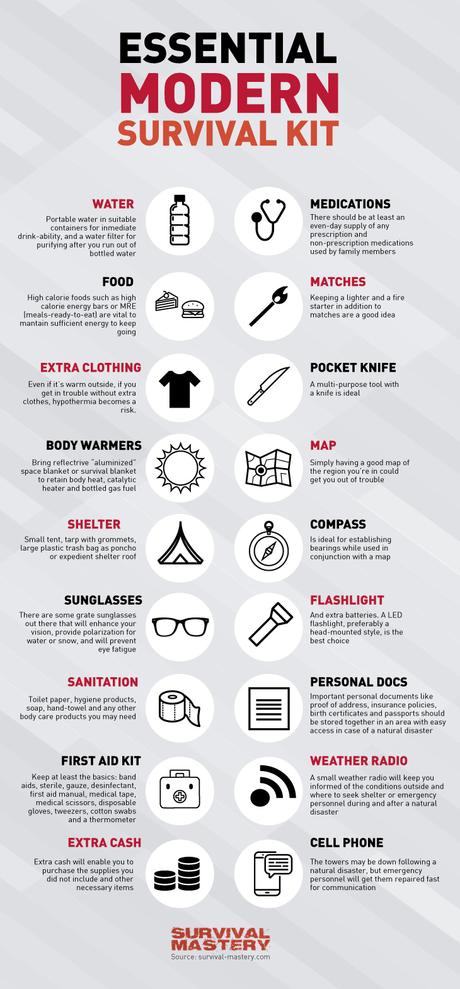 Water
Pack enough bottled water for your trip. If you run out, you'll have to find a natural water source, so it's wise to bring a water filter as well.
Medication & First aid kit
It's absolutely crucial that you have a basic first aid kit with you at all times, along with any specific medication required by anyone in your group.
Food
If an emergency forces you to be away from home longer than expected, you will need plenty of food. The idea is to pack food items that are small in size but high in calories. Chocolate, energy bars or ready-to-eat meals are ideal.
Matches
It's always a good idea to carry matches plus a lighter and a fire starter kit.
Extra clothing
Even if it's warm outside, temperatures can plummet once the sun goes down. If you get wet, you will need to change into dry clothes as quickly as possible to avoid hypothermia. When it comes to staying warm, multiple layers are best.
Pocket knife
Every good boy scout will know the importance of a good pocket knife! The best knife will depend on the type of activity you will be doing - it may be a standard pocket knife, a trusty multi-tool or even a military-style combat knife. Do some research and shop around online to find the knife you are most comfortable with - you can read up on the best EDC fixed blade knife here, the best spyderco knife here or the best folding Karambit here.
Body warmers
A reflective space-blanket or survival blanket will help retain body heat in an emergency situation.
Map
You can't always rely on Google Maps and GPS! When you don't have a signal or your phone is out of battery, you will need a paper map of the area you are exploring.
Tent
If you are forced to spend the night outdoors, you're going to need a small, easy to set up tent or shelter.
Compass
Again, you can't always rely on your phone! Get yourself a good compass to go with your map!
Sunglasses
A good quality pair of sunglasses from an outdoor store will help protect your eyes, reduce glare from water & snow, and prevent eye fatigue.
Flashlight
Another crucial piece of equipment. You don't want to find yourself lost in the dark, miles away from any streetlights. Pack a good quality flashlight and plenty of spare batteries. Some people prefer a hand-held flashlight, while others like to use the head-mounted variety. If you want something a little more advanced, you can read up on the best police flashlight here.
Sanitation
Toilet paper, soap, a hand towel and any other personal hygiene or body care products you may need.
Personal Documents
Especially if you are travelling abroad - it's useful to carry identification, proof of address, your passport and travel insurance documents. Keep them in a place where they can be accessed quickly.
Weather Radio
A pocket radio will be useful for keeping up with the weather forecast as well as emergency broadcasts.
Extra Cash
Keep some emergency funds with you in case you need to purchase any extra supplies, pay for travel in an emergency etc.
Phone
Ideally, each person in your group should have a phone with them at all times in case of emergency.