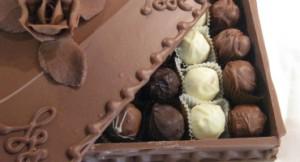 The ultimate chocolate box
Image source: Patisserie Viennoise
Searching for the ultimate gift for a chocoholic can be quite a challenge especially if you want to include the element of surprise. Chocolate gifts have evolved over the years from the humble box of chocolates to decadent chocolate slabs, but if you thought you had tried everything, rest assured there is an easy way to put a new spin on an old favorite.
So what do you get a chocolate connoisseur?  Last week I stumbled across every chocoholics dream. Not only can you gorge on the beautiful handmade truffles but you can even eat the box! These coveted chocolate boxes can be personalised for any occasion and there are sizes to complement every budget.
Curious about chocolate? Here are a few luxury brands to try:
Charbonnel et Walker
Godiva
Green and Blacks
Hotel Chocolat
Lindt
Get your hands on the ultimate chocolate box at Patisserie Viennoise.