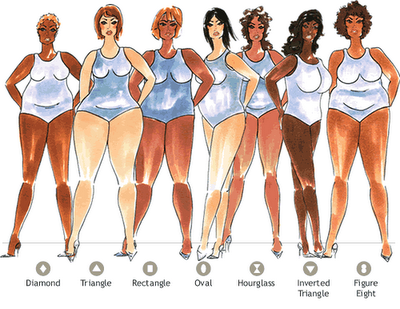 Women come in all different shapes and sizes, however with just a few tricks and knowing your body type you can appear to look slimmer than you really are. 
Ruler
Also known as banana or rectangle, ruler shaped people resemble their name. Their hips, shoulders, and waist are about the same width, and they might have a small bust.

Apple
Also known as "V" or inverted triangle, Apple shaped people are wider in the shoulders and narrower in the waist and hips, with long legs.

Pear
Pear shaped people have curvy hips, thighs, and backside and a small waist, medium to small chest, and sloping or narrow shoulders. This is a very common shape among women.

Hourglass
Also known as an "8" shape, people with an hourglass shape have chest and hip measurements that are similar, with a smaller waist and a larger bust.

To determine your shape, you can look in a mirror and try to guess. If you can't tell, have someone help you take your measurements. You can measure yourself, but you'll get more accurate results if you get help.  Measure across the fullest part of your chest, running the tape measure underneath your arms, with your arms relaxed at your sides for your chest measurement. Measure around the narrowest part of your torso: this is your natural waist. Measure the fullest part of your hips for your hip measurement. 
There's a few variations on these types. You could be:
Short Waisted- the distance between your shoulders and natural waist is shorter than average (right around where your elbow hits is average) and you have longer legs.
Long Waisted- the distance between your shoulders and natural waist is longer than average, and you have shorter legs.
Throughout history people have  perceived different body shapes as "ideal" at different times. Sometimes people automatically associate a particular shape with being overweight, or skinny. This is not the case! Some shapes just allow you to hide extra weight better than others.
Below are just a few tips for what to wear based on your body shape, feel free to try these suggestions and see what works for you.
Apple:

Try V necklines. Avoid ruffles on your shoulders and puffed sleeves, which make your shoulders look larger.
Wrap dresses and tops are a great look on you, as well as tops and dresses that tie at the waist.
Wear skirts and dresses to show your long legs to their advantage. A-lines that flare at the bottom will balance your shoulders.
High waisted tops and dresses fit you well.
Go for jackets and sweaters that hit below your waist.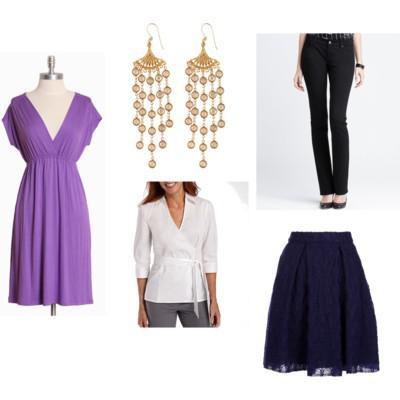 Body Shapes: Apple by
rockmefabulous
featuring slimming pants

Ruched jersey dress
$35 - shopruche.com

East Fifth wrap shirt
$20 - jcpenney.com

Ann Taylor slimming pants
$88 - anntaylor.com

Anna Sui lace skirt
£186 - farfetch.com

Tiger Lily Jewelry bohemian earrings
$210 - couturecandy.com
Ruler:
Wide belts look great on you; they add definition to your waist.
High heels help push the tush out.
Full skirts add volume to narrow hips.
A thick waistband adds definition.
Wrap or tie tops with V necks are a good choice. Go for these over straight cut button up shirts.
You've got great legs, so go for straight leg jeans and pencil skirts.
Avoid bolero jackets, they tend to make you look boxy. Instead, try longer jackets that are fitted in the waist and flare out over the hips.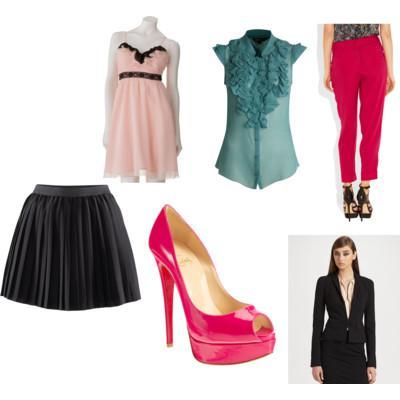 Body Shape: Ruler by
rockmefabulous
featuring an elastic waist skirt

Ruched dress
$41 - kohls.com

Biba ruffle top
£45 - houseoffraser.co.uk

Diane von Fürstenberg tailored jacket
$365 - saksfifthavenue.com

H M elastic waist skirt
£7.49 - hm.com

Alice + Olivia crepe pants
$200 - net-a-porter.com

Christian louboutin heels
$945 - barneys.com
Pear:
Wear bottoms that are darker than your tops.
Avoid bottoms with pleats and side pockets, and jackets that end at your hips. Go for long or short.
Wear tops that accentuate your shoulders, such as puffed sleeves, flutter sleeves, or halter necklines.
Skinny jeans might not be the best look for you, flared jeans are more balanced and universally flattering. You could also try a boot cut. 
A-line skirts, dresses, and tops are great on you.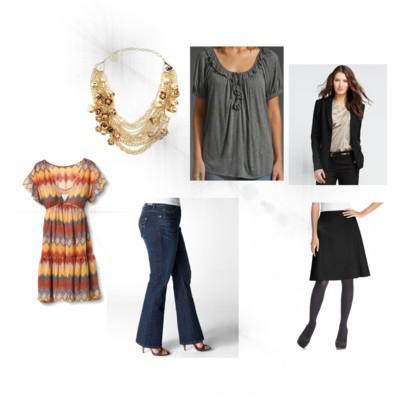 Body Shape: Pear by rockmefabulous featuring long skirts
Hourglass:
Avoid tops with too much detail around the chest if you are busty, as well as turtlenecks and cowlnecks; they'll make you look top heavy.
Along with that, avoid spaghetti straps. Scoop, V, and sweetheart necklines are flattering.
Good bras that fit well are extremely important.
Accentuate your narrow waist with a belt or sash.
Go for fitted dresses and tops.
A-line skirts and dresses are always good choice, but you can also look amazing in dresses and skirts that hug the figure.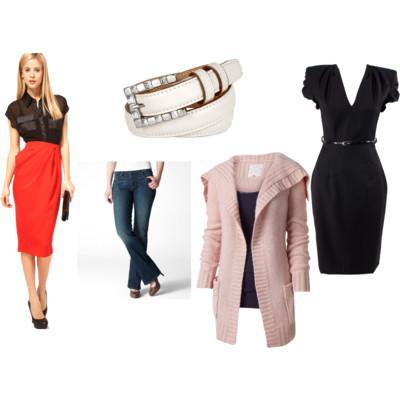 Body Shape: Hourglass by rockmefabulous featuring tight dresses
Short Waisted:
Wear long tunic tops or dresses, and avoid dresses with waistbands
Layer long tanks underneath tops

Long Waisted:
Wear different colors on the top and bottom
Go for shorter jackets
Universally Flattering:
Wrap dresses. They flatter every figure.
Dark denim. Always makes you look slimmer. 
A-line skirts and dresses. That little flare in the skirt is flattering for everyone's shape.