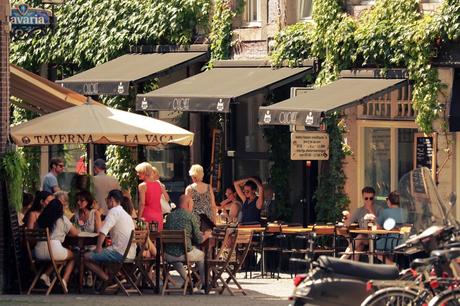 Scrolling down on social media and looking at wonderfully decorated yards gives us the motivation to improve our backyard. There so many wonderful ideas on the internet that it is almost hard to choose which one to use as a sample.
Some designers decide to go with darker colors and give a sophisticated look to their backyard. In comparison, others choose to go with lighter colors to make their outdoor gentler and more relaxing. But have you noticed that all of them have a patio umbrella?
This is because this item is a vital one when it comes to decorating a backyard. Your space outside will feel simply empty if you forget to include it in your design. But how do you choose a patio umbrella when they are so many available options on the market? Read the guide on the link that follows to take a closer look into backyard designs: https://decorinteriorsus.com/blog/in-depth-articles/patio-umbrella-buying-guide/.
Deciding the size 
Patio umbrellas come in different colors, heights, shapes, and sizes. But to begin your hunt for the perfect item, you first need to decide the appropriate size. The most important thing to consider when thinking about the size of the umbrella is how much space you have in your backyard.
You don't want to buy an enormous umbrella that will stick out and feel like it is consuming the whole outdoor space. On the other side, you don't want a small patio umbrella that will be lost in the space and won't affect its look even a little bit.
The right thing to do is to measure your dining table and then go 2 feet from the left and right size. The number you'll get is the diameter of the perfect patio umbrella for you. For example, if your dining table is between 50 and 60 inches, you should go with an umbrella at least 11 feet in diameter.
You should consider the height of it as well. If you buy a short one, you will need to stoop down every time you want to put your head under the umbrella. Or if it is too high, it won't create a shadow over the appropriate space. Usually, the right size is over 7 feet, but that is up to you to decide considering your backdoor space. Read more on this link.
Deciding the type 
If you ask if there are different types of umbrellas to choose from, yes, there are! Oh, how many beautiful and sophisticated types there are! For starters, customers favorite, the cantilever one. They are the perfect option for places where you need to freely move around under the umbrella.
The tilting ones have the option to be moved as the sun moves, so they create a shadow at any time of the day. They are the perfect solution if you want to sit in one place without having the need to move your chair dozens of times to avoid getting sunburned!
The third type is a combination of an umbrella and a table. This is a good idea when you want your backyard to stay the same no matter the sun's angle. Nevertheless, take time and closely consider the types and size before you go into materials and styles!
Deciding the base 
The third most important thing is the base, or the stand, of the umbrella. If you get the base wrong, you are doomed for a failed project! For example, if you buy an easy base and your umbrella is higher and heavier, at the slightest wind, you will be chasing the umbrella in your yard.
On the other hand, if you buy a too heavy base, you won't be able to move and experiment with the layout and design of your yard. You have patio umbrella stand weights varying from 20 lb. to 70lb. You can choose the suitable base when you finish selecting the size and height first.
Materials and styles 
And the most fun and exciting part are the fabrics and the style of your new item. You can choose a mango or a navy color, or you can even go with something funkier and choose a colorful design. It is up to your which color you will choose.
You need to put a little bit of attention to the materials and fabrics used on your new item. Remember that it will be placed outside, and it will be exposed to different weather conditions.
So, what you are looking for is an all-weather patio umbrella. It really depends where you live. Some areas are a bit windier and rainier throughout the year, and others sunny for most parts. If you live in a windy place, fiberglass material is the right one for you. Another option is aluminum considering the durability of the material itself.