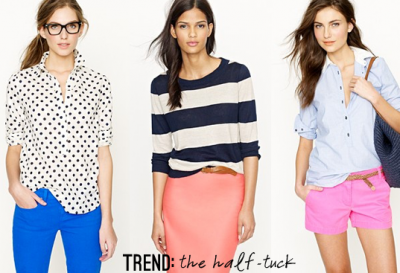 Recently, the half-tuck trend is getting attention on the streets, clothing catalogs (including J.Crew) and on celebrities. Not sure if I'm loving the trend so much since it can make it look like an outfit is: A) trying to hard or B) accidental—which may be fine if you're going for that unkempt boho look or hip nerd style.
But if you prefer a more classier, chic style, let me direct you to the fully-tucked in shirt that will never lose its fashion flavor. You may have seen its heyday in the circa '70s and '80s era, but it's coming back like it never left. The tucked-in look accentuates your pants, so it looks best with belts and embellishments.
As for jewelry, keep it simple with long or short pendant necklaces.