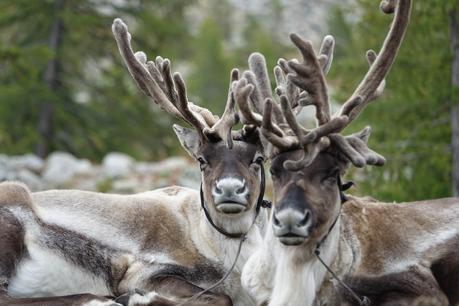 The Tsaatan Nomads, also known as the Dukhan, live high in the Ulaan Taiga mountain range of Mongolia. Russia borders the region to the west, the Darkhad Valley and Lake Khövsgöl (Khövsgöl Nuur) to the east. Through millennia, the Tsaatan livelihood has been tied to their reindeer herd. Today the roughly 500 Dukhan left are some of the last of the reindeer herders in the world.
Reaching the Tsaatan camp is a challenging endeavor as it takes from three to six days from Ulaan Baatar. It starts with a 12-hour bus ride from Ulaan Baatar to Mörön (also known as Murun). Then you embark on a 12-hour ride on rough dirt roads and river crossing from Mörön to Tsagaan Nuur in a Russian minivan. Finally, you horse ride one to three days through steep rocky forest slopes and muddy taiga – swampy coniferous forest area – before arriving at their location. But once we arrived at the taiga camp, I quickly forgot any soreness and no longer felt tired. We had made it. We had reached the nomadic people of the reindeer – the Tsaatan. Just mentioning their name felt extraordinary.
Horseback Riding through the rugged West Taiga
Bruno and myself, two other fellow travelers, and our two horse guides Udaan-Bayr (aka Oda) and his young brother-in-law Enh-Amgalanlt (aka Inke), composed our group. We rode through rough trails for six hours from Tsagaan Nuur (the White Lake in Mongolian) before we reached our first camp.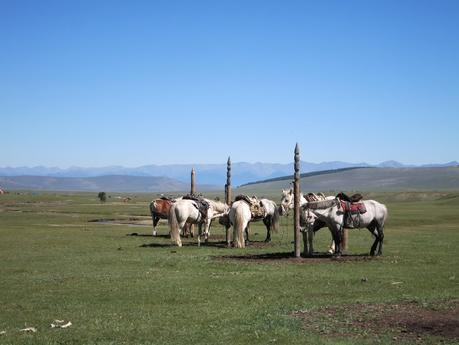 Our horses in Tsagaan Nuur
I used to own a horse, so even if I am somewhat rusted, I usually feel confident on a horse. Let me say that these six hours were tough. The West Taiga is notorious for its steep and rugged mountainous terrain. We crossed rivers, stepped over rocky paths with barely enough space for our horses to put their feet, avoided holes between large boulders, struggled and slipped in the muddy taiga. It was a miracle no one fell and got hurt – humans and horses alike. The fact that the Mongolian horses are only partially tamed also spiced up the ride!
Our horses responded well to our directions, but their wild character was eager to make an appearance. It is worth mentioning that Udaan's horses had won several racing medals when he participated in Nadaam and other games. Himself won numerous medals during several archery and wrestling contests, two highly popular activities in Mongolia.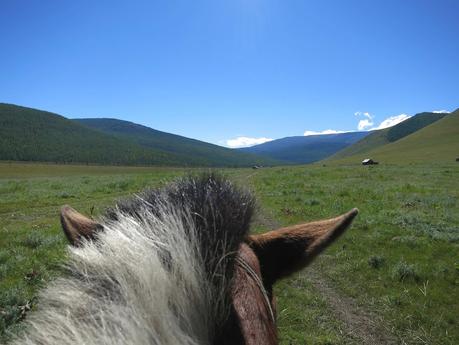 Riding the green steppes around Lake Khövsgöl
The scenery was mind blowing. From the green valley floors, the grasslands, the Siberian larch forests and the tall bushes that composed the taiga, our eyes were constantly wide open in amazement. The fall colors of this late August added orange, red and yellow hues to the green and blue of the mountains. This might explain its name Ulaan taiga, meaning red taiga in Mongolian. After several hours going up hills, we finally reached the pass. We reviled in the extensive views of the 3,000-meter high peaks of Khoridol Saridag mountains separating the Khövsgöl Lake area from the Darkhad Valley.
Besides the fantastic views, we also rejoiced when Udaan informed us we were 10 minutes away from the camp. Bruno was sore all over and did not know which position to keep on the saddle as it hurt so much. The long hours, tough trails and heavy backpacks were a toll on us for sure.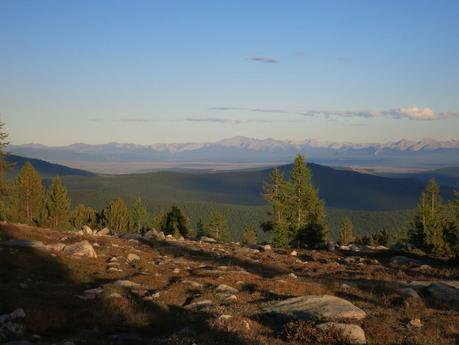 As we reached the camp, we delighted in the sights of the traditional yurts, the children playing outside, and several reindeer laying down nearby the camp.
Our stay was to be split between two families, but as we would discover, the two families are linked and provided a deeper glimpse into the Tsaatan millennia-old history.
A Tsaatan Family: The Zorigt
Zorigt, 48, and his wife Otgonbayr welcomed us in their yurt, the shape reminiscent of the Native American teepees. Otgonbayr gestured us to sit around the stove which occupied the center of the 6-meter wide yurt. Two of their five children were present – their young son Khuderbat, 14, and one of their daughters Zulaa, 23 with her 1-year-old girl Ehrsaran. One of the daughters lives in Murun, the other two in Tsagaan Nuur. We managed to discuss with Zorigt thanks to his understanding of English which he acquired while working as a horse guide.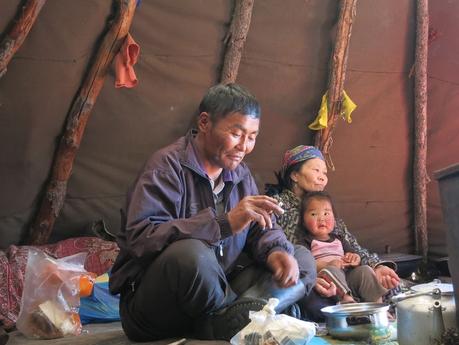 Zorigt's family
Otgonbayr served us the traditional Mongolian milk tea, homemade bread, and dried cheese curd. These felt really good after the long ride, and I was eager to taste the dairy products made of reindeer milk. The milk tea did not taste much different than with regular cow milk. The dried cheese curd, however, had a definite "gamy" taste, though I was not sure whether it was from the reindeer milk or from the method of sun-drying the curd.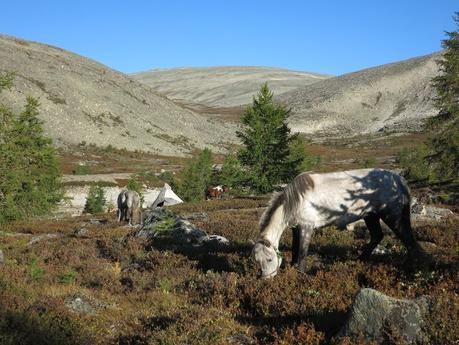 Zorigt's camp
The family of 6 was sharing the sparsely furnished yurt made of about 20-25 wooden poles and heavy tarp wrapped around and laying on the ground. A few mats stood rolled by the wall sides, laying around the center stove. A couple of cooking utensils and a wok, several pieces of meat drying over a stretched rope, and a string of cheese named "byrlack" occupied the walls. A pack of clothes, blankets and equipment, laid in another area. That was it. I had more clothes and gear in my backpack for sure and felt overly equipped with unnecessary items as I looked around the yurt. The only touch of the modern world was a solar panel and a TV set. And the compulsory cell phone.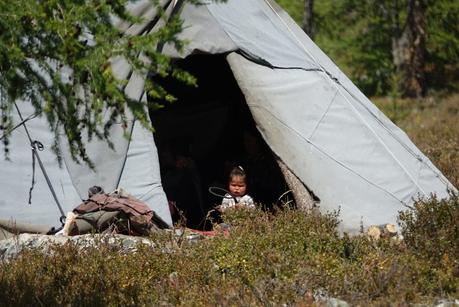 Life in the Tsaatan Camp
Zorigt showed us our yurt – a similar setting but stripped down to just a stove and some floor tarps. Just like we had expected. When visiting the Tsaatan nomads, one needs to bring everything – sleeping gear, food, and clothes. We knew the families would not be able to provide us with anything and had made sure to bring everything we would need for our trip.
Otgonbayr surprised me when she appeared shortly after bringing more tarps for insulating the ground, and a thick blanket for the night. We initially refused as we did not want to be deprived of much-needed warmth. But true to Mongolian hospitality, she insisted we kept them. I have to confess we appreciated it during the night, long after the fire in the stove had died and that the temperatures had dropped into freezing degrees. Even if the floor felt hard and the night cold, I was thrilled to be staying in the yurt.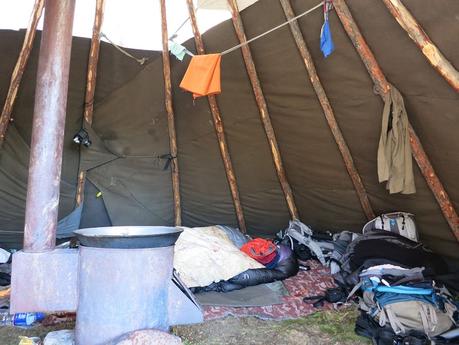 Our yurt during our stay
After settling down, we headed out to see the reindeer. We slowly approached the pack, wondering how the animals would react to our presence. To my surprise, they let us come close and touch them without any major scare. Their wide-open eyes tracked every single movement, but not once did they bolt or react abruptly. Their skin was amazingly soft, especially their nose. A few scratched their horns one the ground or with their back feet, but did not let us touch them.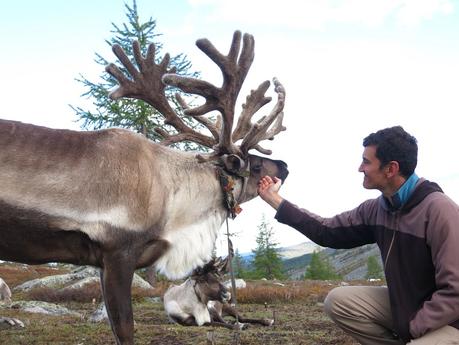 Bruno making friend
During our stay, we witnessed two males' horns being cut as to reduce the fighting among the youngs and the bulls. They did like to lick our hands, like horses do, in search of salt. Packed together by Zorigt's yurt, they attached each one to a ground hook to prevent them from escaping. Zorigt paired the reindeer together to prevent them from wandering too far from camp. He also tied up neck and back leg together during the day. This did not prevent one pair to linger up in the mountains one evening which led the young Khuderbat and our guide Inke to search for them while the night fell. As they came back empty-handed, Zorigt himself went on a search and returned later during the night with the missing pair in tow.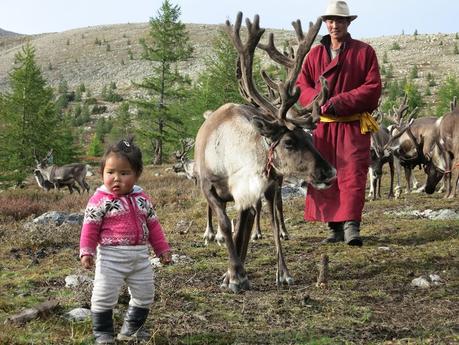 Walking among the reindeer
Oron and Inchbaatar Families
After three days at Zorigt's camp spent between observing the daily life, picking wild blueberries and hiking a nearby ridge, it was time to visit the other family. We rode our horses for three hours, going over the next pass and onto to next valley.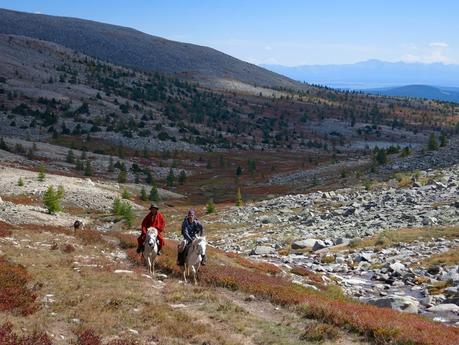 Bruno riding up the valley with Oda
We saw the second camp from far and could distinguish three yurts in the distance. Our new family host, Ulze, welcomed us in the camp as her husband Inchbaatar was away taking care of the reindeer.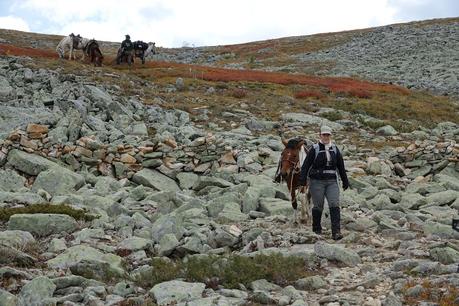 Patricia leading her horse over the steep and rocky slope
After the traditional milk tea welcome, we sat outside with the kids and our guides, passing time eating pine nuts out of pine cones. I enjoyed the sharing aspect of the moment as one pine cone circulated among us all.
Our conversation was however limited. No one in the camp spoke English, except for one person whom we barely saw. The rest of the communication was tough, mostly grunting and imitating situations with hand gestures and a lot of guesses. This was frustrating at a time as I had millions of questions and could not get any detailed answer. Bruno luckily had an app called Mongolian Dic which translated individual words from English to Cyrillic.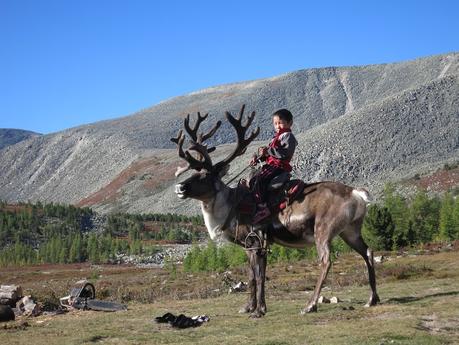 In this camp of three yurts, we met Oron, who was Zorigt's younger brother. His son Inchbaatar was married to our host Ulze, with whom he had a 5-year-old boy Ankhar and an 8-month-old girl Anhar. Ulze's sister, Baylch, was the occupant of the third yurt with her husband and little girl.
A third camp closer to Tsagaan Nuur belongs to the GrandMa, actually Zorigt and Oron's mother. We passed it by on our last day as we returned to town. Riding through the valley was truly about riding through the family history…
The Mongolian Hospitality
From the minutes we arrived until we departed, we felt welcome in the Tsaatan families. Zorigt shared with us his family history while his wife showed us the traditional ways of milking. Ulze and her family shared with us a portion of the rare reindeer meat. We then attended their evening family time of wrestling and cooking. All and always accompanied by the traditional milk tea. Even the lack of common language could not prevent or diminish such a warm welcome.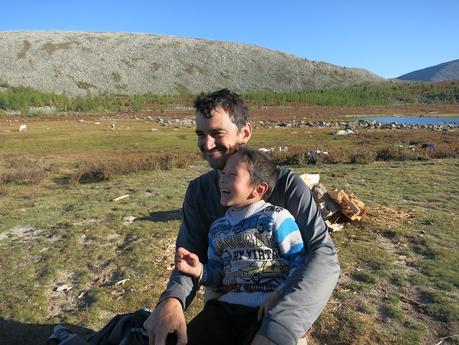 Bruno and Ankhar
As we left on our last day, Ulze pressed reindeer "khuruud" in our hands. Knowing how scarce their resources are, I initially declined, but she kept on insisting. Even as I repeated my thanks, I started to think I was making a faux-pas by refusing their hospitality and finally accepted. The khuruud kept us going until the end of our Mongolia trip. I treasured every single bit of them, together with the memories of the reindeer walking by us when crossing the camp, the Tsaatan kids running after them. The next generations of the last reindeer herders on the planet…
Looking for more Mongolia adventures? Check our post on Horseback Riding in Gorkhi-Terelj National Park, our First Day and Snow during our Kazakh Homestay, or Gobi Desert Dunes hiking.
Article originally published on ZeWanderingFrogs.com