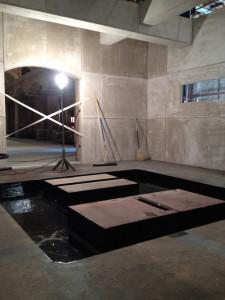 Well, True Blood is truly back in production working on Season 5. Just today, the Inside the True Blood Blog reported that the writers are back in session. Gianna Sobel met with writer and executive producer, Alexander Woo about the show and here's what they had to say:
Time flies when you're having fun, and we're already back in action here at the 'True Blood' production offices, gearing up for Season 5 and enjoying the fan love from Season 4. It's all gone by so quickly. We made new friends, lost some old ones (I'm particularly bummed about Nan Flanagan, aren't you?) and weathered the heat of a Bon Temps summer.
Alan is busy casting new characters, breaking story and finding locations for the upcoming season. The writers are working away, the art department stops by every few days with new blueprints and set plans, and the offices are once again filled with our awesome and loyal crew. It's an exciting place to be.
With the writers back in session toiling over season 5, Alexander Woo took a few minutes to chat with me about what he's been up to.
Gianna: So what did you do over the hiatus?
Alexander: I went and got married. We had three receptions all over the country, so we traveled a lot. Then went on our honeymoon, and attended another wedding before coming back to town.
Gianna: Now that the writers are back in session, what are you guys and gals up to?
Alexander: We have gathered to discuss the storylines and themes of Season 5, and scripts for the first half of the season are being written. We are preparing to shoot Episode 1 right now.
Gianna: Have you read any scripts yet for the new season?
Alexander: I've read episodes 1 and 2, and I'm very excited about them.
Gianna: Do you know which episodes you'll be writing?
Alexander: There are six writers and twelve episodes, so I will be writing two. I'm doing episode 4 now, and another one toward the end of the season.
Gianna: Is there anything you can share with us about next season?
Alexander: Some of the things that people loved in the first four seasons of 'True Blood,' you'll be getting more of. And there will also be some surprises that will hopefully delight everyone. We have a sense of what the fans have already enjoyed in the previous seasons, and we're doing our best to give our fans more of that but also leave some room for novelty and surprise.
The Vault sends a big congratulations to Alexander Woo on his marriage and we look forward to all the great things he and the writing staff are going to come up with this year!
source: inside-true-blood-blog.com