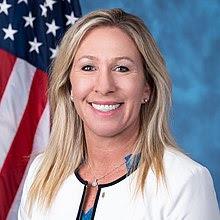 Who is the craziest person voters have sent to the U.S. House of Representatives? Early on in the current Congress, one might have thought it was clearly Marjorie Taylor Greene (R-Georgia). But there are a couple of others that want to wrest the crown for crazy away from her -- Louie Gohmert (R-Texas) and Andrew Clyde (R-Georgia).
Here, from his column in The Washington Post, is how Dana Milbank sees this horse race for the crazy crown:
It's a real horse race to determine who will be the looniest House Republican of 2021. 
Much as in real horse racing, there will be no Triple Crown winner this year. Medina Spirit won the Kentucky Derby, but the victory was marred by evidence of doping, and Medina Spirit then lost the Preakness to Rombauer. Rombauer's reign was brief, falling to Essential Quality at the Belmont.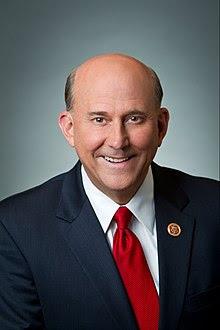 In the House of Representatives' crazy stakes, likewise, Rep. Marjorie Taylor Greene (R-QAnon) made an early Run for the Roses with talk of Jewish "
space lasers
," stalking 
Rep. Alexandria Ocasio-Cortez
(D-N.Y.), and claiming that 
mask mandates are tantamount to the Holocaust
. But Greene fell back into the crazy pack after Churchill Downs, and, in a surprise development, Louie Gohmert (R-Tex.), a perennial also-ran, took top honors at Pimlico by 
calling the Jan. 6 insurrection a nothingburger
 and by 
attending a QAnon conference
 at which the violent overthrow of the U.S. government was discussed.
But the final leg of crazytown's Triple Crown has just gone to a dark horse, Rep. Andrew S. Clyde. The first-term Georgia Republican put himself on the map with his notion that the Jan. 6 attack on the Capitol "was a normal tourist visit." And now, with an assist from Gohmert and from former Virginia attorney general Ken Cuccinelli (a crazy horse long ago put to pasture), Clyde has filed a federal lawsuit on a matter of the most pressing constitutional importance.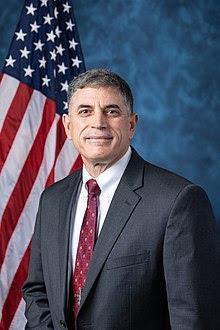 "This is a direct assault on a foundational legal principle of our republic and it should cause great alarm in all of us," Clyde, wearing a tie clip in the shape of an automatic weapon, announced to reporters outside the Capitol Monday.
Furlongs of grave allegations raced from his lips. "Unconstitutional!" "Authoritarian conduct!" "An active ongoing attack on our democracy!"
What existential threat to our country had Clyde uncovered? The Chinese? The Russians? The Proud Boys?
No. Clyde is mad about magnetometers.
Since the insurrection, he and all 434 of his colleagues have been required to walk through metal detectors to get to the House floor. Clyde, a former gun shop owner (in which capacity he fought the IRS), is along with Gohmert one of a small few who have refused to cooperate with the Capitol Police's efforts to keep guns out of the chamber. His refusal cost him $15,000 in fines.
Now, Clyde is suing because he wants "to do everything within my power to expose House Resolution 73 [the magnetometer rule] for the danger it poses to our Republic." Apparently, the danger it poses is mostly to Clyde and Gohmert. . . .
With logic on par with 20th-century political scientist Bluto, a.k.a. John Belushi ("Was it over when the Germans bombed Pearl Harbor?"), Clyde complained to reporters Wednesday that the House Ethics Committee, which isn't a court of law, failed to give him his day in court.
"A person cannot be fined and have their salary forcibly taken away without due process of law," Clyde proclaimed. "In any normal court, anything else than a unanimous verdict would be cause of a mistrial or a hung jury and no fine would be levied."
Clyde was baffled by the bipartisan ethics committee's practice of requiring majority agreement to uphold a member's appeal. "In baseball, a tie goes to the runner," Clyde reasoned.
The committee also isn't a baseball league.
Gohmert, trying to keep pace with Clyde, howled: "You have a formula for a third-world theocracy, oligarchy. This is insane!" He said the courts must act "before the Constitution is completely obliterated by the speaker.". . .
I asked Clyde and Gohmert who was paying Cooch. Turns out the Republican Party is bankrolling the lawsuit, and the fees are "between attorney and client privilege," Clyde professed.
So the lawmakers used federal property to announce a Republican Party lawsuit that should cost hundreds of thousands of dollars to redress $20,000 in fines? Now that is some thoroughbred crazy.