When you play in a lot of bunkers like the PGA Tour pros do each week, you get a feel as to how to always get out of it and snug the golf ball close to the hole. This isn't necessarily true for amateurs who sometimes take two, three, or more attempts to get up and out of the bunkers and onto the green.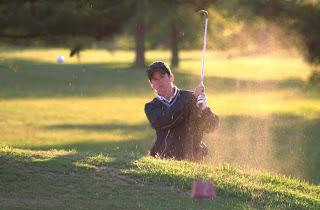 What tricks do you need to be more consistent out of greenside bunkers? We're here to help you!
The key for amateurs is to understand that
first
you have to get out of the sand and, once you accomplish that feat on a regular basis, you can learn how to get closer to the hole.
Recent news recaps how Pat Perez, during the 2nd round of the 3M, took a bunker shot and landed 17 yards to the green and then two-putted for bogey. Michael Thompson's greenside bunker attempt landed 28 yards from the pin with similar results. The one thing that both golfers have in common is that they get out of trouble and get onto the putting surface in one shot.
Golf Tips for Getting Out of Greenside Bunkers
FEEL THE SAND
Did you know...professional golfers dig their feet into the sand in bunkers to feel how much and how hard, or loose/separated, the sand is - not just for stability!
OPEN THE FACE
Butch Harmon's basic tip for getting out of the sand involves using the bounce of the sand wedge to get out in one shot. "Holding your sand wedge in front of you, turn the face open about 20 degrees, then take your grip." (This article is terrific and, since Mr. Harmon is one of the best in the business, I believe you should read it all the way through...editor notes.)
BALL FORWARD
Weight forward, shaft straight up and down, hit the sand 2-3 inches behind the ball and don't cut across the golf ball.
Read:
How to Get Out of Hard Sand Bunkers
Sounds simple and it is! No need to overcomplicate this lesson or
lose your cool
. Try out these directions during practice and you should get somewhere up and out of the greenside bunker every time. Thanks Butch!