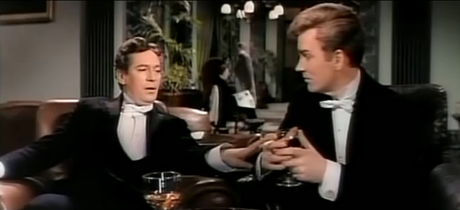 Ken Hughes' The Trials of Oscar Wilde was one of two 1960 films addressing the playwright's conviction for "gross indecency," released amidst fierce debate over Britain's anti-gay laws. Fortunately, Trials is no well-meaning artifact: indeed it's a minor classic, beautifully shot and impeccably acted.
In the 1890s, Oscar Wilde (Peter Finch) enjoys renown for his successful writings, The Picture of Dorian Gray and Lady Windermere's Fan. But Wilde's indiscreet relationship with Lord Alfred Douglas (John Fraser) draws undue attention. Lord Alfred's father, the redoubtable Marquess of Queensbury (Lionel Jeffries), accuses Wilde of "posing as sodomite." Wilde sues for libel, making his private life uncomfortably public. Even if Wilde drops the lawsuit, he's vulnerable to criminal prosecution.
The Trials of Oscar Wilde isn't an overt topical drama like Victim (1961), but it's impossible to divorce the film from its context. As debate over the Wolfenden Report raged, Hughes crafted a drama explicitly showing Wilde and "Bosie" as illicit lovers. They never kiss or show overt affection, but their familiar manner says everything - before we hear their rhapsodic love letters. Queensbury's defense is weak but apparently impropriety is enough: counsel (James Mason) even uses Dorian Gray as evidence! Wilde goes from hero to pariah, ostracized (and ultimately jailed) for his sexuality.
Drawing on H. Montgomery Hyde's profile, Trials makes Wilde an intellect with a quip for every occasion, arrogant ("I have no knowledge of the ordinary individual") but benign. Douglas is more complex: deceitful, impulsive and selfish, he uses Wilde to settle scores with his father. The trial transcript is readily available: Wilde seemingly goads his opponents into trapping him, admitting affection for young men while claiming aesthetic privilege. Was he merely reckless or deliberately courting martyrdom? Hughes simply paints Wilde as the victim of an unjust society: understandable yet incomplete.
Hughes' direction is a treat. Cinematographer Ted Moore provides regal color photography, capturing marvelous period recreations in glorious detail. Hughes' screenplay draws on trial transcripts and other documents, retaining zest and liveliness through character interactions and courtroom scenes. Wilde plays brilliantly off humorless foils, especially Queensbury's counsel Carson, who can't fathom the concept of humor. A screenwriter couldn't envision a livelier courtroom - but then, reality had Oscar Wilde.
Peter Finch ably conveys Wilde's wit, arrogance and anguish. It's a great performance, though Finch lacks the style of Stephen Fry's later portrayal. John Fraser (Tunes of Glory) combines boyish charm and simpering selfishness. James Mason and Nigel Patrick square off as opposing barristers, Mason especially relishing his small but showy part. Lionel Jeffries (Royal Flash) makes a ferocious villain, self-righteous to the last. Yvonne Mitchell (Sapphire) makes a sweetly vulnerable wife, befuddled by Oscar's predicament. James Booth (Zulu) and Laurence Naismith (A Night to Remember) have minor roles.
Unsurprisingly, The Trials of Oscar Wilde's modest daring seems tame today. But it shows how relaxed censorship influenced not only art house releases but mainstream dramas. Now a prestige drama could seriously argue for gay rights, and be acclaimed rather than damned. It's the curtain-raiser on the tumultuous cinematic decade to come.