Did you know that Gaudí was a vegetarian? The Catalan genius, nature lover, architect and author of masterpieces like Sagrada Familia or Casa Batlló, was inclined to avoid meat. Just imagine how difficult it was for him, since even up to few years ago, the cosmopolitan Barcelona was almost completely lacking of vegetarian and vegan restaurants, let alone good ones. Luckily, the scene has changed and many places where vegetables are turned into delicious dishes are available. Let's talk about the three best vegetarian restaurants of Barcelona.
Eating in vegetarian restaurants in Barcelona
RASOTERRA RESTAURANT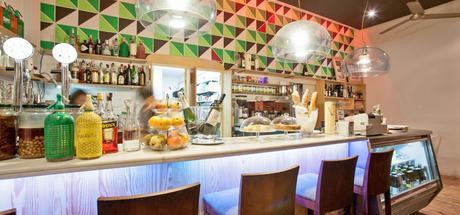 Founded by two skilled Italian restaurateurs, Chiara Bombardi and Daniele Rossi, Rasoterra is also the first restaurant in Barcelona to represent the Slow Food philosophy, according to which all the ingredients served must be organic and local, feeding the small system of quality, local producers and their bet for a sustainable path. And of course, gastronomy is put in the first place. The fact that they use prime quality ingredients allows Rasoterra to bring simple, yet succulent and creative dishes to the table that are seasonal and with touches of modern flavors reflecting mainly the Mediterranean style at its best. The cellar choice is also excellent, with a dominant touch of new wave of natural wines, carefully chosen to offer a fantastic wine experience for every pocket.
Note: if you really like wine, we also recommend you try our wine tasting meeting, which is held in the Gastronomic Centre in front of Hotel Silken Ramblas.
Rasoterra is located in the heart of the Gothic Quarter, in a quiet street just off the central Plaça Sant Jaume and it's nested in a luminous, ample and welcoming space. We love it also because it's famous rock stars favorite restaurants, too. During the summer festivals it's not unusual to see Thom Yorke (a famous vegetarian), The White Stripes, Bumbury or Love of Lesbian eating there with their friends.
Rasoterra Bistrot Vegetarià
C/Palau, 5 - +34 933186926
GREEN SPOT RESTAURANT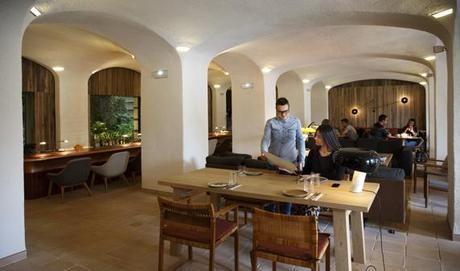 One of the latest and freshest new entries in vegetarian restaurants in Barcelona. It's striking because of its very large menu of modern vegetarian delicacies, the choices of pizzas - with the black pizza at the top of the list - and the stylish and cool atmosphere and interior design. The Green Spot has a mission: to be a veggie for veggies and for non-veggies and it surely nails it, also because it belongs to a successful group of restaurants in Barcelona, Madrid and Mexico City. It's located in a strategic position very close to the Port of Barcelona, making it easily accessible to a very hip crowd of Barcelona visitors and locals alike. And curiously, it's also located in front of one of the most well-established meat-based taverns in the history of Barcelona, the famous Can Paixano (better known by the locals as La Xampanyeria).
Green Spot
C/de la Reina Cristina, 12
+34 938 02 55 65
TERESA CARLES RESTAURANT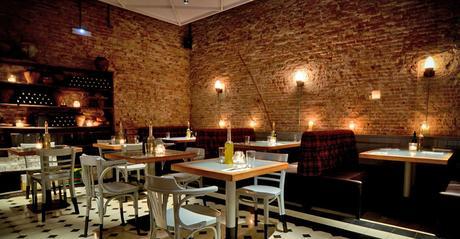 One of the oldest vegetarian restaurants in Barcelona, it bears the name of a true dreamer and visionary in the vegetarian cuisine and philosophy. Teresa opened her first vegetarian restaurant in Lleida, a place that is well-known for quality pork meat production which certainly made proposing that type of food to be a big challenge. Thirty year later Teresa Carles is a national reference in vegetarian cuisine and a true impact maker in the restaurant scene in general. It is also a brand of quality food that goes under the acronymous of VMASS (Vegetariá, Mediterrani, Artesá, Sa i Saborós - Vegetarian, Mediterranean, Artisan, Healthy and Tasty).
Teresa Carles restaurant and new hip spin-off Flax and Kale are located in a fine area of El Raval, just next to Plaça Catalunya and a short walk from Las Ramblas.
Teresa Carles
C/ de Jovellanos, 2
933 17 18 29