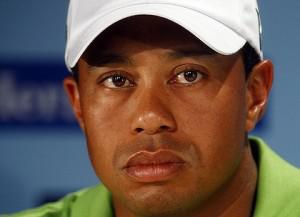 Tiger Woods was in some deep shit.
It was two years ago this Thanksgiving that all hell broke loose for Woods, and his career has been on a sharp downward trajectory ever since. A quick recap: in late 2009, a tabloid published unsubstantiated rumors about Woods' infidelities. The next day he crashed his car in his driveway while on heavy pain medication. During the incident his wife may or may not have been chasing him with a golf club. Pretty soon, cocktail waitresses, strippers and other peroxide-blonde bimbos across the continent started coming forward with salacious stories about Woods. A voicemail surfaced of Woods begging one of his mistresses to keep her trap shut. In fact, a common theme that emerged among the mistresses was that Woods was a complete cheapskate, and they wouldn't have come forward if he had just given them some rent money. In hindsight, I think he would have rather paid for a studio apartment behind an Applebee's in Tallahassee than lose the estimated $5 billion to $12 billion he did when his sponsorships evaporated.
He gave a weird I'm apologizing-but-not-really press conference where he wasn't wearing a tie. He went to sex rehab. His Swedish wife divorced him and moved back to old country. (I assume that's how she says it.) He got a Twitter account.
When he finally did return to golf in 2010, he was a shell of his former self. His world ranking plummeted. He started missing the cut for events he would have breezed in to a few years earlier. He no longer cursed or threw tantrums on the green like he once had (the notable and hilarious exception being when he told himself that he fucking sucks on live television). Had so much of his psychology, game and makeup really depended on banging anonymous waitresses?
But never fear, golf fans. I've got a comeback strategy for Tiger Woods that will completely rehabilitate his career, and more importantly, his image.
You see, America loves a villain. Look at how horrified yet fascinated we were by the Miami Heat this past NBA season. Their pregame ceremonies were disgusting, their sportsmanship questionable and their general swagger just annoying. But they were compulsively watchable and entertaining. We love to have someone to hate.
Tiger must become this. Like a lot of pro athletes, Tiger probably got married too young. He never went and got the dallying out of his system as a single man, and his marriage paid the ultimate price. But now that Tiger is single, it's time to go balls out.
The country (and especially women) already turned on him. Why not lean into the punch and just go for broke? I'm talking a straw panama hat at press conferences, cigarillo dangling from his lips, aviator sunglasses indoors, alligator leather loafers with no socks. Tiger needs to behave like a cartoon character of a swinging bachelor in the mid 1960s.
Here's my five-step plan to turning Tiger into America's favorite villain:
1. Facial Hair. We're done with that clean-cut Eagle Scout look. There's nothing America loves more than someone who's great at something while looking like they couldn't give two shits about it. Facial hair is key to perpetrating this image. Preferred looks: sleazy pencil-thin goatee, soul patch, handlebar. Bonus points if he decides to look like a silent movie villain and curls his moustache at the tips. It's never a bad thing if you look like you want to tie a damsel to a railroad.
2. Highly Questionable Endorsements. Tiger has endorsed classy or inoffensive things for far too long (i.e., Rolex, Nike, Gatorade, Gillette razors). It's time to slum it a little bit. I want to see Tiger flanked by scantily clad women while he's pouring vodka cocktails at an outdoor tropical bar. I want to see him doing DJ sets at night clubs in San Diego. I want to see him ditch the Buick sponsorship and instead represent an offshore gambling website. You're a villain now, Tiger. You're above nothing.
3. Alcohol/Cigarettes. I want Tiger smoking everywhere, but especially in places where you shouldn't. I'm talking photos of Tiger smoking in airports, hospitals and daycare facilities. As for booze, I want him to have a highball in his hand at all press conferences, and even out on the course. He should have to hand his drink to one of his floozies on the green (yes, they go with him everywhere now) when he swings. Though he should look hassled and put upon by having to do it.
4. Wardrobe. The days of the tucked-in red polo are long gone. Say hello to billowing Tommy Bahama shirts, the aforementioned alligator skin loafers, and white pants. (Ascot optional.) Smoking jackets or robes at formal events are also encouraged. Oh, and sunglasses everywhere. That will help foster his new image as a raging dick to reporters.
5. Use the Media. As a married man, Tiger fled paparazzi incessantly. He was intensely private. But that was Married Tiger. I'd like everyone to meet Single Tiger. Single Tiger is linked to every available female celebrity in America, and doesn't confirm or deny anything. He smirks knowingly at reporters who ask, which is all the answer they need. Single Tiger starts Twitter wars with rappers over perceived slights in their songs. Single Tiger leaves sex tapes lying around for plumbers working in his home to find. Single Tiger doesn't give a fuck.
There you have it. It's high time Tiger stops being goody-two-shoes and embraces who he really is: the celebrity we would love to hate.