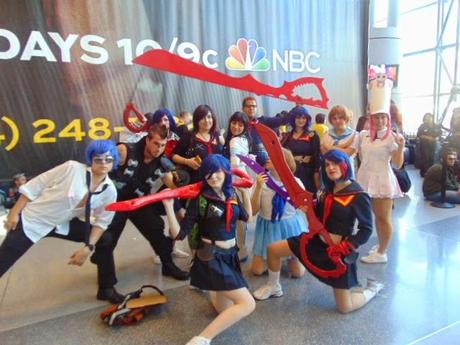 Oh yeaahhhhhhhh
Three Things That Were Great
1) The Wi-Fi. Routinely trying to get on the internet at the Jacob Javits Center has been a terrible experience that has drained the life and color out of a lot of people over the past few years, because it's been so, so bad. I didn't realize how the internet was vastly improved until about Saturday, when I suddenly gasped, "Wait, the Wi-Fi isn't horrible now!" Maybe they finally fixed whatever problem was blocking signals on phones and what not, but I was finally able to tweet like a normal person. It may have helped that I was using an iPhone, but there have been plenty of people with new phones for years and they have been complaining about the Wi-Fi, so needless to say, it was a good experience.
2) 45 Minute panels. I don't think they were 45 minutes in the past (well, maybe), so seeing the schedule and seeing everything end at like 1:45 or 6:15 was weird, but I think that might have contributed to how people got in and out and the panel would start on time. So there were rarely any delays. Well, there was one for the Obata Panel, which had a ton of people on line for a panel before that one, and that got delayed a bit. Whatever the case, it did feel efficient, even if seeing con staff line up and prevent people from passing by continues to feel really silly, yet gets the job done anyways.
3) The rooms. I was gonna make a mention of how it seems like the scheduling was mostly conflict free for me this year, but I thought up of a better mention: room size. They finally made the decision to utilize the space they have for the rooms and extend them a lot more than to have it only fit like 50 people, which has been the case the past few years. This has made getting into rooms easier, though it still doesn't mean you wait until 1:30 to go head into a panel that starts at 2.
Honorable Mention: The scheduling. Though I will say that aside from Kodansha and Crunchyroll Manga having a panel back to back, the scheduling was fairly good.
Three Things That Weren't So Great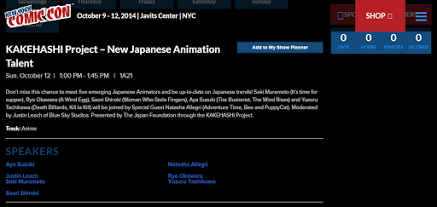 —____—
1) -_-. I really did manage to miss this on the schedule somehow. I'm not even sure how I did it. But I did. You don't know how mad it made me when I found out I did miss it on Sunday. That would have been a great way to meet some people I clearly didn't know about, and about JP animation. So I'm disappointed in myself, would have made the entire convention experience even better. I can only hope someone did a video of it, but I highly doubt it.
2) Not clearing the rooms. Aside from the personal mistake above, when I'm mostly complaining about NYCC not kicking everyone out when a panel is over, that's probably a good thing. Anyways, I'm mixed on this. Allowing people to stay in a panel for the panel after that can be beneficial to the congoers smart enough to do that. But I'm personally just not enthused about going to something I'm not interested in. So I wouldn't do it. And I know some others wouldn't do it either. So it feels kind of bad that those who actually genuinely want to attend a panel can't get in because some other person decided to stay in for a panel they didn't care about it. This precisely happened with the Aniplex panel, where I know not everyone got in the panel, and that line was long. But as I say this, there are benefits to allowing people to stay, since I clearly made it into both Kodansha/Crunchyroll panels with…ease. I guess I'll just have to get used to this.
3) Everyone cheering and hollering whenever someone was clutch enough to knock the pole down. I guess the fact that I'm whining about it here is a tell-tale sign that I'm just getting old for this. But I don't recall this ever happening in the past whenever people lined up and knocked it over, so to have this happen now is just…yeah, I'll leave it at that.
+ Panels, – Panels
Thursday:
+ Viz Media Panel: Pretty much had an excellent flow the entire time, and ended up announcing a shoujo manga (So Cute It Hurts) and Tokyo Ghoul, which has been one of the more anticipated manga titles this year. Yeah they highlighted a bunch of their other titles that they already have, but it wasn't too much, and even talked about Sailor Moon, which is probably good for a lot of people. That said, it's probably time to start wondering if they're gonna get back in the anime streaming game.
– The Future of Weekly Shonen Jump: …Which, more or less, turned out to be more pumping up Takeshi Obata!…Which, ok, yeah it's Takeshi Obata, they have a right to do that…except they already was gonna have a panel starring him the next day…and it's called the Future of Weekly Shonen Jump. They barely got into that, and only that rush towards the end saved it. Personally just think titling it differently would have been better for all parties involved.
Friday
+ CR Panel. It was mostly unusual, since they ended up announcing one anime, two J-Dramas (which, believe it or not, one of them I do want to watch, and it's not Future Diary), and…Detective Conan?!? WHAT?!? Unfortunately, it's not up on CR yet, and only the current season will be put up. Still, considering Funimation does like to parade that title around, it'll be interesting to see how they work on cataloging the thing. Well, if it will be cataloged at all. I don't even know if I wanna watch it considering I still have 300 billion more episodes to go. But it is nice to see a legit catch-up to the anime series.
+ Yen Press. This was probably the panel where it actually looked like everyone was enjoying their time there, with Kurt announcing his staff like they're a band troupe, him acting like he doesn't know what's been announced, etc. Overall, the atmosphere was cool. It did help that they licensed some titles people were hoping for — Chiaka, Alice in Murderland, and Prison School — and even brought back Emma, long out of print and will be back in hardcover editions. They probably would've pretty much won the weekend if they also said they licensed Monthly Girls Nozaki-Kun was theirs, but my sources tell me they're pretty much saving that until next year.
(Ok, I'm clearly kidding at the end here.)
+ WSJ: Takeshi Obata: Now this is exactly what I came here for: Takeshi Obata! A showcase of all of his works, his fashion statements with the Shinigami in Death Note, why L is better than Light, and all that good stuff. It was fun, it was good, and it was amazing to see Takeshi Obata look so chill the entire damn time. It's probably because the man knows karate. No wonder.
Saturday
– Funimation Panel: While I definitely admit some of the trailers shown in the panel were impressive (man I really need to watch Hellsing Ultimate), overall not much of real interest in the panel. No announcements aside from ./Hack show release dates, nothing on the other Bandai titles they have the properties of (like Banner of The Stars and Code Geass), so aside from seeing a date on Bebop, not much else of note. Yeah, Bebop is the big thing here, but we knew it was gonna come out sometime before the year's up, or early next year at best. Basically, no surprises, which was fairly disappointing.
– Aniplex Panel: I'm not even sure if Aniplex really deserves such a rating. The panel was mostly clean, aside from EJ messing up on a couple aspects during the panel, they ended up having their standard giveaway at the end, and I somehow managed to discover someone I knew was cosplaying as Mako for Aniplex and I didn't realize that until the end (because yeah, I suck). But I guess aside from Valvrape Valvrave there wasn't much announcements I was interested in. Or something. I dunno. Whatever the case, they basically had a lot of titles I didn't care for, and they were definitely trying to sell Mahouka as something that's good.
I mean damn.
– Vertical. I love Vertical, but yeah, not much to get excited about here. Well, I'll probably check out one of the LN's they're gonna make available here since I've checked out Before The Fall (which I'm definitely gonna review once I find some time to finish it. Spoiler: It's shockingly great), but more Titan LN's is not what I was hoping to hear as an announcement at NYCC. I guess they just couldn't get anything else ready in time, but while it'll definitely make more money for them, I think I'm getting titan'd out. I'm good with the main series, Spoof on Titan, Junior High, and Before The Fall. Don't wanna worry about any more of the franchise at this point. Otherwise, the only other announcement was they're now gonna have an imprint. I guess with success, it was only a matter of time. I feel overall indifferent to Vertical Comics, possibly because I don't think it was gonna affect whether I purchase a title from them or not.
Sunday
+ Kodansha Panel. More or less a thumbs up for handling all of the questions that had everything to do with reading manga illegally than for what was actually announced. Not that what was announced wasn't too bad, but I think only Inuyashiki, which is by the creator of Gantz, Hiroya Oku, caught my interest. Otherwise, some questions were asked, and responded about as professionally as possible. I personally thought it was telling that Kodansha was the only publisher who had a panel where people asked questions involving scans, and no one else did. That's pretty weird. Is it because they have some hot properties at the moment or something? Well, whatever the case, aside from those moments, the panel was ok.
+ For winning the bet, – otherwise for CR Manga Panel: Danika ended up betting with me that her CR panel would get under 30 people. She based this off her other panels she went to at other conventions and figured it'd be the same for NYCC.
@darlingdanichan mwahahahahahaha YOU'LL NEVER UNDERESTIMATE NYCC AGAIN

— Justin Stroman (@Kami_nomi) October 12, 2014
So needless to say, she lost the bet the moment she did it, and now she has to step down as manga brand manager and let the fans take over I'm thinking on what would be best for her to pay me back.
I guess the only other good thing was she revealed how horrible her taste is by sharing what manga she's been keeping up with on Crunchyroll. You know, like Inside Mari, Memoirs of an Amorous Gentlemen, Ajin…wait, you say those titles are good?!? Whatever!!!
But ok aside from that the CR panel had no manga announcements, a mobile app update which I can't care for at the moment, and a Q&A which didn't take long enough to fill the 45 minutes in the room. So yeah, extra time existed. Oh well.
Overall
But ok, even despite the ones I did give a – too, overall they didn't bore me, and well, that's a good thing. Everything I went to was pretty satisfactory, all things considered.
The Con Swag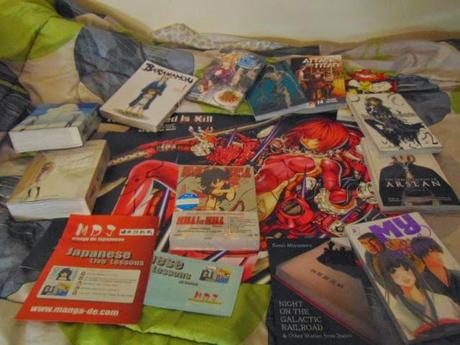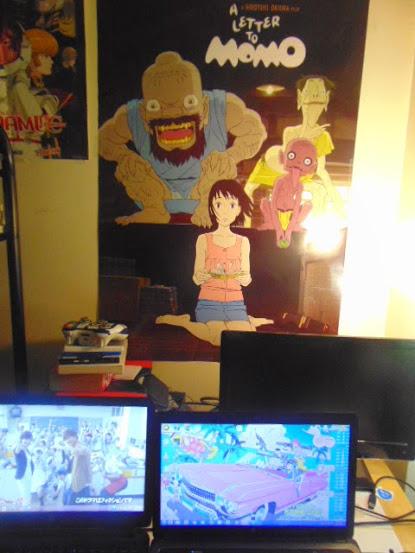 With a job…means I can actually spend money! It's amazing! So, here's what I got during NYCC:
Bought stuff: The Heroic Legend of Arslan Vol 2 (because Vol 1 was pretty good), Attack on Titan Vol 14 (because the manga's pretty good, though Vol 13 was a disappointment to me), Ajin Vol 1 (And I went and made fun of Danika's manga taste…) Witch Craft Works (blind buy? Blind buy), Whispered Words Vol 1 and 2 (two for one for those size pages is hard to turn down), Kill la Kill Volume 1 Limited Edition (Finally, my first Aniplex title. Or basically something I'd actually like to buy from them. Expect to see me actually do an unboxing video of this sometime this week), Letter to Momo poster (as you can tell, it's huge. Also, I wonder how I'm gonna be sleeping at night)
Bought stuff…sans con: My Love Story and Food Wars Vol 2 I ended up buying outside of the con, at Kinokuniya, for reasons I'm not gonna explain here because lol Justin
And Free Stuff: All You Need is Kill Poster (obtained from attending the Future of WSJ panel), Japanese Live Lessons (assuming the video of that turned out decently, expect to get a bit more info about that some time) Kenji Miyazawa's Night On The Galactic Railroad (It was a dollar. Robert decided to let me have it for free. See, what a cool guy eh?), Pandora Hearts Vol 2 (well, sadly they had no volume 1's of anything. So that sucked. I just had to make do with this. Maybe I'll see if a library has Vol 1 in stock or something…).
I can only explain how I acquired Barakamon when it's not due in stores until the end of October with one tweet:
I completely abused my press privileges just to get this manga, and for that, I'm not sorry. #NYCC pic.twitter.com/aHgE6tWptC

— Justin Stroman (@Kami_nomi) October 12, 2014
(Ok, I really just lucked out to get it, but let me keep that narrative rolling)
Final Thoughts on New York Comic Con
This was probably the best one I've been to since I started going in 2006. My experience from top to bottom was pretty good. I definitely felt refreshed and all that good stuff. I can only hope next year's can be really good, but who knows…I sure hope so. Anyways, I'm far from done with my coverage of NYCC. As you'll probably find out in the next few days or so. So stay tuned to this site for coverage.
Pics of NYCC 2014: Day 0, Day 2, Day 3