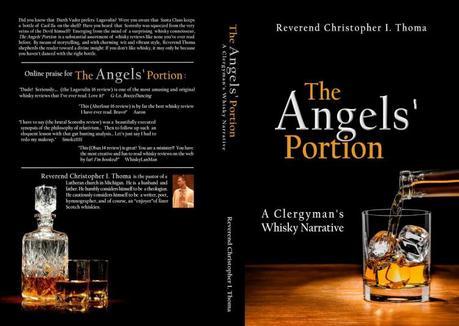 LOCAL PASTOR WRITES BOOK ABOUT SCOTCH WHISKY
"Did you know that Darth Vader prefers Lagavulin? Were you aware that Santa Claus keeps a bottle of Caol Ila on the shelf? Have you heard that Scoresby was squeezed from the very veins of the Devil himself? Emerging from the mind of a surprising whisky connoisseur, The Angels' Portion: A Clergyman's Whisky Narrative is a substantial assortment of whisky reviews like none you've ever read before. By means of storytelling, and with charming wit and vibrant style, Reverend Christopher I. Thoma shepherds the reader toward a divine insight: If you don't like whisky, it may only be because you haven't danced with the right bottle."
Linden, Michigan, May 1 - Local Lutheran pastor and author Christopher I. Thoma of Linden has written a new book that is sure to raise a few eyebrows. Set in various narrative forms, The Angels' Portion is designed "not to teach you about the history of whisky or to engage in discussing market trends or to contemplate any of the topics that have been so thoroughly discussed by so many whisky authorities. This volume is meant to entertain you." Even further, Thoma suggests that "most whisky reviews are mechanical, pratling about distillery details and tasting notes and nothing else." But for Thoma, "whisky is so much more than that, almost theological..." The volume does contain some whisky basics, but Thoma adds about his labors: "My efforts here delve to a deeper intimacy by telling a story - often humorous, sometimes serious, always honest. It is by these narratives that I am attempting to greet you, the reader, that you would come along with me in my experiences and be grafted to something that is, almost certainly, worthy of the angels' desire."
Notable online whisky bloggers have offered high praise for Thoma's work. For instance, G-LO from " It's just the booze dancing... " writes:
Dude! Seriously... (the Lagavulin 16 review) is one of the most amusing and original whisky reviews that I've ever read. Love it!
And Smokz1111 offers:
I have to say (the brutal Scoresby review) was a beautifully executed synopsis of the philosophy of relativism... Then to follow up such an eloquent lesson with that gut busting analysis... Let's just say I had to redo my makeup.
Thoma, who is the pastor at Our Savior Evangelical Lutheran Church in Hartland, Michigan is a published author, essayist, poet, and hymn writer. A few of his works include Kids in the Divine Service, Feeding the Lambs: A Worship Primer for Teachers of Children, and The Homiletical Canvas: Poetry in Service to Preaching. He has published multiple articles in various publications. He is a regular contributor to SteadfastLutherans.org, which is a widely followed theology blog reaching millions of viewers. He is a contributor for the National Black Robed Regiment, Livingston County Right to Life, and other similar outlets. He provides editorial pieces for local newspapers as requested and has had his extra-curricular writings published in national and international publications. He has been a guest presenter at various liturgical conferences, pro-life gatherings, and symposia for the Lutheran Church-Missouri Synod (LCMS), and has had multiple guest appearances on KFUO Christian radio. He is deeply involved with issues pertaining to the role of the Christian Church as she interfaces with the public square, having visited Washington D.C. in order to engage and connect with national leaders and to provide resources for educating the people of his church and the LCMS as a whole. Additionally, he keeps a blog at www.angelsportion.com and is a contributor to Liquor.com (Drinkwire).
Thoma is available for interviews and appearances. For booking presentations, media appearances, interviews, and/or book-signings contact [email protected]
________________________________________________________________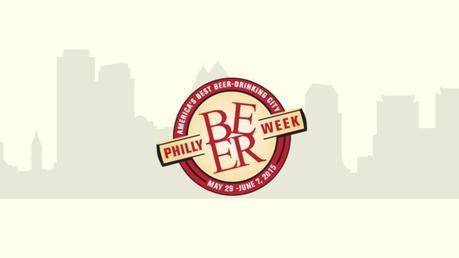 OPENING TAP AND A NEW APP: PHILLY BEER WEEK 2015 IS JUST 2 WEEK AWAY!
With just two weeks to go until Philly Beer Week (PBW) 2015, there are more ways than ever to get involved and get excited - including the second #HOGTour and more:
Opening Tap 2015 (click to purchase tickets)
Tickets are now available for Opening Tap, the official annual kick-off celebration of Philly Beer Week, to be held on Friday, May 29 from 7 p.m. until 10 p.m. at the 23 rd Street Armory (22 South 23 rd Street). Three tiers of admission are available:
General Admission: $46
VIP Admission: $92
Designated Driver Admission: $25
General Admission includes beers from 40 local breweries, plus the debut of Leuven on a Prayer, the collaborative brew created by Belgium's Brouwerij Hof ten Dormaal and Free Will, as well as live music and entertainment, including an interactive photo booth loaded with props from PBW sponsor Photobot 3000 that is sure to be a do-not-miss attraction
VIP Admission includes an additional hour of access, beginning at 6 p.m. , plus exclusive beers and a lavish buffet catered by PBW sponsor Di Bruno Bros.
The Improved PBW App (click to download)
The 2015 PBW app is now available for iPhone and Android, with new-for-2015 features:
Updated maps and directions to venues
Improved compatibility with the desktop site, including syncing favorites across both platforms; and immediate access to PBW's mailing list
New search filters for events, by date, by location, by neighborhood and by brewery
Integrated social media sharing on Twitter and Facebook, for the most interactive, sociable PBW app yet
New Publishing Partner, Philly Beer Scene
PBW is proud to announce their new publishing partner, Philly Beer Scene, who will print the official PBW Guide, the exclusive print handbook to Philly Beer Week, set to debut two weeks before Opening Tap with a festive unveiling ceremony.
________________________________________________________________

World Whisky Day Is This Saturday! How Will You Be celebrating?
This Saturday is World Whisky Day, and thousands of people around the world will be raising drams in recognition, be it at home, at the bar, or even at sea. Wherever you are, make sure you're part of the celebration by visiting the events page here to find an event happening near you.
Better still, why not register your very own event? It's free, it's quick, and it couldn't be easier. Perhaps you're thinking of a homely get-together with some good company, some good food, and some of the good stuff. Or maybe you've your sights set on something bigger, like an exclusive distillery tour and tasting, or a knees up at the local pub.
Whatever your plan, everyone's welcome. Take a look at our handy guide to running your own event, and be sure to join in the conversation on both Twitter and Facebook on the day. You should also sign up to the official World Whisky Day 2015 Thunderclap to get whisky trending on Saturday .
If you require any more information at all, don't hesitate to contact World Whisky Day directly at [email protected].
Looking forward to raising a dram with you, and the world, on the day.
Sláinte!