There's something about going to garden shows which a visit to a local nursery can never quite match. For one thing I love the crowds of people at a garden show. Not that I like crowds of people all that much at any time, but the incredibly varied variations on humanity wandering around a garden show are almost worth the price of admission itself. You don't see them on the streets that often, not in those numbers and that variety of shapes and styles. And they all have the vote!
And for another thing I love the unusual plants you can buy at garden shows. You never see these plants at your average garden centre. All the little specialist growers come out of the woodwork and lay their wares on tables, and fools like me willingly buy them. One of those "things that I brought home" is getting into full flowering stride now, so let's have a look.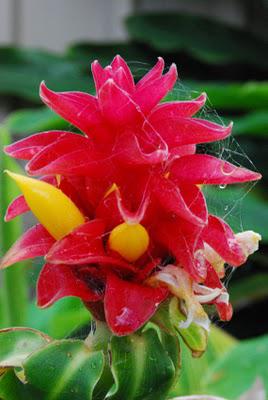 This is one of the many forms of Costus barbatus, an ornamental ginger. This one is better known as the red tower ginger. As well as sending out a series of bright red petals, it's now sending out pointy yellow bonus blooms as well. According to those in the know, it will look like this for several weeks, maybe months more. Hope so.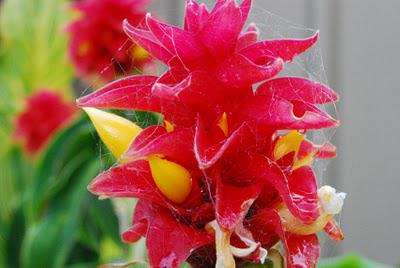 It's certainly a dream residence for some of our tiny spiders, which have strung ultra-fine gossamer strings from floor to floor in their luxurious Red Tower Condo.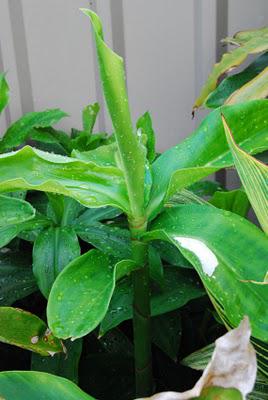 At the same garden show (Florafest at Kariong on the NSW Central Coast, in September) where I bought the red tower ginger, I also bought a Costa Flores ginger. This is also a form of Costus barbatus. So far all it has done is send up tropical looking foliage, but I'm keeping an eye on its progress. As tropical plants, these things take a while to get into the mood here in a warm-temperate Sydney summer, so it's not too late for it to go "traaa-daaaa" and lay on a bit of tropical razzle dazzle.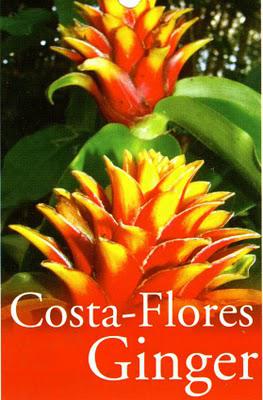 Should it send up a flower this season, this is what the plant label gleefully promises it will look like, which is spectacular. I love tropical plants, they're just so unrestrained in their approach to growing and flowering. None of this tasteful delicacy malarky. If they were a musical instrument, they'd be a brass band.
As Julie pointed out in a recent comment here in an

earlier posting about these plants

, I think I am growing them in the wrong spot. I didn't think it was too sunny, but the foliage is definitely showing signs of sunburn. So I guess they might have to be moved later on in 2011, after this summer has well and truly ended. In the meantime, I'm enjoying keeping an eye on these things which I brought home from the garden show.