Podcast: Play in new window | Download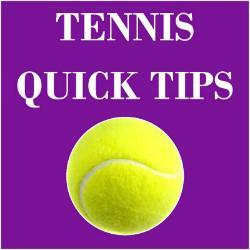 The Tennis Quick Tips Podcast is now live and ready for you!  To listen right this second, just click on the play button on the gray media player above.  Or you can listen (and subscribe) in iTunes by clicking on this link: 
http://tennisfixation.com/tqtpodcast
.
This first episode is actually "Episode Zero."  I'm calling it Episode Zero because, unlike every other TQT episode, this one will not give you an actual tennis tip.  Instead, in TQT Episode 000 – Welcome to Tennis Quick Tips!, you'll learn  what Tennis Quick Tips is all about.  Like all TQT episodes, this one is really short, less than 10 minutes.
My goal with Tennis Quick Tips is to give you the most amount of helpful information possible in the least amount of time possible.  Each episode will give you a really easy, really worthwhile tip that you can understand, remember and put to work on court immediately.  Ultimately, I hope that Tennis Quick Tips will be what you're listening to right before your next tennis match.  I want this podcast to help you mentally "warm-up" before you hit the court.
Be sure to let me know what you think in the comments below.  I'd love to know if you like the idea of Tennis Quick Tips and if you think it will help you play better tennis.
Also, just FYI, I'll post the next episode tomorrow.  I think you'll get a lot out of this one.  TQT Episode 001 – Target Your Serve will give you a tip that will help you quickly and pretty much instantly improve your serve.  You can find this episode by checking back here tomorrow or by subscribing in iTunes.
SUBSCRIBE to Tennis Quick Tips in iTunes by clicking here:  The Tennis Quick Tips iTunes page (click on the "Subscribe" button or the blue "View in iTunes button).  The Tennis Quick Tips podcast is coming to Stitcher and Blackberry very soon!
Thanks for helping me in this fun, new project and, as always, Happy Tennis!


© Kim Selzman 2013 All Rights Reserved