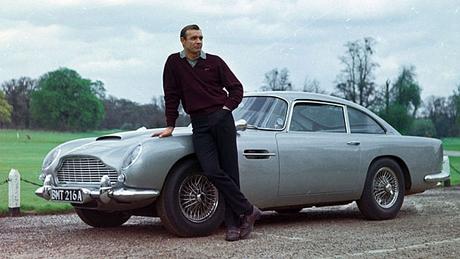 By Alex Simon
Cars have been a staple of motion pictures since the earliest Keystone Kops two-reel comedies a century ago, usually providing fodder for chase scenes and general mayhem. Whether they're breaking land-speed records, flying through the air defying laws of aerodynamics, or driven by intrepid heroes pursuing bad guys, cars and movies go together like…well, like movies and popcorn. Like cars and car insurance. Like movies and tickets. Like cars and tickets. Wait…let's just get on with the list, shall we?
Here are the ten coolest cars in movie history, in no particular order:
1. Rendezvous: 1976 Mercedes-Benz 450SEL 6.9

Director Claude Lelouch mounted a camera on his 1976 Mercedes and tore through the early morning streets of Paris at breakneck speeds, cheating only slightly in post-production by overdubbing the sound of a Ferrari 275 GTB engine with that of his Benz's. Three people were in the car, with Lelouch at the wheel, during the shoot. The renowned French filmmaker was arrested shortly after the film was screened, but later released without being charged.
2. Harold and Maude: 1971 Jaguar E-Type Hearse

Poor little rich boy Harold (Bud Cort) is obsessed with death and dying. So obsessed, in fact that when his mother (Vivian Pickles) buys him a stylish Jaguar E-Type coupe, hoping he'll use it to impress the girls, Harold fashions it into a one-of-a-kind hearse, quickly using its sleek charms to court 80 year-old Maude (Ruth Gordon) in the screen's most unlikely, and many feel most delightful, romance.
3. Mad Max/Mad Max 2: 1973 Ford Falcon XB GT351 Coupe

One of the most iconic cars in film history started life as a standard 1973 XB GT Ford Falcon Coupe, a car exclusive to Australia. When filmmakers Byron Kennedy and George Miller began pre-production on the first Mad Max in 1976, they needed a vehicle to feature in the film as the black police 'Interceptor' - a high performance, evil looking Aussie muscle car. Around the same time, Murray Smith was hired on as part of the Mad Max crew. One of his tasks was to put design the Interceptor which he, along with Peter Arcadipane, Ray Beckerley, and various others, created. The main modification to the original Ford Falcon was the Concorde front end and the supercharger protruding through the hood (which was for looks only). The Concorde front was a fairly new accessory at the time, designed by Peter Arcadipane at Ford Australia as a showpiece, and later becoming available to the general public due to its popularity.
4. Vanishing Point: 1970 Dodge Challenger R/T

Richard C. Sarafian's existentialist chase picture featured Barry Newman as professional driver who takes a bet to get a car from Denver to San Francisco in under 15 hours, leaving a law enforcement and media firestorm in his wake. The car featured in the film is a 1970 Dodge Challenger R/T, with a 440 cubic-inch V-8, and not a 426 Hemi V-8 (as is often believed). Eight white Challengers loaned from the Chrysler Corporation were used during the filming. If you're at all a car fetishist, this is one of the best car movies ever committed to film. No data exists on what it cost to insure all the cars that were destroyed in its making, but one can only assume a major part of the film's budget was taken by it.
5. Rebel Without A Cause: 1949 Mercury Coupe

James Dean's character Jim Stark became the archetypical anti-hero for all disaffected teens from 1955 onward. Along with his signature red windbreaker, Jim's other signature item was his The 1949 Mercury Series 9CM Six-Passenger Coupe. The car was modified slightly, with help from co-star, technical advisor, and former Hollywood High gang leader Frank Mazzola, to make it appear more like something a hip, affluent teen would drive in the mid-50s. It came to be the ultimate affordable bad boy ride, with its stock flathead V-8 offering a powerful ride, although notorious for overheating. The car James Dean drove in the movie is part of the permanent collection at the National Automobile Museum in Reno, Nevada.
6. American Graffiti: 1932 Ford Coupe

Hot-rod king John Milner drives "the baddest car in the Valley" in George Lucas' 1973 homage to California teenage life in the early sixties. The car, a 1932 Ford Coupe which was customized and had a 1966 Chevrolet 327 cubic inch engine, is featured in one of filmdom's most iconic races, against a '55 Chevy, driven by villainous Bob Falfa (Harrison Ford). Trivia note: it is the same '55 Chevy used in the movie Two-Lane Blacktop (1971, see below).
7. Two-Lane Blacktop: 1955 Chevrolet Bel-Air

Filmmaker Monte Hellman fashioned 1971's other iconic existentialist road picture, about an itinerant racer and his mechanic (musicians James Taylor and Dennis Wilson) who travel cross-country in their souped-up 1955 Chevrolet looking for the next car to race (Warren Oates' G.T.O.) or girl (Laurie Bird) to lay. A minimalist film in terms of dialogue, its pure visual (and visceral) beauty comes from its sights and sounds, not the least of which are the gorgeous cars that enter and leave its frames.
8. Goldfinger: 1963 Aston Martin DB5

James Bond cemented his status as the 1960s' iconic character in this box office smash, which also featured the car which many film and auto enthusiasts alike feel is the finest set of wheels ever exposed to celluloid. Bond's Aston-Martin DB5 coupe featured a 282 HP inline-6 cylinder engine, leather interior, woodgrain steering wheel, as well as front-mounted machine guns, rotating license plates, rear wheel spikes, a bullet proof screen, oil slick sprayer and the coup de grace: a passenger side ejector seat. No good spy should leave home without one. Plus, let's face it: it's one gorgeous mofo of a ride! It went on to appear in several other films in the 007 series.
9. Ferris Bueller's Day Off: 1961 Ferrari GT250

Yes, Ferris Beuller, that epitome of 1980s suburban entitlement, sociopath-in-training, is someone we loved as teens, but now wouldn't want our own kids being within 100 miles of. That said, when Ferris (Matthew Broderick) hoodwinks pal Cameron (Alan Ruck) into taking his father's prized Ferrari, we have to admit that even in the throes of present day middle-aged righteousness, we might find ourselves back-sliding into teenage carelessness for a chance to give that gorgeous piece of Italian Va-Va-VOOM a spin! The car's tragic end is one of cinema's most brutal, and unforgiving, scenes.
10. Bullitt: 1968 390 CID V8 Ford Mustang

Steve McQueen's 1968 Mustang Fastback is one half of what many feel is the greatest car chase in movie history. Facing off against assassins in a '68 Dodge Charger, McQueen's Detective Frank Bullitt gives the villains an unrelenting chase around the San Francisco Bay Area. The director called for speeds of about 75-80 mph, but the cars (including the ones containing the cameras) reached speeds of over 110 mph. Filming of the chase scene took three weeks, resulting in the (approximately) eight minutes of footage seen above.