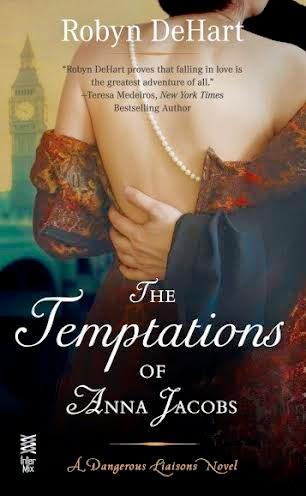 The Temptations of Anna Jacobs
Giveaway Info: · Victorian Necklace and a $25 Gift Card (Amazon or Barnes & Noble) Rafflecopter Code: a Rafflecopter giveaway Direct Link: http://www.rafflecopter.com/rafl/share-code/MjA4ZWI4ZWQ3NTUyM2VlYWJhMzFjOTYxNDNhZTI1OjgzMA==/
BOOK BLURB:

Love and justice… When Drew Foster is released from prison, he doesn't much care about salvaging his soiled reputation. Though he's working undercover, everyone in Victorian London believes him guilty of the Jack the Ripper murders and that his brother paid for his "innocence." Despite her genteel upbringing, Anna Jacobs is intent on finishing medical school and becoming a physician. Society's ridicule has never bothered her, but when her brother, the Yard's best detective, is scorned for letting Drew go, she confronts the one man who can set the record straight at a ball. She certainly doesn't count on the rogue being dashing and handsome, nor on him stealing a passionate kiss. Anna's brazen contempt for his dangerous reputation captivates Drew, but he is harboring secrets that make him unfit to court any proper woman. As he finds himself an outsider among his colleagues at Scotland Yard, the feisty beauty offers up her medical knowledge to assist him on the case. But when the real killer returns to London to continue his reign of terror, can Anna find safety in Drew's arms?
Purchase links:
Kindle: http://amzn.to/1gJ31cW Barnes & Noble: http://bit.ly/1g5fV5u iTunes: http://bit.ly/1mWkvL1
EXCERPT:



She was quiet for several moments. He watched her face as she considered all the possibilities. Even now, the taste of her lips stayed with him, and he wanted more. More of her kisses, more of her smiles. Simply more of Anna.




Perhaps she had other thoughts that could explain the differences in the injuries, or the use of an alternate weapon.

"Why did you kiss me? The other day?" she asked.


Drew felt his brows rise in surprise. "Is that what you were thinking about? I suspected your thoughts were more academic in nature."
She shrugged. "Academic or not, I am still a woman."
"It seemed the thing to do," Drew said with a shrug of his own.
"'It seemed the thing to do,'" she said, mocking his tone. She frowned. "That's not a very good answer."
He resisted the urge to smile. Hell, he didn't know why he'd kissed her. Because the desire to do so had been so overwhelming he hadn't been able to resist her lips. In fact, he longed to embrace her again, right now. "What would be a good answer?"
"How the devil should I know?" Her hand fluttered to her chest. "I don't go around kissing unsuspecting people."
"Fair enough. Well then, I kissed you because I wanted to." Perhaps honesty would appease her curiosity. "Because your mouth is tempting, even though you talk far too much."
"That doesn't even make any sense. Well, the bit about my talking too much, I admit I can be verbose—"
"You're doing it again," he interrupted her. He leaned forward, toward her chair. "Only makes me want to kiss you again."
She waved her hand. "That's ridiculous."
"The mere notion of kissing you? Hasn't any man ever expressed a similar interest?"
A blush stained her exposed throat, marring her lovely creamy skin. Her hand followed the telltale sign of her embarrassment and she fiddled with the necklace around her throat. She swallowed visibly. "I don't see how that is any of your business. I'm not even certain how we got on this discussion," she said.
"You asked me why I kissed you."
"Yes, and your answer is unsatisfactory. I shall merely have to conclude that you men are a peculiar lot." She pointed at him.
"I'm going to kiss you again, Annabelle," he said softly.
Her mouth opened, then slowly closed. "Right now?"
"Would you like me to kiss you right now?"
"I cannot answer that." She shook her head fervently. "It would be utterly improper."
"You, a lady going to medical school and assisting me with an undercover investigation of a murder? Last night we broke into a government building. Your behavior hasn't exactly been the pinnacle of propriety."
Her brow furrowed. "That is quite different." Her tongue darted out and wet her lips.
He felt a stab of desire, hot and poignant in his gut. Oh yes. He wanted her. Whatever the reason, logical or not, he wanted her quite badly. Too badly, in fact, for him to kiss her now when his passions were so close to the surface. It was entirely too likely they would not be interrupted, that no one would come along and stop him from ruining her here in his parlor.
"You already answered my question," he said.
She frowned. "I don't believe I did."
"Oh yes, Anna, you want me to kiss you very badly. Now that I know that, I'm going to make you wait. For a little longer."

"You are an insufferable man!" she said as she came to her feet.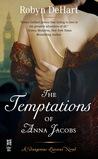 The Temptations of Anna Jacobs by Robyn DeHart
My rating: 4 of 5 stars
The Temptations of Anna Jacobs ( Dangerous Liaisons # 2) by Robyn DeHart is a 2014 Intermix publication. I was provided a copy of this book by the author and publisher in exchange for an honest review.
Anna is going against society by attending a school devoted to teaching women to become doctors. Her mother is horrified and terrified Anna will never find a husband if this continues. When Anna's brother, a detective for Scotland Yard, releases Drew Foster from prison despite his being the number one suspect in the grisly "Jack the Ripper" murders, he is lambasted publicly. What the people don't know is , Drew is actually working undercover. He hopes to clean himself up and stay sober and clear his name. When he continues to find himself in Anna's company, the two realize an attraction is growing rapidly between them. Drew will enlist Anna to help him catch the killer when he finds the Yard is not much help to his investigation.
Despite the few stolen kisses and the physical attraction to one another, Drew makes it clear he and Anna can not have a long term proper relationship. Anna is a not a woman to be deterred however, and Drew will find himself unable to resist the temptation.
The focus here is split between the Ripper investigation and the romance between Anna and Drew. Anna's determination to become a doctor is a daily fight against her mother who attempts to dissuade her at every turn. This part was funny because the plot to have Anna's teacher influence her to give up her dreams really backfires. I enjoyed the banter between Anna and Drew and they will make the perfect couple, if they survive the Ripper murders.
I love a good mystery and when it is combined with my favorite romance genre it's a win- win. In this case there were a few times when the story stuttered a little and the back and forth between the ripper's thoughts, Drew and Anna's dangerous pursuit and the romance switched back and forth too quickly and I had a hard time really sinking my teeth into this one. I enjoyed the book for the most part and anytime we have a female protagonist in historical fiction that goes against society and helps to open doors for women to stand on their own two feet without needing a man to provide their basic needs for them is to be applauded. I loved Drew's human side as he struggles to fight off the urge to drink and the temptations are everywhere. He shows us he is very determined to be a productive citizen and make a difference even though it will be a hard fought battle. I think maybe this was just a really massive undertaking and at times it just didn't flow evenly. As I have stated before, it is nearly impossible to include a Jack the Ripper story line and avoid graphic violence but the author did a great job in keeping that area under control. The book does have a darker tone because of the subject matter. Although the book has a few issues, I appreciate the story line having more depth and taking on more serious subjects than many historical romance novels recently. I think it's time to move past the fluff and get back to a more realistic view of what life was really like in this period of time . It doesn't have to be all dark and heavy and melodramatic, but often when I read Regency romance novels I sometimes feel like I am reading the same book over and over. Parties, gowns, balls, polite society and spoiled Dukes and Earls can only amuse for so long. Overall I give this one 3.5 stars ( rounded to 4)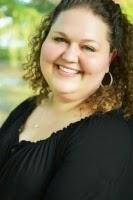 Author Bio:

National Bestselling author, Robyn DeHart's novels have appeared in the top bestselling romance and historical romance lists. Her books have been translated into nearly a dozen languages. Her historical romantic adventure series, The Legend Hunters, were not only bestsellers, but also award-winners, snagging a Reader's Crown and a Reviewer's Choice award. She had three releases in 2013 and 2014 will see four more, all set in the popular historical romance Regency and Victorian eras.
Known for her "strong dialog and characters that leap off the page" (RT Bookclub) and her "sizzling romance" (Publishers Weekly), her books have been featured in USA Today and the Chicago Tribune. A popular writing instructor, she has given speeches at writing conferences in Los Angeles, DC, New York, Dallas, Nashville and Toronto, among many others.
When not writing, you can find Robyn hanging out with her family, husband (The Professor) a university professor of Political Science and their two ridiculously beautiful and smart daughters, Busybee and Babybee as well as two spoiled-rotten cats. They live in the hill country of Texas where its hot eight months of the year, but those big blue skies make it worth it.

Places to find Robyn:
Site:

http://www.robyndehart.com/



Jaunty Quills:

http://jauntyquills.com/



Peanut Butter on the Keyboard:

http://peanutbutteronthekeyboard.wordpress.com/



Facebook:

https://www.facebook.com/robyndehart



Twitter:

https://twitter.com/RobynDeHart



Pinterest:

http://pinterest.com/robynwtr/



Goodreads:

https://www.goodreads.com/RobynDeHart