Drivers,
As many of you already know I am always actively searching for new and different instruments to mess with and utilize in order to expand and shape my music and sound capabilities. In my years traveling and hunting I've been fortunate enough to have the opportunity to see and play all sorts of different instruments both near and far but I had never seen anything like my latest acquisition from
Rainy Day Instruments
. 
While surfing the net hoping to find something to grab my attention I found myself coming across the site
Etsy
. Etsy is a social commerce website that is focused on handmade and/or vintage items as well as art and craft supplies. After scrolling through numerous pages in the music section of the website I found what would later become my newest and most prized instrument. It was a Handmade Epiphone Telephone Acoustic/Electric Guitar and the only one in existence.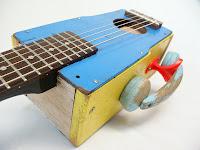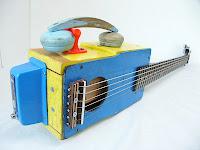 The instrument itself is an Antique Playschool Phone (from the 1950s), which is securely attached to a new Epiphone Gibson Special neck. In addition, the instrument has a Piezo pick-up installed inside allowing the guitar to resonate through an amplifier. The "Telitar" as I've been affectionately calling her has an excellent sound and great playable action. The tone is slightly tinny but extremely warm and sounds very smooth acoustic and even better through an amplifier or PA. Rainy Day Instrument's Marc Potter built the instrument. As per my request he was kind enough to also install strap buttons onto the instrument before shipping it.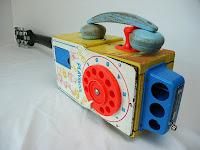 Aside from my "Telitar" being the only instrument of its kind in existence it is a priceless piece of art. Not only is the "Telitar" art that can be visually enjoyed and admired, it is a fully functional guitar with a unique and vintage look that makes it special.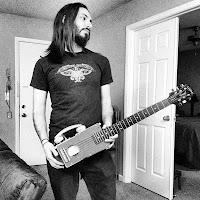 Many have understandably questioned whether or not the "Telitar" is in fact real. Doubt no longer. The "Telitar" is real and included here are pictures from the initial Etsy listing and a picture or myself with it as added proof. However, if that's still not enough you'll just have to make sure to come out and catch me on tour to see/hear it for yourself. Until next time…
-Marshal
Montgomery Drive