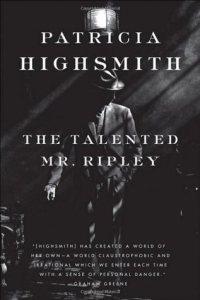 Crime Fiction 4*'s
Coincidently this book was published in 1955, the same year as my recent read Hickory Dickory Dock by Agatha Christie but there the comparisons end as this is far more of a portrait of the man than a classic whodunit. Tom Ripley' talents are:
I can do a number of things – valeting, baby-sitting, accounting – I've got an unfortunate talent for figures. No matter how drunk I get, I can always tell when a waiter's cheating me on a bill. I can forge a signature, fly a helicopter, handle dice, impersonate practically anybody, cook – and do a one-man show in a nightclub in case the regular entertainer's sick. Shall I go on?
Tom Ripley is unable to hold down a job, uses his friends for favours and yet, simultaneously, appears to resent everything about them especially if they have more than him. Tom Ripley puts his personal happiness above everything else, but doesn't want to work to reap the rewards.
He remembered that right after that, he had stolen a loaf of bread from a delicatessen counter and had taken it home and devoured it, feeling that the world owed a loaf of bread to him, and more.

One day an opportunity to travel, all expenses included, presents itself and Tom packs up his belongings and sets sail for Italy where he is on the trail of an acquaintance Dickie Greenleaf, at the behest of the latter's father. At first he works hard to fit into Dickie Greenleaf's life, accepting his friend Marge and making himself useful until the he is invited to move into Dickie's house. The two men periodically leave the small Italian village to sight-see, all at Dickie's expense. It isn't long before his attentions begin to disturb Dickie. Tom, realising that he is being ousted embarks on an abhorrent plan to keep his high-end lifestyle.
Tom Ripley is a man who hates women, has an aptitude for mimicry and self-delusion made all the more scary because it doesn't appear to be conscious. The narration of the book by this awful character is chilling as his narcissism shines through as he justifies his actions almost without realising he need to. This is a man who lies, cheats and reinvents himself to attain an ever changing goal, when one plan looks like it will fail, he simply switches to another.
The time-period is faithfully reproduced, the details such as depositing parcels and cashing money just wouldn't be possible now without identification but in those more trusting times Tom Ripley is able to cover his crimes with ease.
A fascinating portrait of an anti-hero which is chilling in the extreme for its portrayal of a disturbed mind. Even more remarkable for the time it was published with the undercurrent of homosexuality, which the reader deduces although our narrator seems entirely unaware of, but perhaps he is simply unwilling to acknowledge the fact and what Tom Ripley doesn't wish to acknowledge, simply doesn't feature.