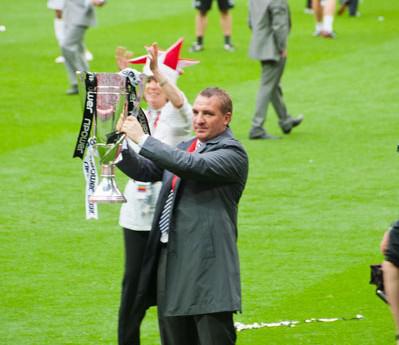 Brendan Rodgers celebrates Swansea's promotion to the Premiership. Photo credit: Strabanephotos http://flic.kr/p/9SeeA3
The winding music has suddenly been switched off. And left standing awkwardly without a manager are Swansea City, last season's Most Attractive Premier League debutantes, following Brendan Rodgers' decision to move on and take up the hot-seat at Liverpool. The other party in this game of managerial musical chairs, Wigan, can breathe a sigh of relief. Early favourite for the Liverpool job Roberto Martinez confirmed yesterday he will be staying with them for another season.
Not many inside the Liberty City Stadium will begrudge Rodgers his move to Anfield. The 39 year-old from Antrim, North Ireland, has treated them to two seasons of swashbuckling football and his initial reluctance to hear out Liverpool's offer spoke volumes of his loyalty to the club. But Swans fans may find the next time the music stops, and a new manager is settled in the dugout, to be something of a disappointment.
The club must now face the problem of attracting a manager to a project that looks like it has peaked. Currently under consideration, apparently, is Gus Poyet, manager of Brighton and Hove Albion, who lifted the Seasiders from League One to the fringes of the Championship play-offs last season. Poyet seems a good fit for Swansea. He would be another on the conveyor belt of young coaches with a love of slick passing football that have honed their trade at the Welsh club since the arrival of the Roberto Martinez in 2003. But here's the hitch. Swansea's balloon is in danger of bursting, and promising managers such as Poyet are likely to be wary of being the one who pricks it.
Swansea finished last season 11th in the fiercely competitive Barclays Premier League. They played a slick brand of passing football and finished above the other two promoted clubs – Queens Park Rangers and Norwich City.
Odds on the club's relegation have been climbing steadily since Rodgers' departure. And the bookmakers aren't shortening their odds without reason. Other clubs who made equally good starts to Premier League life have run out of steam in their sophomore campaigns, minus the additional burden of management upheaval (say hello Ipswich, Birmingham and Reading). Wikipedia dubs the trend "Second Season Syndrome." And worryingly, Swansea's descent from Division One to Division Four – over a period of three awful seasons in 1982-5 – is the online encyclopaedia's definitive example. 
Yes, Rodgers has left whoever will take over a very sound base. But with bigger clubs sniffing out some of their best players, and Rodgers looking to take a few with him to Liverpool, things may be a little rockier by the time a new manager is installed. Keeping up Swansea's reputation as the "Welsh Barcelona" will also be tough. If he wants it, the job is Poyet's. But come this time next year, he might be wishing he'd stayed by the seaside.