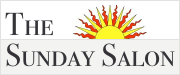 Since January 1st I've read nineteen books, according to Goodreads. Nineteen! I set my 2013 goal at 100 (I read 50-ish last year) and am currently four books ahead of schedule. I'm never ahead for anything, friends. Anything. If you need references I can supply them.This is the beginning of a new epoch in reading. For me, at least. It may be a one-woman movement now but it could go viral at any second.
Speaking of viral, all the household's been ailing - on a rotation basis - the entire winter. I should qualify, all the household save me.  I've developed an iron resistance to viruses that's nothing short of inspiring. According to how little I sleep, and reports warning exhaustion can put one at risk of illness, by all measures I should be spending a week every month in bed with an ice pack on my head and a heating pad at my feet. But so far, nary a sneeze.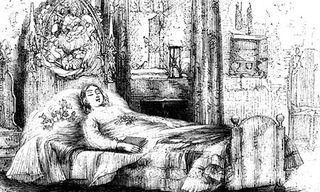 Last week my husband was near death's door with the galloping consumption and, aside from a  slight swelling in my lymph nodes, I suffered no ill effects.
Huzzah!
Still and all, even without illness to keep me a-bed and a-reading, I have loads of books to share with you.
Some are very early pre-publication books I can't give an opinion on just yet but there's nothing wrong with a mention. Or a bit of a tease. Actually, I think they call those commercials.

Antonia Lively Breaks the Silence by David Samuel Levinson
Algonquin (June 4, 2013), 320 pp.
Source: NetGalley eBook
Summary:
" One writer's mysterious death, another's relentless quest for fame, and a bitter literary critic's passion for manipulation drive the story of this haunting novel set in a small upstate New York college town in the 1990s. "

 
David Samuel Levinson's one of many "new to me" writers. He's published a short-story collection, Most of Us Are Here Against Our Will (2005) and has some great writing creds, including awards for his short stories, publication in big name journals and receiving fellowships from writing colonies all scribblers dream of.
Antonia Lively Breaks the Silence is his first novel.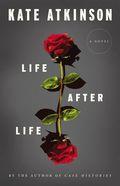 Life After Life: A Novel by Kate Atkinson
Reagan Arthur Books (April 2, 2013), 544 pp.
Source: NetGalley eBook
Summary:
" On a cold and snowy night in 1910, Ursula Todd is born to an English banker and his wife. She dies before she can draw her first breath. On that same cold and snowy night, Ursula Todd is born, lets out a lusty wail, and embarks upon a life that will be, to say the least, unusual. For as she grows, she also dies, repeatedly, in a variety of ways, while the young century marches on towards its second cataclysmic world war. "
Spoiler alert: Brilliant! Five-hundred forty-four pages of wonderful.

The Coma by Alex Garland
Riverhead Trade (July 5, 2005), 208 pp.
Source: Personal library
Summary:
"When Carl awakens from a coma after being attacked on a subway train, life around him feels unfamiliar, even strange. He arrives at his best friend's house without remembering how he got there; he seems to be having an affair with his secretary, which is pleasant but surprising. He starts to notice distortions in his experience, strange leaps in his perception of time. Is he truly reacting with the outside world, he wonders, or might he be terribly mistaken? So begins a dark psychological drama that raises questions about the the human psyche, dream versus reality, and the boundaries of consciousness."
The Coma grabs you, sinks its barbed teeth in and insists you cannot, will not, put it down. The writing is sparsely beautiful, the main character in a nightmarish quandry, trapped in a situation you can't imagine will be resolvable.
"I do all this alone, everything I achieve, I achieve alone, because it's my head I'm locked into, and I share this space with nobody but myself."

 
But there's one problem: it falls flat. There is no climactic event, no spectacular ending. It's as if Garland got tired of writing and just quit. And there's no reason any writer should. It's incredible! Where did it all go?
How can you create something this fantastic and falter at the end, as an experienced writer? I can understand a younger, less experienced writer struggling with wrapping it all up but I can't imagine what happened to The Coma. Not to mention what it might have been. Hard to believe he let it slip out of his hands.
His intent was to create a dark, frightening and uncomfortable place that makes readers squirm. His aim, to run chills down the spine and create a sort of other-wordly scenario like somewhat a cross between The Metamorphosis and Blindness. And that would have been exactly the target to hit, the place he needed to go.
All writers fall short occasionally but it's hoped another draft or two will bring things around, with the right editor. At least bring it close enough to leave your reader with some satisfaction. As a reader I feel cheated, not so much for the money (I'm pretty sure this was one of my Borders clearance books) but the time.
Yes, I expect writers to meet my expectations and I keep them stringent because there's so much else I could be doing. Or reading. When you encounter brilliance you know it and The Coma was just so, so close. It could have gotten there.
If only his editor hadn't been so cowed by Garland's fame from The Beach - the novel and the film. If he even had to report to an editor. The thing is, giving birth to one brilliant book doesn't mean you can do it without a team the next time around. If only the publishing world worked that way. If only we demanded they do.

The Memory of Love by Linda Olsson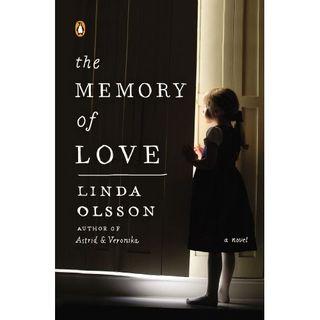 Riverhead Trade (July 5, 2005), 240 pp.
Source: NetGalley eBook
Summary:
" Marion Flint, in her early fifties, has spent fifteen years living a quiet life on the rugged coast of New Zealand, a life that allows the door to her past to remain firmly shut. But a chance meeting with a young boy, Ika, and her desire to help him force Marion to open the Pandora's box of her memory. Perhaps if she can create order from the chaos, her memories will be easier to carry. Perhaps she'll be able to find forgiveness for the little girl that was her. For the young woman she had been. For the people she left behind."
I reviewed her earlier novel Astrid & Veronika here.  You can get an idea of her writing style from the quote I included from that brief, awe-struck review:
"Love comes to us with no forewarning, and once given to us it can never be taken away. We must remember that. It can never be lost. Love is not measurable. It cannot be counted in years, minutes or seconds, kilos or grams. It cannot be qualified in any way. Nor can it be compared, one with the other. It simply is. The briefest brush with real love can sustain you for a lifetime. We must always remember that."
The Memory of Love is more a love story, which sounds a little obvious, and I'm no big fan of love stories. But... Oh, gosh, is that the time?
Gotta run.