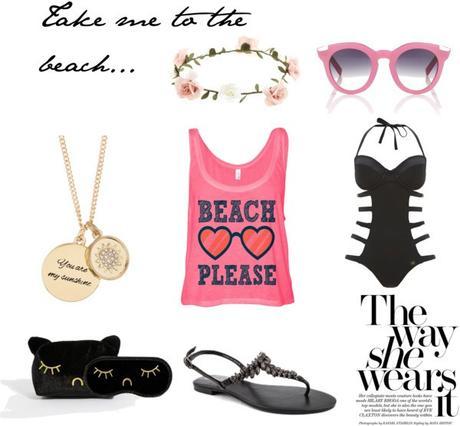 With so many wedding coming up in the next few weeks, my online shopping baskets have been filled with church appropriate dresses and fancy headwear leaving me little time to stock my wardrobe with lovely beachy things. However, with my honeymoon looming, it's high time I started picking up a few things for the beach. Read on to see my summer wish list. I may bit a little late to the party with the whole flower crown obsession but I feel like they just make all outfits look extra summery and unlike other headwear, this won't come out of your case at the other end squashed to smithereens. To be fair, this little gem is only £8 from Accessorize so it would be rude not to buy it really wouldn't it?

Sticking to the pink theme,
these glasses
from Avenue 32 are right up my street. I don't think yu can ever have too many sunnies. After losing my Wright and Teague necklace on holiday once, I've vowed to stick to costume jewelry when overseas. This gold pendant is just begging you to take it on your travels. Something to throw on to pop to the bar for a pina colada? This cute top Beach Please from Etsy is pretty and practical.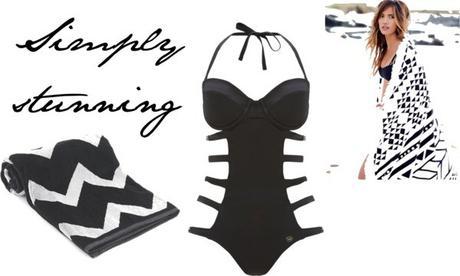 This cut-out swimsuit is essential to life. This is such a bargain from Lipsy (and it's now in the sale). Sparkly flip flops are always on my summer shopping list. I've fallen head over heels for this pair of black 
crystal flats
.(Pssst they're also available in white
here
).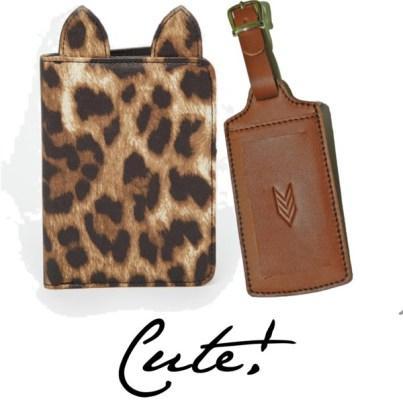 I'm constantly looking for cute cases that I can take on my travels and this cute
novelty make up case
is simply adorable. Just look at that matching eye mask! Oh and while we are talking about super cute things, I did happen to come across the most amazing thing ever while putting together this lust list. A
leopard print passport case with ears on!!
Have I missed anything? What's on your summer lust list? Preferences Preferences Preferences Preferences Preferences Preferences Preferences Preferences Preferences Preferences Preferences Preferences Preferences Preferences Preferences Preferences Preferences Preferences Preferences Preferences Preferences Preferences Preferences Preferences Preferences Preferences Preferences Preferences Preferences Preferences Preferences Preferences Preferences Preferences Preferences Preferences Preferences Preferences Preferences Preferences Preferences Preferences Preferences Preferences Preferences Preferences Preferences § 1 2 3 4 5 6 7 8 9 0 – = Backspace Tab q w e r t y u i o p [ ] Return capslock a s d f g h j k l ; ' \ shift ` z x c v b n m , . / shift English Deutsch Español Français Italiano Português Русский alt alt Preferences