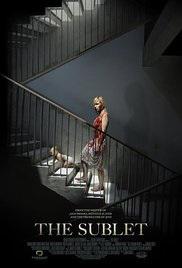 Director: John Ainslie
Writer: John Ainslie, Alyson Richards (Screenplay)
Starring: Tianna Nori, Mark Matechuk, Krista Madison, Porter Randell, Rachel Sellan
Plot: The Sublet is a suspense driven psychological thriller about Joanna, a new mom coping with her baby alone in an odd sublet apartment. As her husband neglects her to focus on his career, Joanna questions her sanity as she discovers a violent past to the apartment and suspects that the building may be haunted.
There may be spoilers the rest of the review
Verdict: Paranoid Mother 101
Story: The Sublet starts as our couple Joanna (Nori) and Jeff (Matechuk) along with their baby moving into their new apartment with only a note from the owner. Jeff an aspiring actor spends his days on sets leaving Joanna home alone with the baby, where she starts to hear noises around the apartment as the weeks go by.
When the cops show up declaring Joanna has been reported missing the photo isn't of her instead they are of a lady Joanna believes they are subletting from. We continue to see Joanna's paranoia grow and are left to see just whether she is really paranoid of something strange is happening to her.
Thoughts on The Sublet
Characters/Performance – Joanna is the stay at home mother that starts dealing with feeling like paranoid about her fiancé and the apartment, this is a traditional female character designed to be paranoid. Jeff is the partner who is busy with life, getting tired of dealing with Joanna's action struggling to support her at times. Margaret is the former resident of the apartment that can be seen in photos and through the diary entries.
Performance wise, Tianna Nori must do most of the carrying of this film as she is the central character, she does a good job throughout as you do question her character's mindset through the film. Mark Matechuk is solid but doesn't get enough time to show what he could be capable off.

Story – Stay at home parent becomes paranoid about their new apartment and is left to figure out the truth. This has been done before sure but they are effective means of storytelling. The film ticks all the boxes and has good use of music to pass the story along.
Horror/Mystery – The horror side of this film comes in the paranoid side of the film a we are left wonder what is going on and is left in mystery to what is going on.
Settings – Nearly the whole film is set inside the apartment which explains why we need to have the paranoid side of the film shining through.
Special Effects – Only used when needed and effective enough, as most of this film is inside the mind.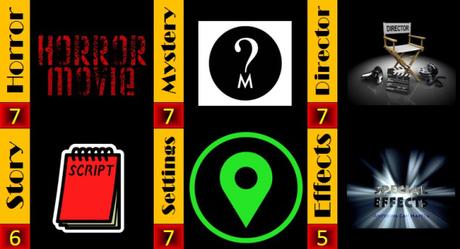 Final Thoughts – This is another good addition to single parent getting paranoid in a new apartment, which is fine for that audience.
Overall: Paranoid film that gets the scares needed.
Rating

Advertisements