Light, proportion, and how space is shaped are important to home design, and these elements are largely defined by windows. In determining how light, proportion, and space play out in your home, the windows you choose to install, and where and how you place them in your home, will pretty much define your home's overall design and performance.
Space and Light: Looking In, Looking Through
Windows greatly affect how you perceive space in a room by creating visual connections with other areas. As with a darkened or shadowy area, when the walls in a room limit what you can see of the areas beyond it, it tends to create a feeling of isolation.
ILLUSION OF SPACE: Windows with lots of glass can be used to create a visual sense of space.
By using windows, particularly ones with large glass areas, you help open up spaces available to you. You may be physically confined to the room you're in, but, perception-wise, the room feels larger, more spacious, because you can see out of the room. In your mind, the room becomes part of the larger overall area, and that sense of a larger area is what stays in your consciousness.
Size and Proportion
The size and placement of the windows in your home affect how we see the home's proportions, both from the outside and from the inside. Scale and proportion tend to work in terms of squares and rectangles, with both houses and rooms generally favoring either a square proportion or  a low, wide or tall, narrow rectangle. To create and maintain a visually pleasing view, all of a house's features need to work towards the house's proportions.
It can be hard to find just the right balance of window size and placement; it's easy to err too far towards either "short and wide" or "tall and thin," but with some houses, like those in the Classical style, it's important to find the right middle ground to keep within the home's proportions.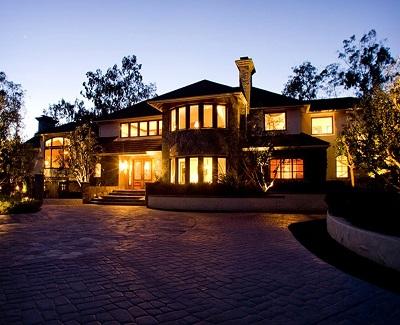 CREATE BALANCE: The proportions of a home and its windows are beautiful when in balance.
From inside the home, the size and placement of the windows will affect how we perceive the room; not only do the windows need to be in proportion to the room, but windows take up wall space, too. If the windows are too large, or set too closely together, there won't be room for anything else on the walls, such as paintings and the like.
General Principles
If this all seems so very complicated, here's a rule of thumb to keep in mind: always remember what your reason for putting the window there is in the first place. You'll find that this will help you decide when you feel you have too many things to consider. What do you want the window to do? Where are you planning to put the window? Who is going to be using the window? When it boils down to it, considerations of use and purpose will help you decide exactly what kind of window you need, and where you'll want to put it.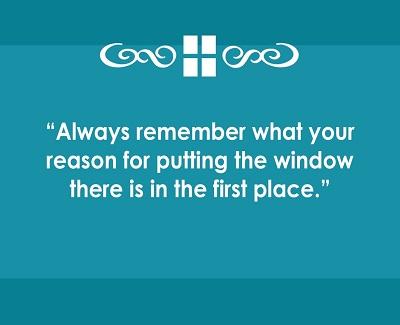 Form Follows Function: Different Window Styles to Consider
Different window styles available each contribute differently to your home's sense of light, proportion, and space. Thus, when choosing a particular style of window to install in your home, it's important to consider just how they affect these architectural principles. Windows will have some overlap in how they play with light, space, and proportion so it is also possible to combine window styles to achieve desired aesthetic effect.
Bay and Bow Windows
Bay and bow windows project outward from your home's external wall, creating increased interior space while adding an interesting architectural feature. Bay windows, with a boxier or more trapezoidal look, have a starker profile than bow windows, which tend to have a gentler curve to them. Both add a clean, modern look to a home; from the inside, they provide a panoramic view, with good ventilation and lighting, and the space created by the window's shelf can be used for many different ways.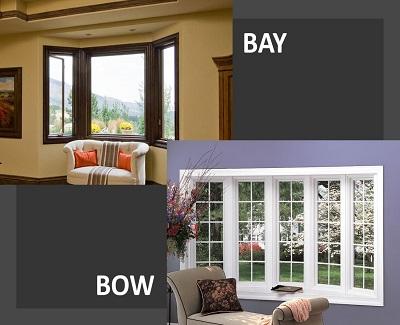 BAY OR BOW? Typically, bay windows feature three panels while bow windows have four to six.
Casement Windows
Casement windows, which are opened and closed via a crank, offer a nice combination of ease of use and flexibility, with the crank allowing placement in areas where it would be difficult to reach over and have to push or pull the window to open or close it. This allows the casement window to increase ventilation in areas where a different window type would be  impractical, and the way it opens allows it to catch side breezes that a more conventional window might not.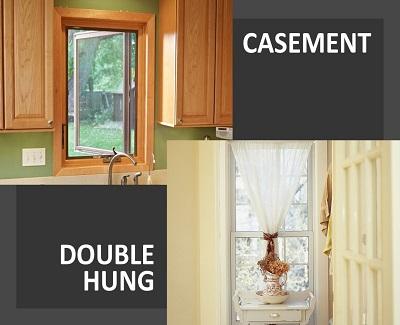 POPULAR WINDOWS: Casement and double hung windows are two of the most popular window styles around.
Double Hung Windows
Double hung windows are the most common types window in American homes, providing a simple, timeless look that complements a range of architectural styles. The window style features two operable sashes that can be moved in a variety of ways depending on what a household needs. For instance, in homes with small children, the upper sash can be opened and the lower one closed to let in air for ventilation while keeping the little ones safe. Additionally, the window's particular design makes it easy to install air conditioners and insect screens.
Picture Windows
Picture windows are called that because of the way they frame a view, much like a picture frame does. Unlike most other window types, picture windows do not open; they do, however, admit lots of natural light and, during the colder months, can be a significant source of radiant heat, both of which can serve to reduce reliance on artificial heating and lighting.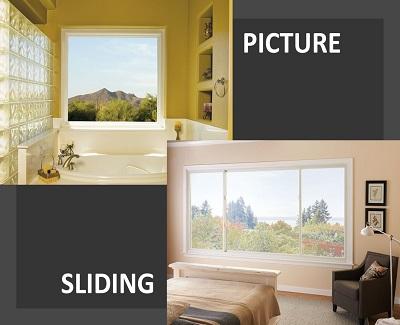 Picture and sliding windows are great for taking in view from the outdoors.
Sliding Windows
Sliding windows are often used like picture windows in that they are great for framing a view and at providing natural illumination. Unlike picture windows, however, sliding doors can also be opened to let in the air. They're easier to operate than some other types of windows, requiring little strength or coordination to unlatch and slide open, and because they have fewer moving parts than most other window types, they also tend to need less in the way of maintenance.
The Big Picture
Ultimately, while design principles and the window's particular functionality will be major deciding factors in what window you choose to install, your personal sense of aesthetics will play the biggest part in helping you decide. Going with what feels right, what looks right to you, is more important than anything else. After all, it's you who'll be living in your home, with the windows you chose. Pick a window from a reputable contractor that fits your needs and aesthetic preferences and you'll surely feel good about your choice.
============================================================
Author Bio:
Dawn Dewey is one of Professional Remodeler magazine's "40 Under 40" for 2015. When not working as Renewal by Andersen of San Diego's marketing director, she's busy passionately promoting awareness about animal welfare, the environment, and civil rights. For updates from Dawn, check out the company blog!
============================================================