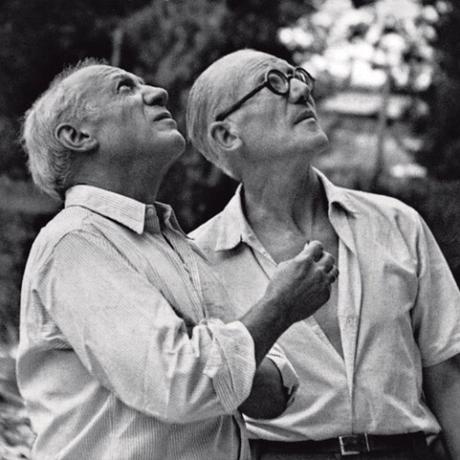 Every time around this year, style bloggers and fashion designers pull the usual tropes. Once spring has sprung, menswear takes an immediate turn towards nautical and desert themes. Think: Breton stripes, safari shirts, and desert boots. And instead of the dark, earthy colors that define fall, spring is all about clay browns, sandy tans, sky blues, and a generous amount of white. All good things, but maybe a bit tired if you've been paying attention to men's style for a while. 
Let me offer something a little fresher. If you're looking for style inspiration this season, turn to how studio artists dressed before the 1980s. Whether they were painters, sculptors, or portrait photographers, the look is almost always the same – loose-legged trousers worn with stretched out sweaters, baggy button-ups, and battered slip-ons. The clothes are never pressed; the shoes never polished. 
The nice thing about this look is that it relies on work clothes, but not in the rugged, outdoorsy way. Trousers are lightweight and breathable, but cut loose enough for easy movement. And there's often a bit of honest wear-and-tear – whether it be paint smears the side of a shirt or mismatched patches on faded chinos. In today's menswear world, where guys can over preen, it's nice to see something that feels more spontaneous. 
There are a lot of iconic dressers in this field. See David Hockney's predilection for colorful layering, where he'd combine a poppy red sweater with sunflower yellow chinos. Everything worked because the ensemble felt thrown together and not overly considered (even if it probably was). Hockney also embraced the ridiculousness of his style by surrounding his clothes with striking accessories – polka dotted scarves, goofy bucket hats, floppy knit ties, and of course those black, oversized eyewear frames. There was a liveliness to his style. As Hockey once put it, "I prefer living in color."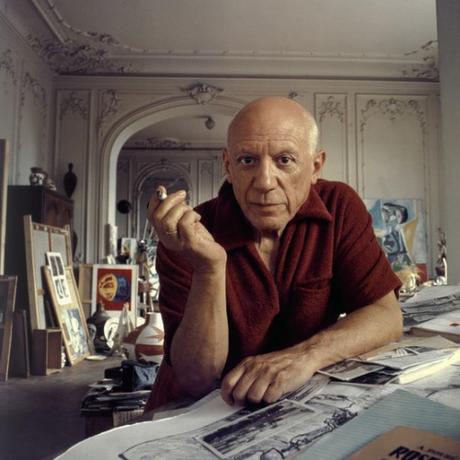 Then there's Andy Warhol, who on the surface wore the classics, but combined them in untraditional ways. Brooks Brothers blazers were teamed with Levis 501s; dinner jackets with colorful sunglasses. Even if Warhol was obviously very fashion conscious – he ran with fashion figures such as Roy Halston, and did illustrations for Barney's and Neiman Marcus – he wore clothes in a way that felt like an irreverent schoolboy in a uniform. "They're the same kind of clothes I wear every day, with paint on them," he once told Glen O'Brien in an interview. "I have paint shoes and paint shirts and paint jackets and paint ties … and paint hankies." 
Among artists, my favorite dresser of all time is probably Pablo Picasso, who wore warm-weather clothes better than anyone. I've been wanting a terry cloth polo ever since seeing the photo above. 
Some other great things for a studio artist look: wide legged trousers, drawstring pants, relaxed leather slip-ons, vintage chore coats, band collar shirts, washed denim shirts (Wrangler is especially good for an affordable buy), baggier oxford button-downs, gauzy tunic shirts, short sleeved sweats, and more vintage clothes. Imogene + Willie also has some nice, inspiring things in the sold-out portion of their "One of a Kind" section. To be honest, I wouldn't mind wearing something like this paint splattered utility shirt. Pair it with soft, unstructured suede shoes, a baggy sweater, and some loose fitting, enzyme-washed chinos that have been cinched at the waist with a thin belt. Guys like Antonio Ciongoli and Christian Kimber have the right idea. 
For more options this season, keep an eye on brands such as Eidos, Camoshita, Chimala, Christian Kimber, Older Brother, Barena, and Document. While their spring collections aren't necessarily centered around artists, they have similar sensibilities. Also scour your local thrifts stores (or shop online for second-hand clothes). The men below are wearing things made during the 1930s through '70s anyway.